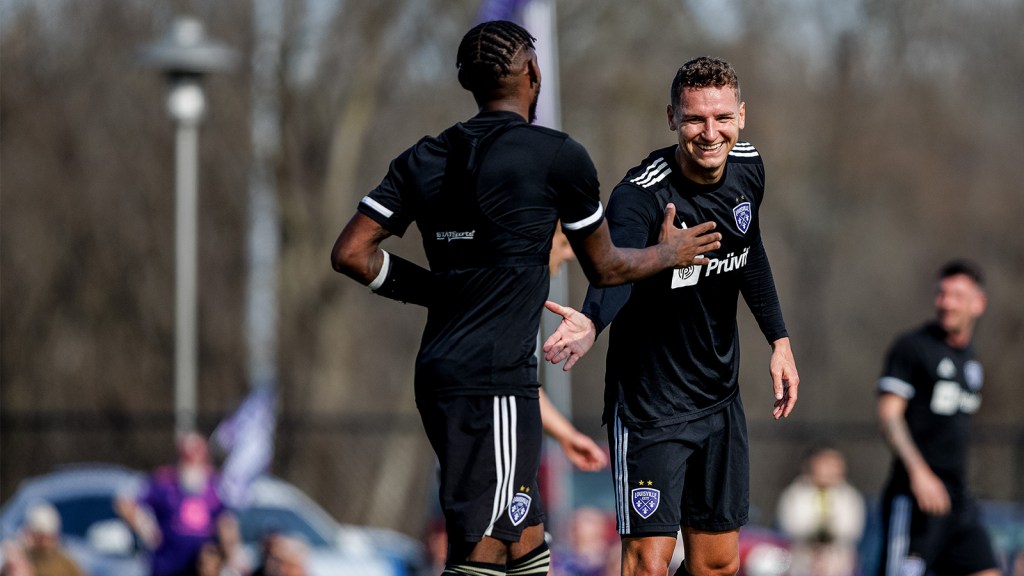 On a squad with a USL Championship-record 21 players returning from a season ago, Rasmus Thellufsen and Jordan Scarlett are opening day exceptions as the newcomers in Louisville City FC's lineup against Orange County SC.
With kickoff set for 10 p.m. ET at Championship Soccer Stadium in California, the Danish midfielder Thellufsen and defender Scarlett slot in alongside a familiar set of teammates in purple.
LouCity's front three consists of Enoch Mushagalusa, Cameron Lancaster and Brian Ownby. Thellufsen will sit in behind with Niall McCabe, who wears the captain's armband. Tyler Gibson got the nod in holding midfield.
City's back four includes Amadou Dia, Sean Totsch, Manny Perez and the center back Scarlett, who arrived in Louisville in February after three seasons with the Tampa Bay Rowdies.
Kyle Morton — the USL Championship's reigning Golden Glove winner — is back in goal.
As previously announced, the quartet of Wes Charpie, Danny Faundez, Jorge Gonzalez and Ray Serrano are out of the opener due to injury. Last year's leading scorer, Wilson Harris, was listed as questionable entering the weekend and will also miss after taking a knock in City's final preseason game.
U.S. youth international defender Josh Wynder has an excused absence and is slated to return for next weekend's game at Monterey Bay FC.
Watch LouCity-Orange County on MyTV, the WDRB Now app or ESPN+. Find radio coverage on AM 680/ FM105.7 and the ESPN Louisville app.
Team Sheet vs. Orange County SC
1 — Kyle Morton
15 — Manny Perez
30 — Jordan Scarlett
4 — Sean Totsch
13 — Amadou Dia
12 — Tyler Gibson
5 — Rasmus Thellufsen
11 — Niall McCabe (C)
77 — Enoch Mushagalusa
10 — Brian Ownby
17 — Cameron Lancaster
Substitutes: 28 — Oliver Semmle, 19 — Oscar Jimenez, 51 — Ramzi Qawasmy, 22 — Dylan Mares, 36 — Paolo DelPiccolo, 8 — Carlos Moguel Jr., 23 — Elijah Wynder