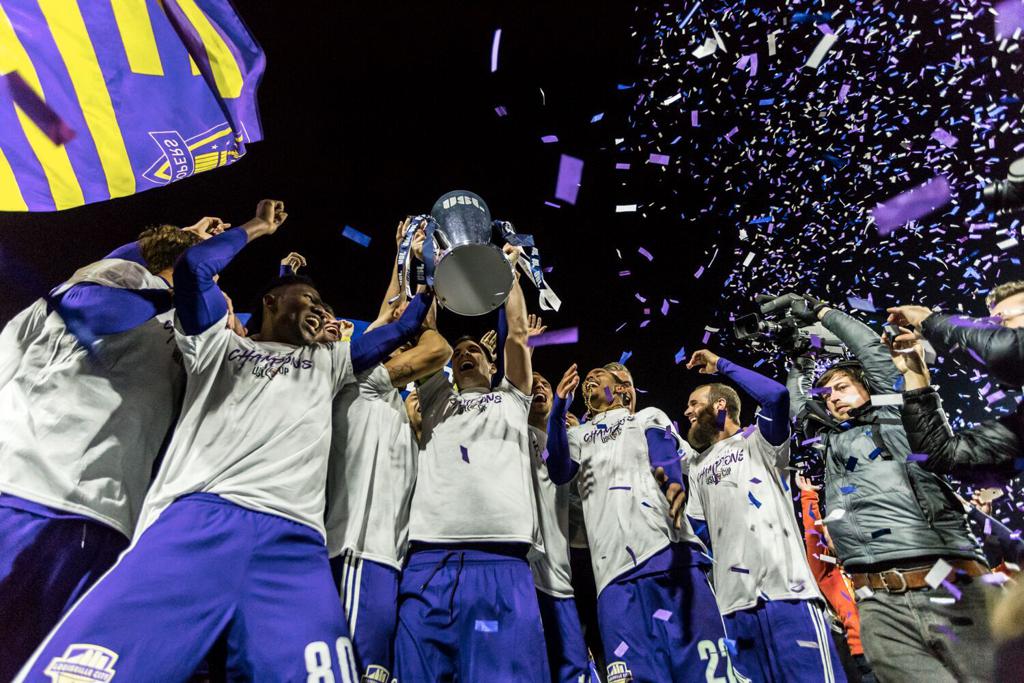 Since starting play in 2015, Louisville City FC has quickly established a reputation both for winning on the pitch and solid fan support off it.
LouCity, as the club is often referred by, is a member of the fully professional USL Championship, now sanctioned Division 2 by U.S. Soccer. The USL Championship includes more than 20 teams across the country.
Louisville City FC advanced to the USL's Eastern Conference Final in each of its first eight seasons, plus boasts back-to-back USL Cup Final victories in 2017 and 2018.
Beginning in 2020, LouCity moved from Louisville Slugger Field to the new Lynn Family Stadium, a soccer-specific facility in the Butchertown neighborhood just east of downtown. It can accommodate 15,304 fans and also serves as home to Racing Louisville FC, the organization's National Women's Soccer League franchise that launched in 2021. The clubs operate out of the nearby Lynn Family Sports Vision & Training Center at Champions Park.
Louisville City FC originally started with the help of local architect Wayne Estopinal, a part-owner in Orlando City SC, a former USL member that moved up to MLS in 2015. The USL franchise shifted to Louisville, and James O'Connor, a native of Ireland and former Orlando City player, was hired as coach. John Neace serves as LouCity's chairman, heading a local ownership group.
In 2018, Louisville City FC became the first USL team in history to win consecutive championships. LouCity returned to the USL Championship's final in 2019 and 2022, now under the direction of head coach Danny Cruz.
Key Louisville City FC dates
• Jan. 14, 2014: Orlando City SC owners officially meet to discuss transferring their USL franchise with Louisville supporters
• June 4, 2014: Louisville City FC announced as USL's newest franchise with James O'Connor as coach
• March 8, 2015: LouCity defeats Saint Louis FC in inaugural game at Slugger Field
• Aug. 12, 2015: In the "Matt Trick" game, forward Matt Fondy bags four goals against the Harrisburg City Islanders
• Aug. 25, 2015: The boys in purple beat Major League Soccer's Orlando City SC in friendly
• Sept. 2, 2015: Matt Fondy breaks the USL scoring record in an MVP season he ends with 22 goals
• Oct. 3, 2015: LouCity knocks off the Charleston Battery in their first playoff appearance
• July 17, 2016: A dominant, 4-1 win over the Wilmington Hammerheads caps a club-record 17-game unbeaten run
• Oct. 16, 2016: In a postseason dominated by MLS affiliates, LouCity is the only independent club to make the conference final round
• April 12, 2017: Butchertown Neighborhood revealed as club's future stadium site
• Nov. 4, 2017: Penalty shootout with New York Red Bulls II leads to LouCity's first Eastern Conference Final win
• Nov. 13, 2017: LouCity wins its first USL Cup Final over Swope Park Rangers with record 14,456 at Slugger Field
• June 28, 2018: Ground broken on what will go on to be known as Lynn Family Stadium
• June 29, 2018: The "triumvirate" — Paolo DelPiccolo, George Davis IV and Luke Spencer — takes over at James O'Connor's departure
• Aug. 2, 2018: John Hackworth named LouCity's second-ever coach, succeeding James O'Connor
• Oct. 12, 2018: Forward Cameron Lancaster sets the USL scoring record in a Golden Boot campaign he finished with 26 goals
• Nov. 2, 2018: LouCity claims its second straight Eastern Conference Final, again topping New York Red Bulls II
• Nov. 8, 2018: It's back-to-back USL Cup Final victories with a 1-0 win over Phoenix Rising FC
• Nov. 9, 2019: LouCity wins its third consecutive Eastern Conference Final with extra-time victory at Indy Eleven
• July 12, 2020: Amid the COVID-19 pandemic, Lynn Family Stadium opens with 4,850 in the stands of the 15,304-capacity facility
• Aug. 4, 2020: Ground breaks on the club's future training facility and office site at Champions Park
• Oct. 24, 2020: A 13-game unbeaten streak carries LouCity to its sixth straight Eastern Conference Final appearance
• Nov. 17, 2020: A new era begins for the club when it unveiled a rebrand designed by the renowned Matthew Wolff
• June 12, 2021: Lynn Family Stadium opens to 100% capacity for the first time with 12,115 on hand for a win over Memphis 901 FC
• July 16, 2021: New facility officially named the Lynn Family Sports Vision & Training Center as LouCity moves into its day-to-day home
• Oct. 11, 2021: LouCity appoints Danny Cruz as its third-ever permanent head coach after a successful interim stint
• Oct. 30, 2021: The boys in purple defeat Birmingham Legion FC, 1-0, to claim the USL Championship's Central Division title
• Nov. 13, 2021: A 1-0 victory over the Charlotte Independence ensures a seventh straight Eastern Conference Final appearance
• Dec. 18, 2021: Jonathan Gomez becomes the first active USL Championship player capped by the U.S. Men's National Team
• Aug. 13, 2022: A club- and Lynn Family Stadium-record crowd of 14,673 sees the boys in purple defeat the Tampa Bay Rowdies, 1-0
• Oct. 15, 2022: LouCity completes the regular season with single-season club records for wins (22) and points (72)
• Nov. 5, 2022: Academy grad Elijah Wynder scores in the 107th minute, lifting City to a conference final win over the Tampa Bay Rowdies
• May 10, 2023: Josh Wynder called up by the U.S. for the FIFA U-20 World Cup, making him the first active City player rostered for World Cup