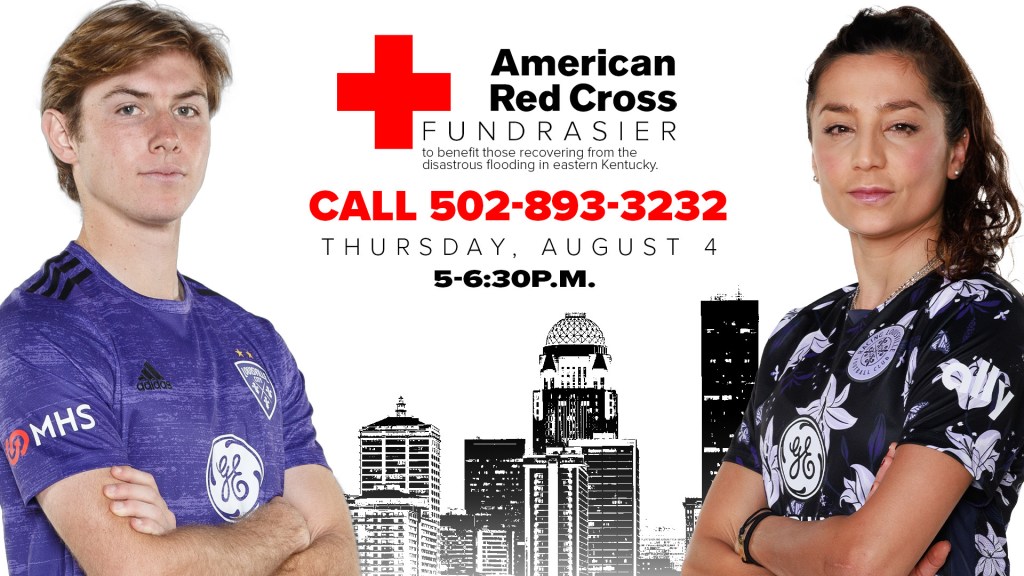 Louisville City FC and Racing Louisville FC have launched a fundraiser in partnership with the American Red Cross to benefit those recovering from disastrous flooding in eastern Kentucky.
Players from both clubs will operate phone lines from 5-6:30 p.m. Thursday during a relief telethon at WLKY-TV, Louisville's CBS affiliate. Call (502) 893-3232 to speak with stars such as Racing captains Gemma Bonner and Nadia Nadim or LouCity forwards Wilson Harris and Jorge Gonzalez, among others.
Those who make gifts of $100 or more through the telethon will automatically be entered to win a variety of team giveaways, including four suite tickets to a LouCity game, a jersey signed by City defender Sean Totsch and Racing swag bags.
This weekend, Racing hosts the Washington Spirit on Friday at Lynn Family Stadium before LouCity welcomes the Charleston Battery on Saturday. Fans will be encouraged during those games to continue donating to the cause online by visiting LouCity.com/RedCross or RacingLouFC.com/RedCross.
"Our state is once again reeling from a disaster, and we're hoping to see the collective power of our teams and supporters help fellow Kentuckians," said LouCity and Racing president James O'Connor. "We've started with a donation to the Red Cross from the club and hope fans that are able can contribute along with us."