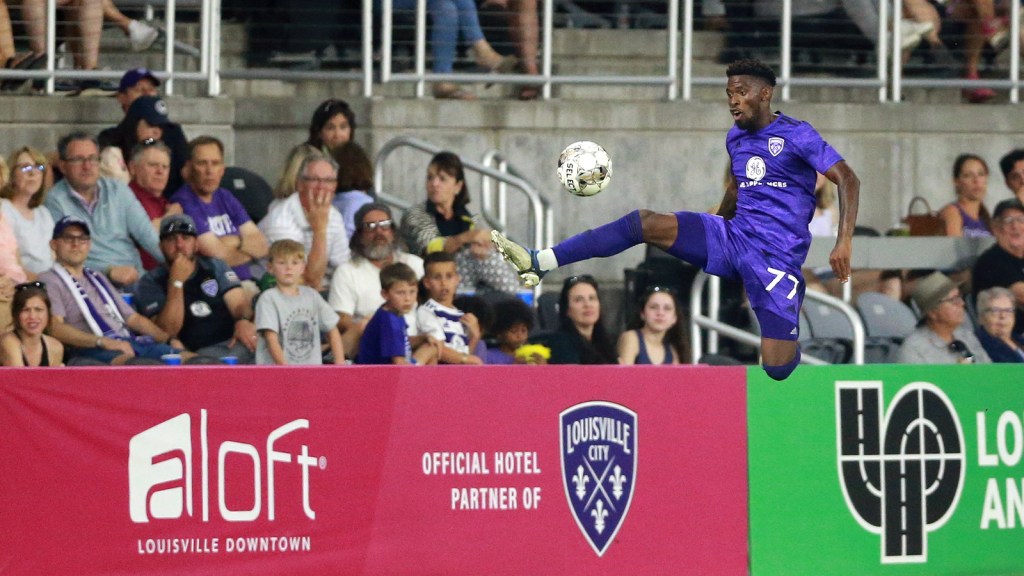 By Andrew Bell
Louisville City FC defeated the reigning USL Championship winner Orange County SC by a 3-1 score Saturday night in a dominant performance in front of an enthusiastic home crowd.
While the matchup remained scoreless until the 40th minute, both clubs scored before the half with Enoch "Matiti" Mushagalusa meeting a half volley near the top of the box to score as a product of a home side set piece. Orange County found an equalizer just five minutes later, though, after winger Milan Iloski floated a cross into City's box that was slotted away.
LouCity pulled away late on a pair of late penalties. Brian Ownby drove into the box in the 73rd minute, Ronaldo-chopped his way inside and was promptly tripped, winning his team a try finished by center back Sean Totsch. Ten minutes later, substitute striker Wilson Harris both earned and scored a try from the spot.
With the win, LouCity reclaimed pole position on the Eastern Conference by a point, just ahead of Memphis 901 FC, which has played one less game than the boys in purple. The boys in purple had lost three of four in league play entering the weekend, while Orange County remained 12th in the Western Conference standings as a result.
"We knew that this game was important," said coach Danny Cruz. "Despite where they are now in the table, they are a good team so I was really happy with our preparation and the execution of the game plan. The bottom line is, we took three points and that's what is most important. It was a fantastic atmosphere. This is a special place to play and the players certainly don't take it for granted."
Attack back on track
LouCity had been uncharacteristically shut out in two of its prior three losses. The club's only other scoreless performance this season came April 2 in a 0-0 draw at Birmingham Legion FC, playing the entire second half shorthanded due to a red card.
According to Opta Stats, LouCity's expected goals (goals a team is expected to score based on the quality of chances) by the end of Saturday's 90 minutes was 2.06, compared to Orange County's 0.84. Niall McCabe topped crossing charts (5) despite being subbed out after 76 minutes, and he had the highest passing accuracy out of any player on the field (90%). Additionally, McCabe was on the free kick that eventually led to Mushagalusa's opening goal.
Voted Man of the Match, Mushagalusa put in an impressive — and yet unexpected — 82-minute shift. The forward found out he'd be starting minutes before kickoff, as Cruz said Cameron Lancaster tweaked his groin on the final kick of his warmup. Mushagalusa totaled 2 shots, numbered 17 passes into the attacking third and 3 crosses. The preseason signing also forced mistakes out of Orange County defenders who had the ball, winning possession twice (tied for the most) in the opposition's own defensive third
"We work hard in training for moments like this," Mushagalusa said. "It's amazing how hard we work in training and how we fight for each other. So, when we come here and put on a show for the fans, it's truly amazing. I'm really glad that I got to score and win man of the match. I couldn't have done it without my teammates."
What we learned
After a tough few months of scheduling for the boys in purple, the two-week rest before facing Orange County appears to have done wonders. LouCity looked its regular self and now has another full week before traveling to face Hartford Athletic on Saturday.
A problem that plagued the boys in purple all of last season was conceding late in halves. While Orange County's late first-half goal didn't determine the outcome of the game, it's certainly not a habit that Cruz wants to see his team fall into.
"I'm obviously not happy that we conceded the goal the way that we did," said Cruz. "But, I had full confidence at halftime with the group. I spoke to them about that. I felt that the goals were going to come."
Making just his second appearance of the year, LouCity reserve keeper Danny Faundez came up big in relief of Kyle Morton, who remains in concussion protocol dating back to a June 5 game. Playing against his former team, Faundez made four crucial saves and seems likely to stay between the posts while Morton recovers from an injury picked up against Tampa Bay.
The squad depth at Cruz's disposal was on full display against Orange County as subs Wilson Harris, Jorge Gonzalez, Tyler Gibson, and Napo Matsoso provided energy to continue applying pressure and tracking back to finish out the match. Combined, Cruz's substitutes won 8 duels in under 20 minutes.
Brian Ownby, a pivotal piece to LouCity's attack, wrapped up the night by stating, "I'm happy to get the win after bouncing back from a loss two weeks ago. I thought that the mentality throughout the game, the press from front to back, really wore [Orange County] down. In the end, we're out there to win and that's what we did."