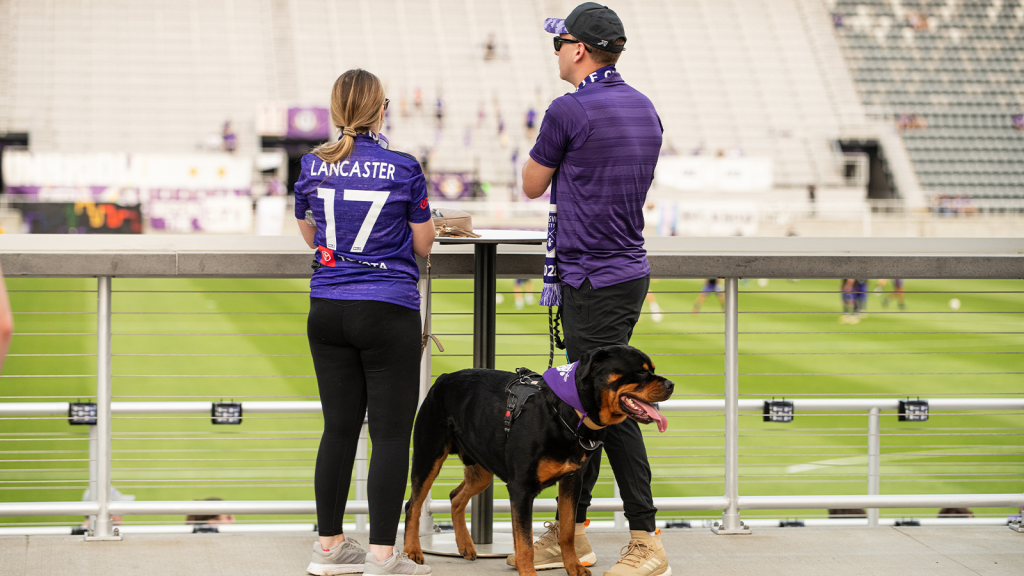 Louisville City FC is excited to host Pups at the Pitch, presented by Feeders Pet Supply, on May 13 at Lynn Family Stadium. Bring your furry friend to our match against Miami FC with gates opening at 6:00 p.m. before kickoff at 7:00 p.m.
Tickets for fans wishing to bring their dogs are on sale now with all proceeds to be donated to the Kentucky Humane Society. The first 500 fans entering through Gate 4 with their dog will also receive a collapsible water bowl!
We're also hosting a pet food drive with local news anchor Dawne Gee's 501(c)(3) nonprofit, "A Recipe to End Hunger." Click here for more information.
Rules
You must sign a waiver indicating your dog is up to date on vaccines and that you accept liability for your dog's actions. The waiver can be found below or filled out on site.
Pups at the Pitch participants must purchase tickets in the Waterfront End of Lynn Family Stadium. Season Ticket Members can use their existing ticket but must go to the Waterfront End.
Enter through Gate 4.
Dogs must remain in the Waterfront End and cannot proceed past Section 200 or 228.
One dog is permitted per adult.
No retractable leashes are allowed.
Should you take your dog to the game?
Yes, if your dog:
Is up to date on all required vaccinations and old enough to be around other dogs and people (4+ months of age)
Is in relatively good health and can walk up and down several flights of stairs
Does well on leash and is not reactive toward other dogs or humans
Does well with crowds and loud noises such as fireworks and cheering
Probably not, if your dog:
Is unvaccinated or under 4 months of age
Is a senior dog that would have trouble navigating stairs and being outside for an extended period of time
Tends to get overheated
Has reactive tendencies toward other dogs or humans
Is exhibiting any signs of illness close to the day of the game such as cough, nasal discharge, lethargy or diarrhea. These symptoms can be signs of potentially infectious illnesses and it would probably be best for your dog, as well as the other dogs in attendance, if they did not attend.
Has issues with loud noises (fireworks, loud music, sirens, etc. will occur before/during/after the game)