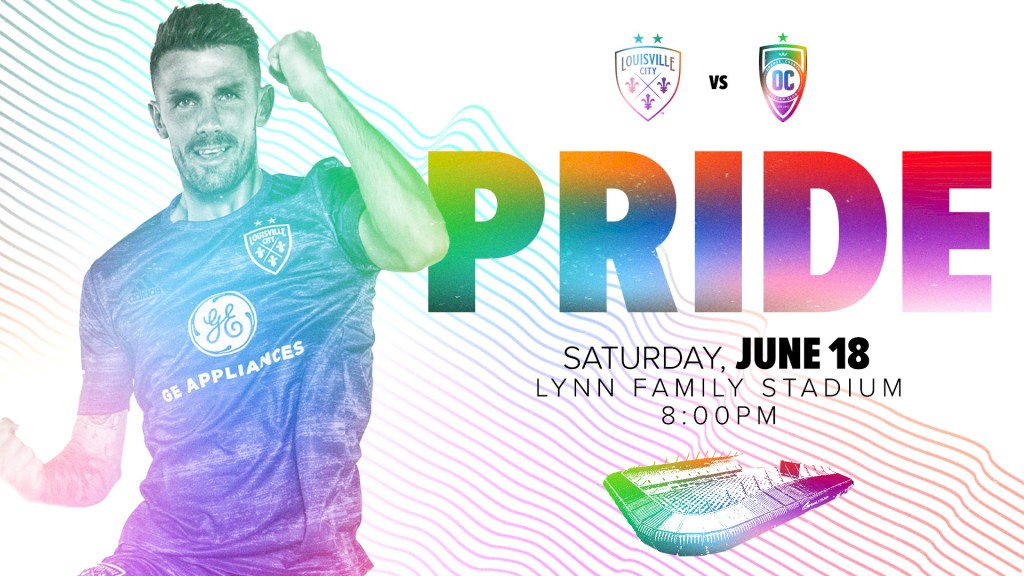 Soccer Holdings, LLC — parent company of Racing Louisville FC and Louisville City FC — will host a pair of Pride Night celebrations at Lynn Family Stadium in conjunction with the clubs' upcoming home games.
Racing's Saturday, June 4, matchup with the NC Courage and LouCity's Saturday, June 18, showdown against Orange County will serve as occasions to further align with the LGBTQ+ community and fundraise for associated local nonprofits. Both games kick off at 8 p.m.
All proceeds from a line of team-branded Pride merchandise, available throughout June online and in Lynn Family Stadium's Team Store, will go toward a collection of locally based organizations that will also have a presence at the Pride Night games:
The first 2,000 fans into Racing's June 4 Pride Night will receive a Racing-Pride flag presented by Kroger. The first 2,000 into the June 18 Pride Night will receive a LouCity-Pride flag presented by Coopers' Craft bourbon.
Players will also get in on Pride Night recognition with Racing's kits to be decorated in rainbow numbers and LouCity wearing a special warmup jersey — also available for retail — in pregame. A number of activations will surround Pride Nights, including national anthem performances by singer/songwriter Corry Michaels (Racing) and Men of Note with the Louisville Gay Men's Chorus (LouCity).
After the final whistle, head to Play Dance Bar, at 1101 E. Washington Street, for official Pride Night after parties. Show your game ticket to get in free!