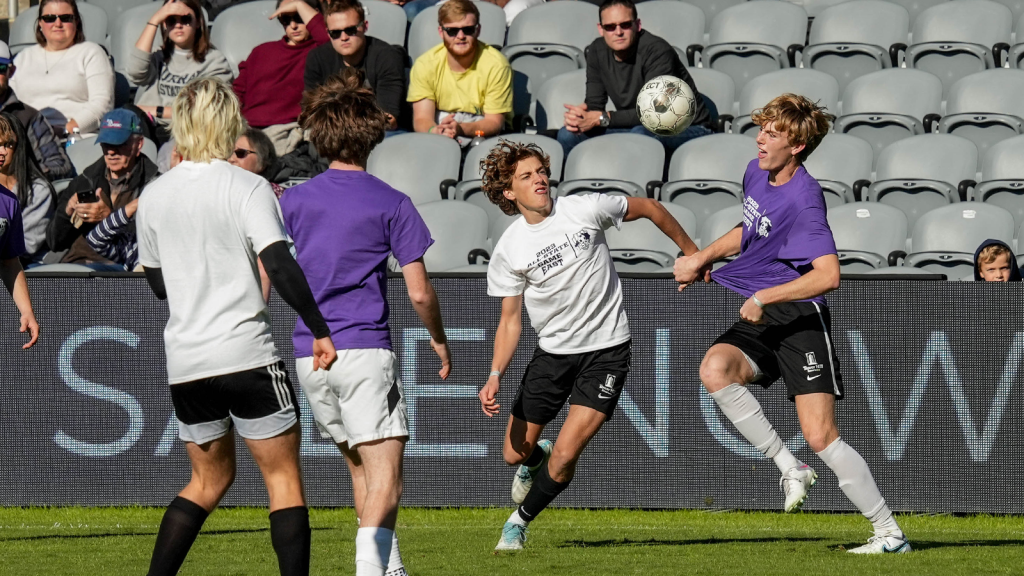 By Chris Mattingly
Kentucky's boys soccer high school all-stars played together where the pros do for the first time on Saturday when taking the pitch at Lynn Family Stadium.
The West teams, which featured 20 Louisville City FC Academy players, earned bragging rights in a pair of All-State Games won by 7-2 (first team) and 4-3 (second team) scores.
Louisville Collegiate's Jafet Figueroa, who assisted a goal by fellow academy teammate Trip Campbell of St. Xavier, said afterward he hopes play at Lynn Family Stadium again some day — just in a different capacity.
"It's a fun opportunity to showcase all of our talent — a lot of hard work we put into the season," Figueroa said. "It's a big motivating factor having the opportunity to play here, hoping to one day get here as a pro."
This year's All-State Games had the highest commitment yet with 80 players in attendance out of 89 that were selected for this year's games, said chair of the coaches association, Benson Pryor. He considered it a historic moment for high school soccer across the state.
"It was a really cool experience," Pryor said. "The idea was, what's the worst (LouCity) can say? No? We have never done this before, and the kids getting to play where the pros play is spectacular."
Pryor hopes that the event can continue to be hosted at Lynn Family Stadium each year, adding that the state association will explore hosting the girls All-State Games there as well.
"It's not only a stadium for men's soccer but for women's soccer as well," he said, noting the venue is also home to Racing Louisville FC.
West team coaches Mario Carrillo (Butler) and Christakis Agisilaou (Madisonville-North Hopkins) called this a special moment for high school soccer. 
"High school soccer in this state needed this to be showcased on the biggest stage that we have," Carrillo said. "I'm so thankful that Benson Pryor got this going. The turnout for the players and the people who came out this was well worth it."
"The kids deserve a venue like this," added Agisilaou. "I hope we can continue to do this, because it's a great environment for the kids."