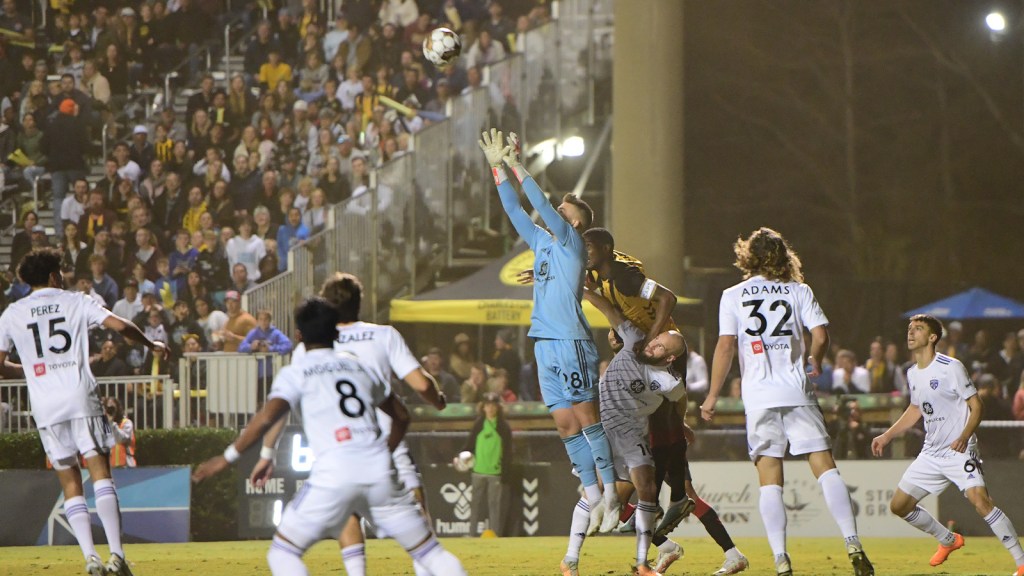 By Andrew Bell
Louisville City FC fell 2-1 to the Charleston Battery on Saturday in an away USL Championship Eastern Conference Final. It was another game in which LouCity went down early before the boys in purple cut into the deficit with too little time on the clock to spark a full comeback.
Charleston opened scoring in the fifth minute after City forward Brian Ownby, tracking back, tripped up a Battery player and conceded a foul just outside LouCity's box. Charleston midfielder Arturo Rodriguez scored the set piece, curling the ball just outside of goalkeeper Oliver Semmle's reach and into the top-left corner of the goal.
The Battery doubled their lead in the 58th minute when a questionable penalty kick was awarded to Charleston. Manny Perez appeared to make a well-timed challenge to knock the ball away inside his own box before making contact with the opponent. Charleston forward Augustine Williams converted the try low.
LouCity midfielder Carlos Moguel Jr. was sent off in the 86th minute after receiving his second yellow card of the night for colliding with a Charleston player from behind.
LouCity, searching for an answer, found one in the 90th minute after Oscar Jimenez's corner kick was smuggled in by center back Kyle Adams, who dove to head his first goal of the season in from within the six-yard box.
LouCity failed to produce more within the final five minutes of added time, allowing Charleston to punch its ticket to the USL Championship Final.
"I thought the group came together here at the end—certainly fought and battled and put ourselves in a position to play for a trophy, but fell short," head coach Danny Cruz said about his team's performance and exit from the playoffs. "It was frustrating how we conceded the first goal."
"We started coming out of half time making sure we adjusted our line. We got into a couple really good moments that we could have executed better. We came into this season with a clear memory of the feelings that we felt at the end of last year. It's about making sure that we take those feelings [from tonight] and they fuel us moving forward."
The loss will disappoint the boys in purple, especially because City's playoff form up until this point has been impeccable despite a 0-2-1 stumble to end the regular season. Saturday's match marked LouCity's ninth conference final appearance, a historic record that no other USL Championship team has come close to matching.
The result on Saturday was Charleston's first win over City in five years, totaling seven games. With the Battery's win over the boys in purple, City is now 4-5 in its Eastern Conference Finals.
A 60-minute match for City
In the first half on Saturday, the Battery came out swinging against LouCity. Not only did Charleston score within five minutes, but City was also lucky to survive the opening 30 minutes without more damage being done. After moving ahead, the Battery continued to pile on pressure, and in the 22nd minute, City survived a defensive scare where Charleston hit the woodwork then had two successive shots from within LouCity's box that were blocked. 
A 25th-minute LouCity counterattack seemed to change the tide of the first half, but it had already taken City almost 30 minutes to switch on. Additionally, even after settling into the game more, LouCity failed to put a shot on target until a 41st minute try by Cameron Lancaster was saved.
Even ground balls from City didn't set its forwards up for success against the Battery. On Saturday, numerous times throughout the game, a through ball to Ownby would force him to run away from Charleston's goal and more toward the opponent's corner flags, putting the winger in tough positions to make plays.
The LouCity veteran did well, though, on many occasions, including in the 39th minute when his hustle to a wayward through ball won his team a free kick deep within Charleston's half. While Ownby often handled those situations well, diagonal balls heading to the corner flag instead of the goal made his job harder on the night.
Struggles in Charleston
LouCity struggled to gain any aerial advantage when attacking Charleston's box. On the night, Battery defenders tamed almost all of City's chance creation through the air, as it took LouCity 26 crosses and seven corner kicks to get a goal, which came in the 90th minute.
Foul trouble also plagued LouCity on Saturday. Not only did both of Charleston's goals come from City fouls, Moguel Jr.'s late red card didn't help LouCity's attempts at mounting a comeback. The game's feisty nature, with 42 fouls between the teams, stunted LouCity's ability to hurt Charleston through spells of possession or offensive chances.
Even in the second half, when City was allowed 63% possession, Charleston prevented LouCity from producing chances by halting attacks before they could even leave City's own half. Smart switches of play and combinations from the boys in purple were shut down through strategic Battery fouls.
On the flip side, LouCity didn't help itself by committing the larger share of infractions—26 fouls on the night. By the 46th minute, LouCity had already committed more fouls than its season average of 14 per game. Lots of City's fouls on the night involved tripping or pushing a Charleston player from behind. Even if the Battery sold those fouls well, the nature of such fouls meant LouCity allowed the referee to make easy calls. Additionally, City's own late-game foul concessions gave the Battery more opportunities to run the clock down.
What we learned
This season, in its opening postseason game against Memphis 901 in the Eastern Conference quarterfinals, LouCity conceded early, yet showed resilience by equalizing in the same half and tucking away all of its tries in clinical fashion in the ensuing penalty shootout. In the conference semifinals just a week ago, City showed off its offensive prowess, dominating a visiting Detroit City 4-0. Against the East's No. 3 seed Charleston on Saturday, LouCity didn't stop fighting, yet frustrations on both sides of the ball proved to be the difference. The questionable penalty call in the 58th minute may have also changed the trajectory of City's season.
In this campaign's postseason, LouCity has only conceded one goal from open play — a first-minute goal by Memphis 901 in the conference quarterfinal. That means the boys in purple went 269 minutes without conceding from open play and were unlucky to exit the playoffs through two dead-ball situations against the Charleston Battery.
Throughout a turbulent season, one featuring periods of inconsistency and a club-low fifth-place finish on the Eastern Conference table, LouCity has showed that it can compete with some of the best teams in the league — beating Western Conference juggernauts Orange County and San Antonio earlier this season as well as knocking off the East's four seed Memphis just two weeks ago. Even against Charleston on Saturday, LouCity competed well, as the Battery averaged 17 shots total and five on target per game heading into the conference final but were limited to 11 total and just two on target against LouCity.
Throughout this season, LouCity has shown that it possesses squad depth and versatility within the tactics and positions of players. This adaptability, amidst injuries and other challenges, has been a driving force in pushing City to a historic ninth-straight Eastern Conference final appearance.
This past offseason, City returned a majority of the 2022 team that made the USL Championship final. Because of that, LouCity was able to see veterans Ownby, Lancaster, Jimenez, Paolo DelPiccolo, Niall McCabe, Tyler Gibson, Wes Charpie, and Sean Totsch all play important roles. Ownby and Lancaster continued to cause problems for defenses across the league, with Ownby finishing the year with four goals and five assists, and Lancaster garnering nine goals. DelPiccolo, McCabe, and Gibson often held down the midfield in many games and Charpie and Totsch played crucial roles in City's defensive unit, with Totsch appearing in every game this season.
LouCity Academy graduates Moguel Jr. and Elijah Wynder came into their own throughout the season, with Moguel Jr. earning a consistent spot in the heart of City's midfield. Forward Wilson Harris excelled, notching nine goals despite battling periods of injury. Also in their sophomore season with LouCity, outside backs Manny Perez and Amadou Dia added another dimension to their team's attack, and rookie Semmle was outstanding — achieving 13 clean sheets across the season. Finally, since taking over in 2021, Cruz has continued LouCity's tradition of playoff excellence by leading his team to three Eastern Conference Finals and winning one.
While LouCity's current squad is strong, perhaps Saturday's result will mark the beginning of potential changes to further bolster the boys in purple moving forward.
"All we can try to do is make sure we come back, and we're stronger going into 2024," Cruz said, wrapping up his thoughts on the night and looking toward next season.