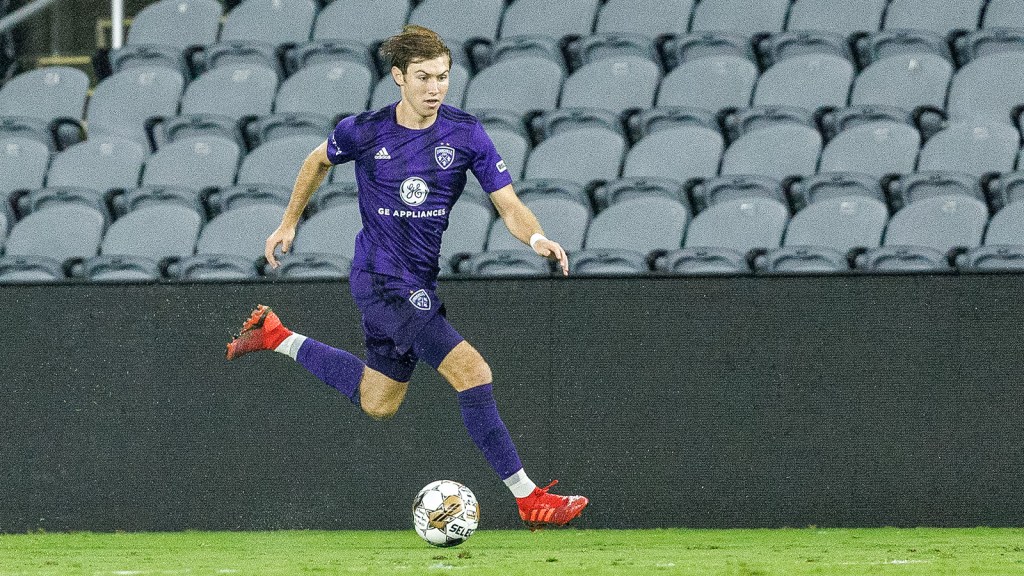 Dylan Mares and Wilson Harris scored second half goals from distance Saturday as Louisville City FC rallied to defeat Loudoun United FC, 2-1, and clinch its spot in the 2023 USL Championship Playoffs.
Playing through the remnants of Tropical Storm Ophelia, which brought driving winds and rain to Segra Field in Leesburg, Virginia, LouCity came back to win a game for just the second time this season. This latest victory proved pivotal for a number of reasons.
LouCity (14-10-7) kept pace with Memphis 901 FC in the Eastern Conference standings with three regular season games to go. The boys in purple are level on points with Memphis for fourth place, the cutoff for teams to host their playoff openers.
This marked City's 150th victory in the USL Championship since the club launched in 2015. That total ranks third all-time in the league.
And it also represented a rebound from a frustrating midweek result. The boys in purple led at three different points of their game at Miami FC before falling, 4-3, and looked on the brink of another defeat until midway through the second half.
"I think the weather played a big role tonight in the game," said coach Danny Cruz. "It made things difficult there in the first half. I'm obviously not happy to concede the way that we did — another set piece, which is something we'll continue to work on.
"But I was really proud of the second half and the chances we created. Our set pieces, from an attacking standpoint, I thought were excellent, and then we got a couple fantastic finishes to come away with the win.
"I thought the mentality was excellent there in the second half. I know the group and myself, we were looking to push for the three points and able to come away with them."
On as a 68th-minute substitute, Mares both scored his goal and assisted Harris' game-winning strike. The veteran midfielder said halftime marked a chance for LouCity to improve not only tactically but also put the wind at its players' backs.
The difference was staggering, with City numbering eight shots in the box and five on target over the final 45 minutes, consistently peppering Loudoun through set pieces. After seeing a Brian Ownby header hit woodwork and Sean Totsch's rocketed attempt blocked, Mares broke through.
Loudoun half cleared a 74th-minute corner that bounded out to the veteran. He settled the ball, stepped into it and equalized from outside the box. Mares also set up Harris for a curling effort, also beyond 18 yards, that won it in the 91st minute.
"In the second half, I thought we took over and started creating opportunities for ourselves," Mares said. "We just kept pushing. Even after the first goal we continued to push. I think that's something we'd been able to take advantage of at times but not enough this year. This was a game where everyone put in all the effort throughout the entire half, and it went in our favor."
LouCity was forced to recover from Loudoun's opener, a 20th-minute corner headed in by Zach Ryan at the near post. The boys in purple improved to 2-7-1 this year when conceding first, with the other comeback victory the Aug. 26 win over Oakland Roots SC courtesy of Oscar Jimenez's 98th-minute winner.
The newcomer Mares made this his fifth goal in purple. Harris, in his second campaign, scored his ninth of the season. The striker also netted a goal for a fourth straight game, equaling the club's longest scoring streak set formerly by Chandler Hoffman (2016) and himself (2022).
"I need to watch it back," Harris said of his goal Saturday, his 49th in the league. "But I think you could see I liked that one a lot with my celebration. I think I've scored one later than that, but it means a lot scoring a game-winning goal like that for LouCity.
"We're in a good position now to attack these next few games we have and really try to go on a run from there into the playoffs. I think all the guys are really motivated and happy with the result tonight."
After playing their last three games in a span of eight days, the boys in purple will return to Louisville and begin preparing for next weekend's match — also on the road. They'll visit the Western Conference's New Mexico United for the first time on Saturday, Sept. 30.
Game Summary: Loudoun United FC vs. Louisville City FC
Date: Sept. 23, 2023
Venue: Segra Field
Kickoff: 6:30 p.m.
Weather: 59 degrees, rain
Scoring
Loudoun United FC (1, 0, 1)
Louisville City FC (0, 2, 2)
Goals
Loudoun United FC:
20' Zach Ryan (Harvey Neville)
Louisville City FC:
74' Dylan Mares
91' Wilson Harris (Dylan Mares)
Lineups
Loudoun United FC: 1 — Dane Jacomen, 16 — Cole Turner, 4 — Aidan Rocha, 18 — Harvey Neville (80' 36 — Jace Clark), 8 — Abdoul Koanda, 5 — Yanis Leerman, 28 — Zach Ryan (46' 9 — Tommy Williamson), 23 — Kalil ElMedkhar (81' 7 — Abdoul Zanne), 19 — Hossou Landry (68' 11 — Jeremy Garay), 10 — Chris Hegardt, 3 — Jake Morris (68' 14 — Wesley Leggett)
Subs not used: 30 — Hugo Fauroux, 22 — Isaac Espinal
Head coach: Ryan Martin
Louisville City FC: 28 — Oliver Semmle, 6 — Wes Charpie, 4 — Sean Totsch, 32 — Kyle Adams, 15 — Manny Perez, 12 — Tyler Gibson (68' 22 — Dylan Mares), 8 — Carlos Moguel Jr., 19 — Oscar Jimenez (68' 67 — Owen Damm), 23 — Elijah Wynder (46' 36 — Paolo DelPiccolo), 10 — Brian Ownby (81' 9 — Jorge Gonzalez), 14 — Wilson Harris

Subs not used: 18 — Danny Faundez, 5 — Rasmus Thellufsen, 7 — Ray Serrano
Head coach: Danny Cruz
Stats Summary: Loudoun United FC / Louisville City FC
Shots: 10 / 17
Shots on Goal: 2 / 7
Possession: 49.9% / 50.1%
Fouls: 15 / 16
Offside: 1 / 2
Corner Kicks: 6 / 13
Discipline Summary
Loudoun United FC:
32' Cole Turner (yellow)
40' Aidan Rocha (yellow)
Louisville City FC:
39' Kyle Adams (yellow)
56' Wilson Harris (yellow)
79' Dylan Mares (yellow)
Referee: Kyle Johnston