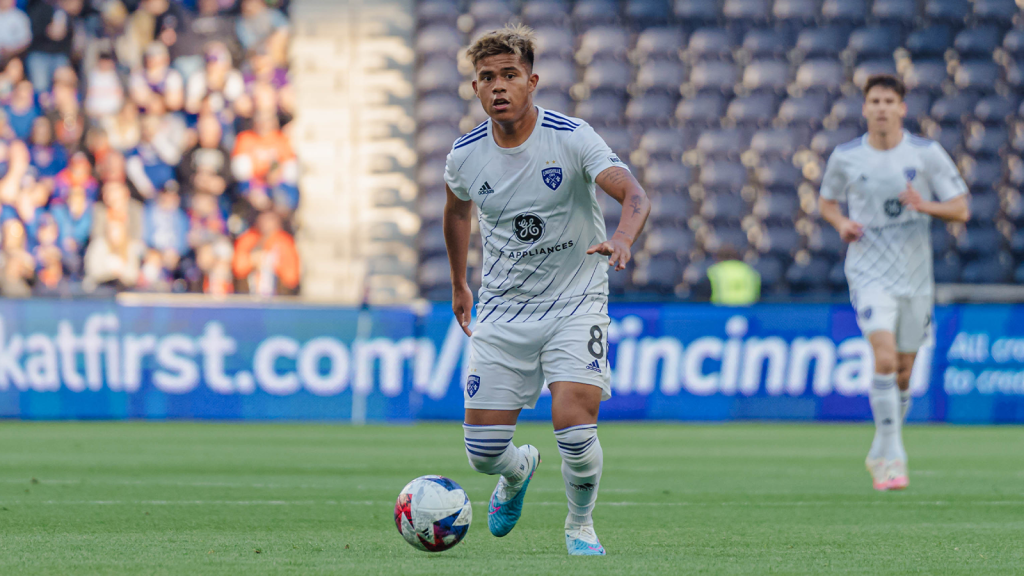 Louisville City FC scored a trio of go-ahead goals Wednesday, but Miami FC battled back each time — and then some — to come away with a wacky 4-3 victory at Riccardo Silva Stadium.
Miami FC finally capped the scoring with Joaquin Rivas' decisive 86th-minute penalty kick, managing to take three points from a game it played from a losing position most of the night.
The result served as a late-season setback for LouCity, which entered the night needing a win to clinch its spot in the 2023 USL Championship Playoffs. The boys in purple instead dropped to 13-10-7 on the year, their 46 points good for fifth on the table with four games to go.
Eight teams from both the Eastern and Western Conference qualify for the playoffs. Top-four sides host and, pending results, could continue to play at home throughout the postseason.
LouCity looked like the dominant side from the outset Wednesday, controlling 71% of possession through the game's opening 15 minutes, when Carlos Moguel Jr. whipped in a corner to Sean Totsch for the game's opening goal.
Each time City punched, however, Miami FC offered a counter. Christian Sorto first equalized in the 32nd minute, and and Rivas later crushed a spectacular volley in the 62nd minute to offset Wilson Harris' goal for LouCity just out of the half.
The jockeying concluded on a sour note for Totsch, a defender who registered his first brace when converting a 74th-minute penalty kick earned by Brian Ownby. Four minutes later, Gabriel Cabral knocked in a deflected shot from the top of the box to tie once again. Not long after, Totsch tripped up Rivas in the box to set up the game-winning shot from the spot.
It was a stunning result for a LouCity side that leads the USL Championship in clean sheets, marking its 12th over the weekend when shutting out top-four Western Conference side San Diego Loyal SC. And the loss came against a Miami FC team that entered at 1-4-0 in its last five games, clinging to its final playoff hopes in 10th place in the East's standings.
LouCity played its final midweek game of 2023 Wednesday and will turn around quickly to Saturday's 6:30 p.m. kickoff against Loudoun United FC at Segra Field in Leesburg, Virginia.
Game Summary: Miami FC vs. Louisville City FC
Date: Sept. 20, 2023
Venue: Riccardo Silva Stadium
Kickoff: 7 p.m.
Weather: 82 degrees, scattered showers
Scoring
Miami FC (1, 3, 4)
Louisville City FC (1, 2, 3)
Goals
Miami FC:
32' Christian Sorto
62' Joaquin Rivas (Paco Craig)
78' Gabriel Cabral (Michael Salazar)
86' Joaquin Rivas
Louisville City FC:
14' Sean Totsch (Carlos Moguel Jr.)
48' Wilson Harris (Ray Serrano)
74' Sean Totsch
Lineups
Miami FC: 1 — Jake McGuire, 3 — Aedan Stanley, 4 — Paco Craig, 22 — Ben Ofeimu, 2 — Mark Segbers, 14 — Ryan Telfer (46' 17 — Michael Salazar), 8 — Gabriel Cabral, 10 — Florian Valot, 99 — Christian Sorto, 11 — Joaquin Rivas, 9 — Kyle Murphy (70' 7 — Claudio Repetto)
Subs not used: 13 — Adrian Zendejas, 6 — Moises Hernandez, 18 — Dennis Dowouna, 30 — Chris Jean Francois, 77 — Gustavo Rissi
Head coach: Lewis Neal
Louisville City FC: 28 — Oliver Semmle, 15 — Manny Perez, 4 — Sean Totsch, 8 — Carlos Moguel Jr. (70' 12 — Tyler Gibson), 32 — Kyle Adams, 6 — Wes Charpie (83' 19 — Oscar Jimenez), 7 — Ray Serrano, 23 — Elijah Wynder, 36 — Paolo DelPiccolo (70' 22 — Dylan Mares), 9 — Jorge Gonzalez (57' 10 — Brian Ownby), 90 — Maarten Pouwels (46' 14 — Wilson Harris)

Subs not used: 18 — Danny Faundez, 5 — Rasmus Thellufsen
Head coach: Danny Cruz
Stats Summary: Miami FC / Louisville City FC
Shots: 11 / 16
Shots on Goal: 6 / 6
Possession: 50.2% / 49.8%
Fouls: 12 / 19
Offside: 2 / 0
Corner Kicks: 5 / 3
Discipline Summary
Miami FC:
35' Mark Segbers (yellow)
Louisville City FC:
30' Elijah Wynder (yellow)
79' Wes Charpie (yellow)
Referee: Elvis Osmanovic