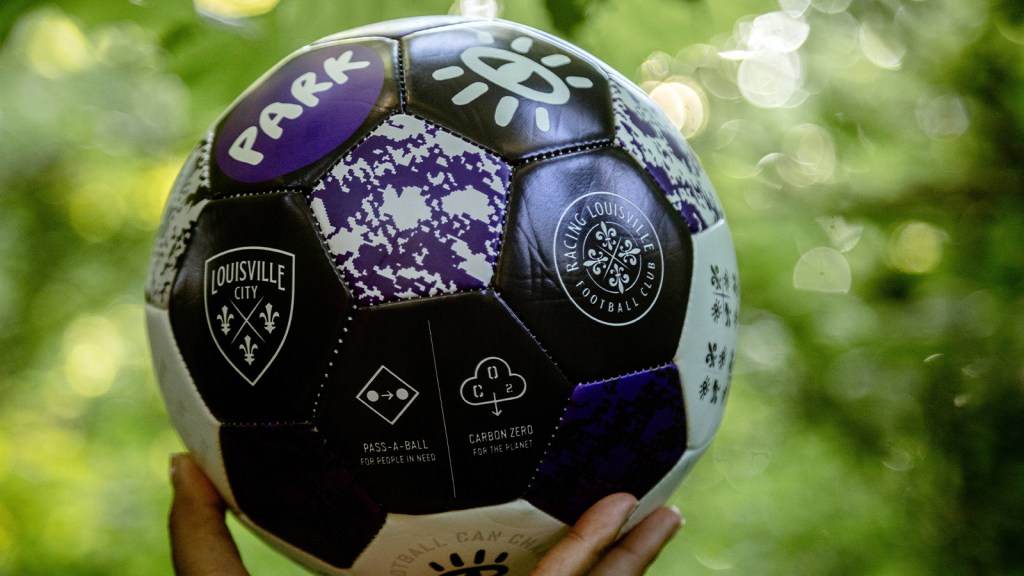 Louisville City FC and Racing Louisville FC have teamed up with impact-driven sportswear brand PARK on its Pass-a-ball project to create more access to the beautiful game in the clubs' community.
Specially designed balls — decorated with LouCity and Racing logos, fleur-de-lis marks and PARK's belief that "Football can change the world" — are now available at the Lynn Family Stadium team store open 10 a.m.-6 p.m. Monday through Saturday.
For each ball purchased, another ball will be donated by the clubs' 501(c)(3) charity LouCity & Racing Foundation to a local partner organization. With sales underway, the foundation has already passed on balls to children who participated in a soccer clinic at the local African Heritage Festival as well as a Catholic Charities program.
"Any time you can give a young boy or girl a soccer ball, or something that brings them joy, is what we're all about," said George Davis, the LouCity & Racing Foundation's program director. "Not only are we supporting kids playing soccer, but this is a way to further connect with our community. We stand behind the message on the ball — that football can change the world."
LouCity and Racing will add to PARK's total of 11,000-plus balls donated across 36 countries. Donated PARK balls are used on average four times a week and last half a year in the harshest of conditioning, meaning they can start more than 100 soccer games in their lifetimes.
PARK's goals directly align with the LouCity & Racing Foundation's mission to use soccer to provide area youth a safe place and the opportunity to dream, thrive and succeed. Formed in 2021, the foundation has already engaged more than 2,000 area youth and formed more than 30 community partnerships. Its staff regularly takes soccer to underserved areas for organized clinics and equipment donations.
Visit LouCityRacingFoundation.org today for more information or to donate. Tickets are also on sale now to the foundation's signature fundraiser the Soccer Ball, presented by Fifth Third Bank, on Sept. 27 at the Galt House Hotel.