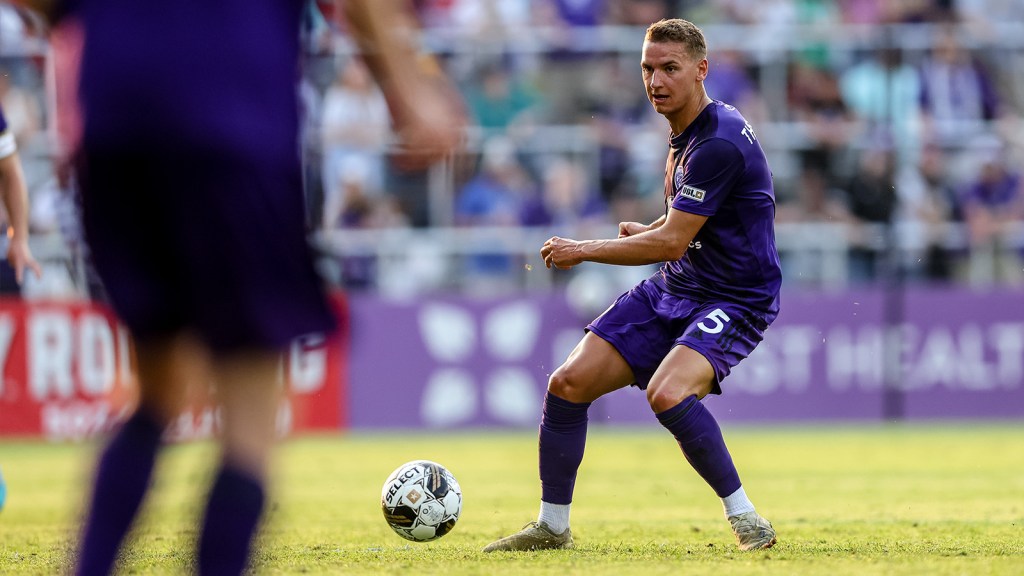 By Andrew Bell
Louisville City FC fell victim to a late FC Tulsa rally Wednesday night, losing 2-1 at Lynn Family Stadium — a rare occurrence given LouCity entered the match with a home record of 26-4-2 in regular season games since capacity limits were lifted in June of 2021.
A first half goal from City seemed inevitable, and it came in the 29th minute after Manny Perez won an interception on the right side of the pitch, drove inward toward goal, then perfectly split the Tulsa backline to feed Jorge Gonzalez. Gonzalez took one touch to settle, then dragged the ball low and back across the goal where it nestled into the bottom left corner.
The game seemed to be under purple control until the 77th minute, when Tulsa caught wind in their sails and came alive. A blazing counterattack ended up on the edge of LouCity's box, where the ball was pushed across to Tulsa defender Eric Bird who punched it in.
FC Tulsa struck again for the winner in the 89th minute when a half-cleared corner popped up to Phillip Goodrum — just traded earlier this week from Memphis 901 FC — who headed it in.
LouCity still sits third in the Eastern Conference, on 17 points through 10 games. In front of a record regular season weeknight crowd of 11,434, City would've hoped to keep a clean sheet and finish its chances on a night marked by themes of missed opportunities and organizational breakdown.
"That's one of the most frustrating things," head coach Danny Cruz said about his team's performance in front of the home fans. "[We] did enough to win the game and to close the game out in the first half to where it's two, three to zero, maybe even four to zero. [When] we don't do that, we keep them in."
Entering the contest, LouCity was undefeated in its last five USL Championship matches. Tulsa, on the other hand, entered Lynn Family Stadium without a win in its last eight league games. A victory for the boys in purple would've propelled them to second on the table with a game in hand on the Eastern Conference-leading Charleston Battery.
A strong start
Two weeks ago, before LouCity's matchup with Miami FC, Cruz stated that in training his team had been working on "the attacking side of the ball." LouCity went on to take 16 shots and score three goals in that May 13 game. This momentum continued into the first half of play against Tulsa on Wednesday.
LouCity tallied 10 shots before Tulsa mustered its first. By just the 35th minute, City had four shots on target, already more than their season average of 3.2 per game. At the center of these numbers were midfielders Dylan Mares and Rasmus Thellufsen and forwards Gonzalez and Wilson Harris.
On the night, midseason signing and veteran center mid Mares recorded team highs in both chances created and crosses, with four of each. In the 16th minute, Mares found himself entering Tulsa's final third and guided Thellufsen through on goal. The precise weight of pass from Mares to Thellufsen allowed the latter to strike the ball first-time, forcing a save out of FC Tulsa's keeper. Thellufsen himself created a chance and a cross while registering three shots on the night.
Forwards Gonzalez and Harris played a huge role in their team's attacking threat. The pair combined for eight shots, with seven coming from within the box. Gonzalez and Harris also played 14 and 12 passes into Tulsa's final third, respectively, while contributing three crosses together.
LouCity's goal on the half-hour mark was well deserved and expected due to the team's play leading up to it, although it wouldn't have been possible without another aspect of City's first half play — organized and relentless pressure off the ball.
LouCity's front three of Gonzalez, Harris and Brian Ownby won the ball on five occasions in the final third. As a whole, City made five interceptions in Tulsa's half. City's overwhelming pressure often forced FC Tulsa to play a rushed long ball and hand over possession in the first 45 minutes.
The pressure didn't just stop after the front three. If Tulsa managed to build out of the back, Thellufsen, Mares, and Tyler Gibson worked hard to dodge around the shoulders of players receiving the ball to disrupt any kind of attack or buildup. Gibson, acting as the anchor between defense and offense, allowed Thellufsen and Mares to fly into new space to put pressure on the backs of deep-lying Tulsa midfielders. Mares' chance creation in the 16th minute was a direct result of this, as he first made a tackle high up the pitch, then drove forward to dish the ball to Thellufsen.
If FC Tulsa worked the ball into the wide channels, LouCity outside backs Amadou Dia and Perez could be found throwing crowbars in the plans of Tulsa wingers by staying tight on their backs. Resultantly, Perez's assist came after he robbed the ball from a FC Tulsa combination play in Tulsa's own half.
The first half against FC Tulsa on Wednesday night demonstrated what a LouCity team, fully bought-in to Cruz's soccer ideology on pressing, can look like — one that refuses to give the opponent any breathing room.
What happened?
LouCity's intensity seemed to cool off considerably entering the second half, and more specifically, the last 30 minutes of play. Such a stumbling finish is rare for the boys in purple, as City entered Wednesday unbeaten in its last 14 USL Championship matches when leading at halftime dating back to the 2021 Eastern Conference Final.
Yet, a mix of fatigue and complacency appeared to get the better of the team. City's organized, first half pressing scheme seemed stretched in the last 30 minutes, giving Tulsa a taste of confidence when counterattacks became easier and space more abundant.
Additionally, LouCity created several opportunities, including low crosses right across the face of goal, which couldn't find the finishing touch. Right after Tulsa's equalizing goal but before its winner, City committed numbers forward in hopes to salvage all three points within the last 15 minutes of the game.
"I thought we got impatient," Cruz said about his team's mentality after conceding. "I thought that once they scored the first goal, we got unorganized and we were trying to be desperate to go for the second [goal]. I was screaming from the sideline to the group not to sell out, to try to keep the ball, and that the goal will come. But we got desperate. We were trying to get the message across to the bench, that when it becomes 1-1, not to throw everything you can in that exact moment and have seven more opportunities going the other way for the other team."
Fatigue forced Cruz to make changes, and City's midfield substitutes didn't seem to work as hard as their replaced teammates before any changes were made.
"[In] the second half, we came out flat, thought we started to fatigue." Cruz said about his team's fitness. "All of the moves I made tonight were due to fatigue."
Cruz went on to talk about the changes he made, saying, "Ultimately, I made some decisions tonight that I think are difficult ones, but some guys didn't take advantage of the opportunity and I'm certainly going to have that in the back of my mind going forward."
LouCity has an opportunity to quickly turn things around with a game at regional rival Indy Eleven on Saturday when the boys in purple will hope to convert more chances and maintain its shape throughout the match.