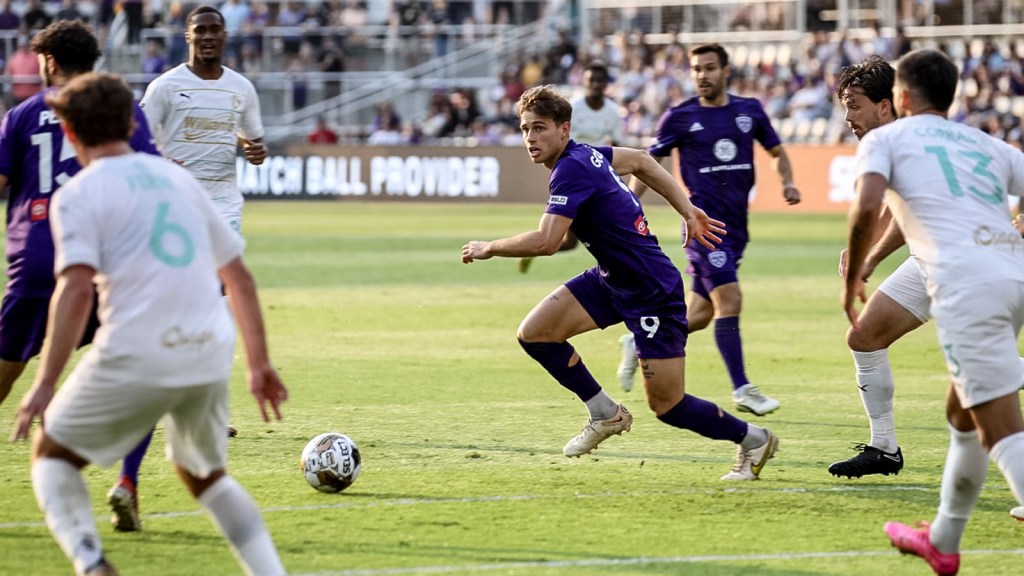 A familiar nemesis foiled Louisville City FC on Wednesday night when forward Phillip Goodrum — traded earlier this week to FC Tulsa — headed in a late game winner for his new club.
The visitors prevailed by a 2-1 score as a result at Lynn Family Stadium, where the boys in purple saw their five-game USL Championship unbeaten streak come to an end.
LouCity staked itself to a halftime lead, and a crowd of 11,434 — a regular season weeknight record for the club — figured to push the hosts to another home win. But City unraveled late, first seeing Eric Bird hit the back of the net on the counter before the former Memphis 901 FC standout Goodrum's second-chance strike caromed over the end line in the 89th minute.
Coach Danny Cruz chalked the loss up to "missed chances" on a night when LouCity out-shot its opponent 19-9.
"In the first half we held them to two shots in 45 minutes," Cruz said. "In this sport, that's hard to do. Second half, we came out flat. I thought we started to fatigue and missed a couple of big chances. You continue to keep an opponent in a game and things like that can happen."
It was a shocking result for two sides that appeared headed in different directions just past the 2023 season's quarter mark. LouCity (5-3-2, 17 points) had bounced back from consecutive defeats into early April by climbing to third on the Eastern Conference table, while FC Tulsa (2-4-6, 12 points) entered with just one win this year on March 25.
Tulsa didn't so much as attempt a shot until the the 38th minute. By then, Jorge Gonzalez had LouCity out front, slipping in a 29th-minute goal on service in behind from outside back Manny Perez.
City had exceeded its season averages in shots (10.7) and shots on target (3.2) by the halftime break. Lack of a second goal eventually sank the boys in purple.
"You have to take your chances," said defender Sean Totsch. "If you leave any team in it, they're going to get something. It'll bounce their way, or a call goes their way and they get that momentum. Keeping that game at 1-0 when we should have been up 2 or 3-0, a lot of guys will say that they should have finished chances."
LouCity played Wednesday for the first time since May 13. Gonzalez and Perez — who both contributed to the goal — marked Cruz's lone lineup changes. The coach said both were subbed out in the second half due to fatigue on their way back from injury.
"It's a difficult opponent coming up and a difficult place to go," Cruz said of his club's next test, a 7 p.m. Saturday trip to play rival Indy Eleven. "This was a difficult result — a performance where I thought we created probably the most chances we have this year, no question about it.
"But we're missing from two yards out and three yards out. We need to turn around quickly, so the guys will be in tomorrow. We'll try to get our bodies right. We need to make sure we respond on Saturday."
Game Summary: Louisville City FC vs. FC Tulsa
Date: May 24, 2023
Venue: Lynn Family Stadium
Kickoff: 7:30 p.m. ET
Weather: 83 degrees, clear
Attendance: 11,434
Scoring
Louisville City FC (1, 0, 1)
FC Tulsa (0, 2, 2)
Goals
Louisville City FC:
29' Jorge Gonzalez (Manny Perez)
FC Tulsa:
77' Eric Bird
89' Phillip Goodrum
Lineups
Louisville City FC: 28 — Oliver Semmle, 13 — Amadou Dia, 6 — Wes Charpie, 4 — Sean Totsch, 15 — Manny Perez (69' 19 — Oscar Jimenez), 12 — Tyler Gibson (69' 36 — Paolo DelPiccolo), 22 — Dylan Mares (59' 23 — Elijah Wynder), 5 — Rasmus Thellufsen, 9 — Jorge Gonzalez (69' 77 — Enoch Mushagalusa), 10 — Brian Ownby (79' 17 — Cameron Lancaster), 14 — Wilson Harris

Subs not used: 18 — Danny Faundez, 30 — Jordan Scarlett
Head coach: Danny Cruz
FC Tulsa: 24 — Michael Nelson, 30 — Adam Armour, 13 — Jorge Luis Corrales (62' 4 — Ruxi), 12 — Rashid Tetteh, 48 — Eric Bird, 6 — Blaine Ferri (76' 18 — Nate Worth), 8 — Collin Fernandez (72' 92 — Dario Suarez), 7 — Marcus Epps (72' 77 — Moses Dyer), 88 — Christopher Pearson (62' 3 — Justin Malou), 20 — Milo Yosef, 10 — Phillip Goodrum
Subs not used: 1 — Austin Wormell, 23 — Chase Bromstedt
Head coach: Blair Gavin
Stats Summary: Louisville City FC / FC Tulsa
Shots: 19 / 9
Shots on Goal: 7 / 4
Possession: 49.2% / 50.8%
Fouls: 21 / 12
Offside: 1 / 2
Corner Kicks: 5 / 3
Discipline Summary
Louisville City FC:
33' Wes Charpie (yellow)
78' Paolo DelPiccolo (yellow)
90'+5 Amadou Dia (yellow)
FC Tulsa:
23' Collin Fernandez (yellow)
88' Bench (red)
90'+1 Dario Suarez (yellow)
90'+5 Moses Dyer (yellow)
Referee: Abdou Ndiaye