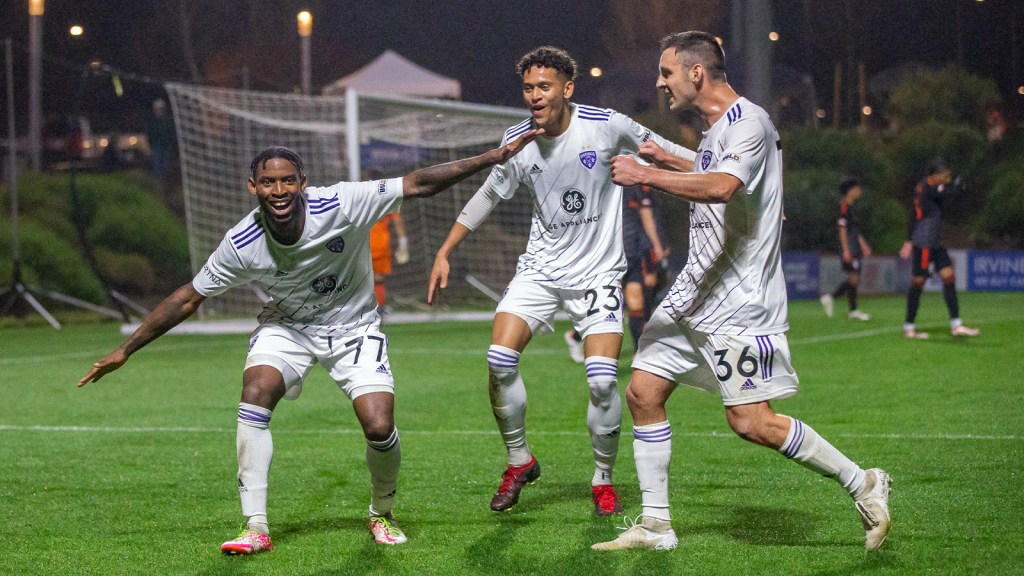 Louisville City FC lost only two league games last season at its Lynn Family Stadium, but the boys in purple get the chance to repay the favor to Monterey Bay FC when the clubs meet again Saturday.
Kickoff is set for 10 p.m. ET at Cardinale Stadium, with Monterey Bay the home side this time in Seaside, California.
A 2022 expansion club, Monterey Bay was only 10 games into its inaugural campaign when it notched a shocking, 2-0 victory over LouCity on May 21 in front of more than 10,000 purple-clad fans.
The club improved dramatically as its first season went on, finishing 12-18-4. A playoff spot will be the goal in Year 2, especially after Monterey Bay FC raced past Hartford Athletic by a 5-3 score in its 2023 opener. LouCity defeated Orange County SC, 3-1, last weekend.
Those Match Day 1 results and their goal differentials make Saturday's game a meeting of clubs sitting atop the Eastern and Western Conference tables.
Follow along
• Saturday's game will air live on MyTV and ESPN Louisville's 680/105.7.
• If streaming, download the free WDRB Now app to watch the local feed in Louisville. ESPN+ also streams the home feed of all USL Championship games not selected for national TV.
• For Starting XI and in-game updates, follow @loucityfc on Twitter and Louisville City FC on Facebook. Also find the club at louisvillecityfc on Instagram.
Availability report
Wes Charpie (Out)
Danny Faundez (Questionable)
Jorge Gonzalez (Out)
Wilson Harris (Out)
Kyle Morton (Questionable)
Ray Serrano (Out)
Story lines…
West coast swing: Saturday's game will mark the second of LouCity's three early season 10 p.m. ET kickoffs in California. The boys in purple remained out west following last weekend's victory at Orange County SC and return to the Golden State for an April 1 matchup with Sacramento Republic FC.
One to watch: Veteran winger Alex Dixon starred for Monterey Bay FC in his club debut, registering the league's lone Week 1 hat trick. All three of his goals hit the back of the net before the halftime whistle. Dixon is a familiar opponent for LouCity having played most recently for Pittsburgh Riverhounds SC in 2021 and 2022.
The 200 club: By subbing on in the 70th minute at Orange County, team captain Paolo DelPiccolo now sits on 199 LouCity appearances across the regular season and USL Championship Playoffs. He's on the precipice of becoming the first City player to play in 200 games. DelPiccolo, who represented two Championship clubs prior to City, ranks sixth in league history in minutes played (16,904) and eighth in total regular season appearances (231).
Anticipated debut: After missing LouCity's opener with an excused absence, U.S. youth international Josh Wynder is expected to make his highly anticipated 2023 debut at Monterey Bay FC. The LouCity Academy graduate Wynder, who turns 18 in May, is a prime transfer prospect eying a move to Europe later this year.
Fighting through it: Winger Brian Ownby numbered assist Nos. 33 and 34 of his LouCity career at Orange County, moving into the club's all-time lead. In the process, he also missed a portion of the first half when a tackle broke through his boot and gashed his foot. Ownby's 31 regular season assists rank him third all-time for a single club in league history behind Kenardo Forbes (Pittsburgh) and Solomon Asante (Phoenix), both with 41.
Milestone moment: With a clever flick, Cameron Lancaster scored LouCity's game winner at Orange County, marking his 75th regular season USL Championship goal. He now ranks third on the league's all-time goals list behind Dane Kelly (106) and Hadji Barry (79), plus counts himself as the league's most-efficient scorer ever. Among those with 50-plus goals, Lancaster converts every 107.3 minutes. Second on that list is Kelly at 150.3 minutes per goal.
Instant impact: Before last weekend, Niall McCabe hadn't taken the pitch for LouCity since the summer, suffering a season-ending foot injury in warmups for an Aug. 13 game against the Tampa Bay Rowdies. The City original started against Orange County, wore the captain's armband and scored just four minutes into the game on a header courtesy of Ownby.
Musha-goal-usa: LouCity led by a goal and was under attack late at Orange County before the boys in purple capitalized on the counter attack. Enoch Mushagalusa — with a strong individual effort to shake free of a defender — put the exclamation point on a 3-1 victory. It continued a strong run of scoring form dating back to last season, when Mushagalusa tallied a career-high 10 goals.
Morton's magic: Kyle Morton saw his 2022 season end early, but following surgery to a herniated disc the reigning league Golden Glove winner was back between the posts at Orange County, making three saves and controlling the hosts' aerial attacks into the box. Morton numbered a club-record 13 clean sheets last year, and City didn't concede more than two goals in a game with him between the posts.
The newcomers: Much has been made of LouCity's league-record 21 returning players from last year's squad. Three players also made their debuts in purple at Orange County with defender Jordan Scarlett starting in central defense and Rasmus Thellufsen slotting into the midfield. Dylan Mares, who played collegiately at the University of Louisville, also subbed on in the attacking midfield.
On deck: Following its west coast swing, LouCity will return home on March 25, playing at Lynn Family Stadium for the first time since the boys in purple won the 2022 Eastern Conference Final back in November. A Week 3 home opener against El Paso Locomotive FC matches 2019 for the club's latest-ever debut in Louisville aside from the 2020 season delayed due to the COVID-19 pandemic.