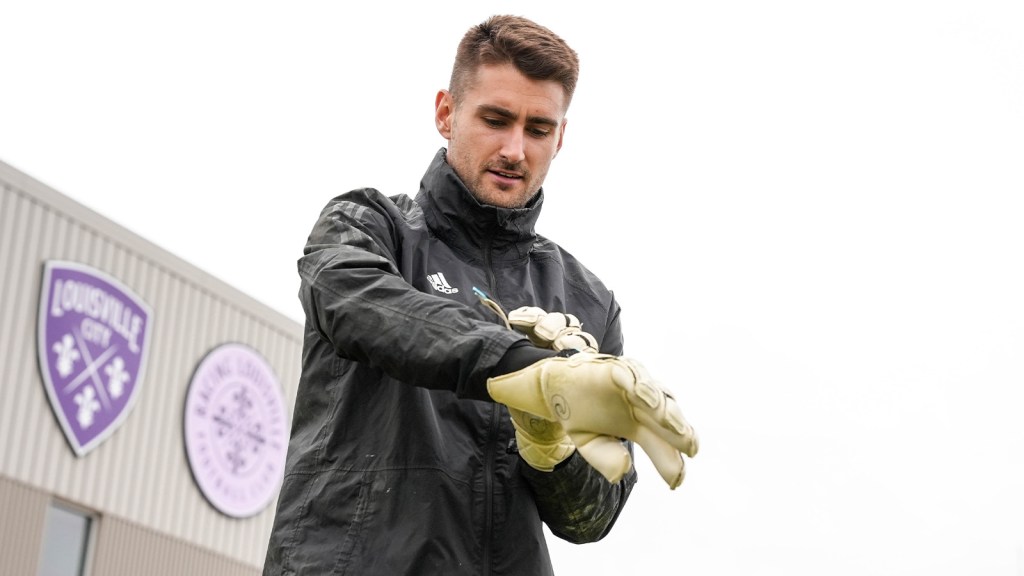 Kyle Morton felt an unusual pain shoot down his leg. Power in his calf muscle — crucial as goalkeepers launch into saves and deliver booming kicks out of their half — eroded.
The symptoms emerged just as Louisville City FC hit last season's home stretch. Morton, however, reached his finish line early.
After surgery, months of rehabilitation and a late start to the 2023 preseason, the USL Championship's reigning Golden Glove winner looked his old self Saturday night as LouCity defeated Orange County SC by a 3-1 score in its opener.
"You never know how you're going to feel when you get back in there," Morton said. "But after the first shot, everything just becomes instinctual. I felt like I was back where I belong."
Morton was credited with two saves — a 10th-minute stop from point-blank range and 34th-minute parry that thwarted a free kick played to the back post. But those contributions hardly sum up an evening during which the 6-foot-4 keeper consistently soared off his line to pluck Orange County passes out of the air.
"He was big time," said coach Danny Cruz. "He made a couple big saves in the first half off their long throws. He was strong in the air with their service. Orange County came out and did what we expected them to do — a lot of long diagonals. We worked on it this week, and we felt Kyle commanded his box really, really well and made a couple massive saves for us."
All of this was in doubt as recently as a few weeks ago. Morton underwent what he called "a simple surgery" last fall, having a piece of bone fragment in his back removed from a nerve.
It wasn't until LouCity's final preseason game March 4 at Pittsburgh Riverhounds SC that the 28-year-old made his first start.
"Missing so much of the preseason, I felt that when I got back in I had to prove myself and show I could still do it," Morton said. "I showed myself every single day and showed Danny I should be in goal."
In his first season with LouCity, Morton conceded at a rate of just 0.74 goals per game to secure the club's only Golden Glove award to date. The West Chester, Pennsylvania, native has also been a finalist for USL Championship Goalkeeper of the Year in his three most recent seasons in the league — 2019, 2020 and 2022.
Next, Morton will look to build upon last year's single-season club-record 13 shutouts in 28 appearances. LouCity has never conceded more than two goals with him on the field.
"It's always nice to get back on the field," Morton said. You get the pregame jitters after not doing it for so long… A lot of work went in during the offseason. I felt prepared, and just to get rewarded with the start on the night, I'm really proud of everything."