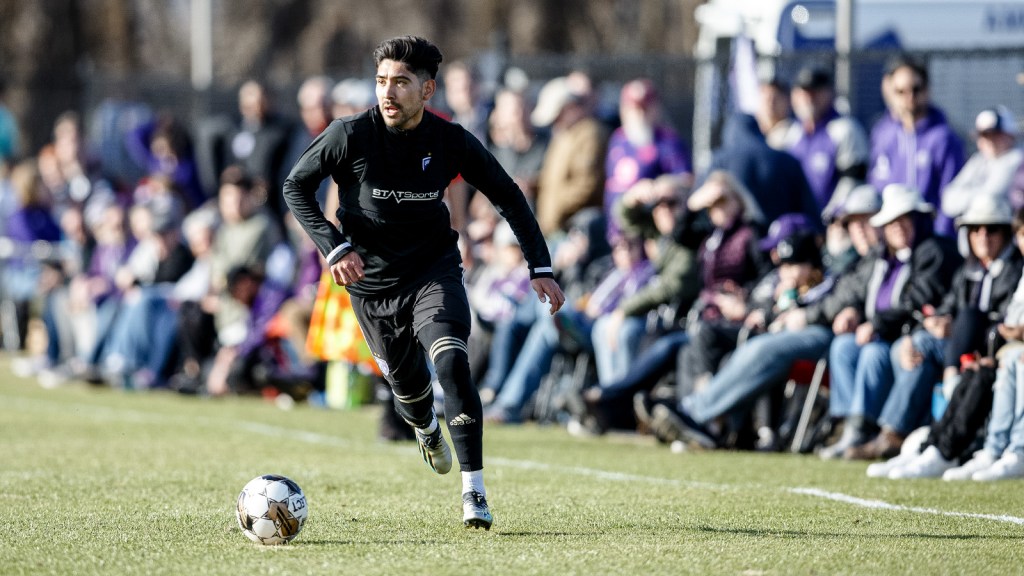 Months after adding the USL Championship's 2022 Eastern Conference trophy to its case, Louisville City FC embarks on a new season Saturday with familiar goals.
The boys in purple — who open their 34-game campaign with a 10 p.m. kickoff at Orange County SC — will look to do one better than last year, striving to win the USL Championship Final. And they've made it a key objective to finish with the league's best record for the first time in club history, guaranteeing the final would be played at home.
In that respect, every game played and point earned will matter from this weekend through the mid-October regular season finale.
"I was really happy with the preseason — the workload, the group continuing to come together, integration of new players," said coach Danny Cruz. "All in all, I feel we got exactly what we wanted to get out of preseason. Now we've put ourselves in position to have a great week of training, a long travel and get straight to Orange Country."
Tough tests feature early. After taking on Orange County SC at its Championship Soccer Stadium, LouCity will stay in California to play Monterey Bay FC on March 18. City makes a return to the west coast versus Sacramento Republic FC at the start of April — the product of a newly balanced USL Championship schedule.
This year, the boys in purple will play every Eastern Conference club twice home and away and see every Western Conference squad once. Both conferences' top-eight finishers will qualify for the 2023 USL Championship Playoffs. The postseason will remain a single-elimination format and return to a fixed bracket, culminating in the 2023 final on Nov. 12.
"It's going to be the first year when the schedule is properly balanced," said team captain Paolo DelPiccolo. "That regular season championship is probably the most important that it's ever been, and going back to last year, playing the final on the road is something we wish we could have avoided."
Follow along
• Saturday's game will air live on MyTV and ESPN Louisville's 680/105.7.
• If streaming, download the free WDRB Now app to watch the local feed in Louisville. ESPN+ also streams the home feed of all USL Championship games not selected for national TV.
• For Starting XI and in-game updates, follow @loucityfc on Twitter and Louisville City FC on Facebook. Also find the club at louisvillecityfc on Instagram.
Availability report
Wes Charpie (Out)
Danny Faundez (Out)
Jorge Gonzalez (Out)
Wilson Harris (Questionable)
Ray Serrano (Out)
Story lines…
Title favorite: Thanks to LouCity returning a league-record 21 players from last season, FiveThirtyEight.com projects the boys in purple to win it all. City has a 22% chance of winning the USL Championship Final, double that of San Antonio FC, the 2022 titlists also expected to field a strong squad again. The Tampa Bay Rowdies (10%), Phoenix Rising FC (9%) and San Diego Loyal FC (7%) round out the top five.
Key additions: New signings were scarce this offseason, the product of LouCity's continuity. But a new trio figures to log significant minutes led by midfielder Dylan Mares, who made the move from El Paso Locomotive FC after scoring a career-high 10 goals in 2022. Midfielder Rasmus Thellufsen hails from Denmark, where last spring he helped his former club earn promotion to the first division. Defender Jordan Scarlett arrived after three seasons with the rival Tampa Bay Rowdies.
Preseason blueprint: Knowing his squad would travel to start the season, LouCity coach Danny Cruz set up a series of friendlies to match. The boys in purple spent two weeks in Arizona and Texas before wrapping up its preseason with a trip to Pittsburgh Riverhounds SC last weekend. Along the way, they were on the road for draws versus Major League Soccer's Nashville SC and Sporting KC, plus played Seattle Sounders FC to a one-goal difference. The Sounders have opened their MLS campaign with wins by 4-0 (Colorado Rapids) and 2-0 (Real Salt Lake) scores.
Cruz control: The 33-year-old head coach, who took over as interim manager and later accepted the permanent position in 2021, continues to show himself as a rising star at a club where there's always pressure to win. LouCity is 39-13-13 under Cruz's direction, and he last year became the youngest head coach to appear on a touchline in the USL Championship Final. Cruz recently signed a contract extension through 2025.
Know the foe: Orange County, the 2021 USL Championship title winner, will look to rebound after a surprising last-place Western Conference finish in 2022. OC still boasts Golden Boot winner Milan Iloski — he scored 22 goals in the regular season — with its top defensive addition that of Norwegian center back Marcus Nakkim, who made nearly 100 appearances in his home country's first division.
International radar: Two U.S. youth internationals — LouCity defender Josh Wynder and Orange County forward Korede Osundina — add a higher profile to this matchup. Both are in play to represent their country in May's FIFA Men's U-20 World Cup. And after that, upon turning 18, Wynder figures to continue the USL Championship's trend of transferring emerging talents to European clubs.
Academy impact: In addition to Wynder, two other LouCity youth academy products numbered significant preseason minutes. Carlos Moguel Jr., a midfielder who came through Shelby County's Collins High School, figures to play a role in the holding midfield. Elijah Wynder, a former Louisville Collegiate standout, will vie for a spot in the attacking midfield.
Yes he Cam: After being sidelined due to injury most of last season, LouCity's all-time leading scorer, Cameron Lancaster, is back fit and ready to challenge for minutes alongside of fellow striker Wilson Harris, who scored a career-high 15 goals in 2022, his first year in purple. Lancaster sits fourth on the USL Championship's all-time scoring list with 80 league goals.
Trusted hands: Kyle Morton returned to the starting lineup or City's preseason finale in Pittsburgh for the first time since last fall, when a back injury ended his Golden Glove-winning season early. Rookie Oliver Semmle, a German-born goalkeeper who won a national championship at Marshall University, will debut if Morton isn't fit this weekend after Danny Faundez suffered a preseason injury of his own.