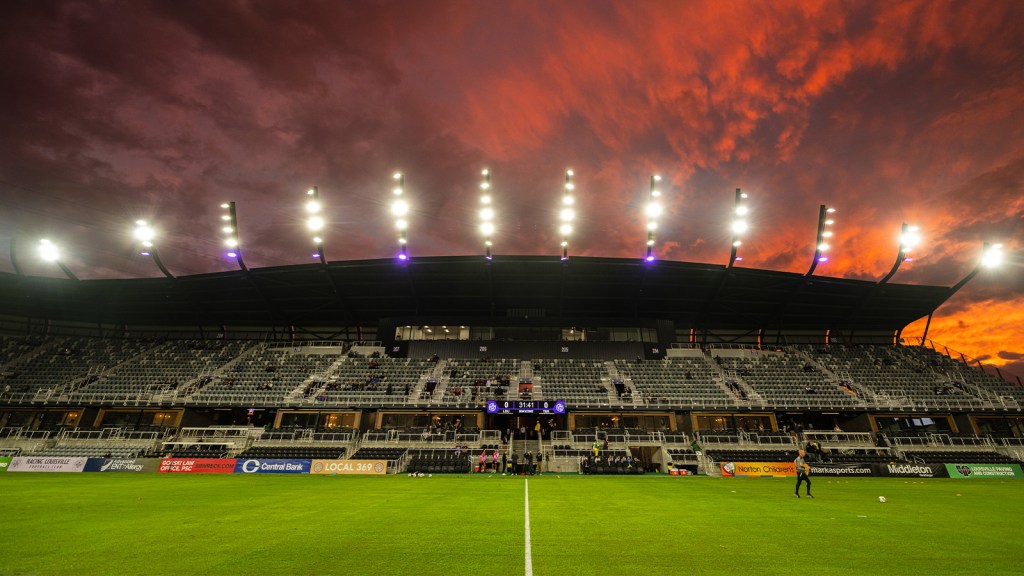 Louisville City FC will be back in Lynn Family Stadium this year on Saturday, March 25, to host El Paso Locomotive FC.
The date and opponent were revealed Wednesday as the USL Championship announced 2023's home openers. The full 34-game league schedule is expected to follow later this month.
Season, group and premium tickets are available now by visiting LouCity.com/tickets, or speak with a club representative by calling (502) LOU-CITY during regular business hours.
LouCity returns a league-record 22 players from last year's Eastern Conference title-winning squad and has already started acquiring new talents — the first of them midfielder Dylan Mares, who coincidentally played his last three seasons at El Paso.
The 2023 campaign kicks off two weeks before LouCity's home debut, with the boys in purple to play March 11 at Orange County SC and away again the weekend of March 18 before hosting El Paso.
This year, the league's 24 clubs split evenly into Eastern and Western conferences, making for a balanced schedule. LouCity will play all foes from the East twice – once at home, once away. The remaining 12 games of the season will be played against teams from the opposing conference, with six games at home and six away.
This format results in every team in the league squaring off for the first time since the USL Championship instituted a two-conference format in 2015.
Both conference's top-eight finishers will qualify for the 2022 USL Championship Playoffs. The postseason will remain a single-elimination format and return to a fixed bracket, culminating in the 2023 USL Championship Final on a date to be determined between Nov. 9 and Nov. 13.
LouCity— which remains the only USL Championship club to win back-to-back league titles accomplished from 2017-2018 — has also reached at least the conference final round in all eight of its seasons since launching in 2015.
The boys in purple will look to improve upon a 2022 campaign in which they surpassed 20 wins for the first time and tallied a club-record 72 points before going on to appear in the USL Championship Final.