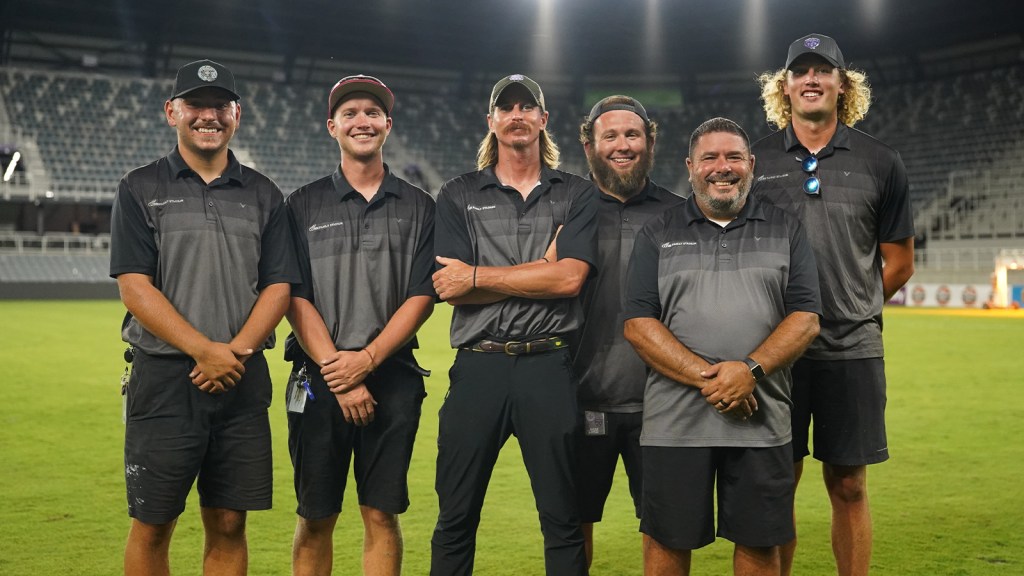 The United Soccer League announced Thursday that Louisville City FC's Aaron Fink has been named the 2022 USL Groundskeeper of the Year, presented by BRANDT. Fink and his grounds staff at Lynn Family Stadium are the award's inaugural winners.
As part of the recognition, Fink and one of his staff members will receive a trip to the 2023 Sports Turf Managers Association Conference courtesy of Brandt. The SFMA Conference is set to be held between Jan. 16-19 in Salt Lake City.
"On behalf of BRANDT, we're excited to present this award to Aaron Fink and his crew at Louisville City," said Karl Barnhart, chief marketing officer at BRANDT. "Great sports field maintenance goes beyond providing luscious looking fields on game day. It's about ensuring the turfgrass is healthy and safe all year long to help reduce risks to the players and increase the level of play."
Fink leads a local ASM Global groundskeeping staff including three other full-timers: Darrell Clark, assistant groundskeeper at Lynn Family Stadium; Matt Skidmore, head groundskeeper at the Lynn Family Sports Vision & Training Center; and J.R. Williams, assistant groundskeeper at the Lynn Family Sports Vision & Training Center. The grounds team had two 2022 interns, Nolan Dumstorf and Michael Netherton.
"A lot of times we don't get recognized for what we do unless we're the ones screwing up, so I think it's an awesome opportunity for our team to get acknowledged for hard work," added Fink. "When I told the guys about this, I thought back to two times this year they really earned it. The first game of the year, we were shoveling snow off the field. Then in mid-July, we had the USL Summer Showcase here when it was 100 degrees out.
"Those spots epitomized this year when the team was willing to do hard work in some harsh conditions. This is a group award, in my opinion. There's not one person who won that award."
Both Lynn Family Stadium and the Lynn Family Sports Vision & Training Center grow the same Tahoma 31 Bermudagrass. Fink's staff use BRANDT'S Parco-Root and MegAleX to help maintain the natural playing surfaces.
"Parco-Root helps the rooting around the field, and MegAleX helps us get through stressful periods," said Fink. "Both are used spring through fall at the stadium and training facility fields."
Voting for the 2022 USL Groundskeeper of the Year award, presented by BRANDT, was conducted among players, technical staffs and coaching staffs in both the USL Championship and USL League One.