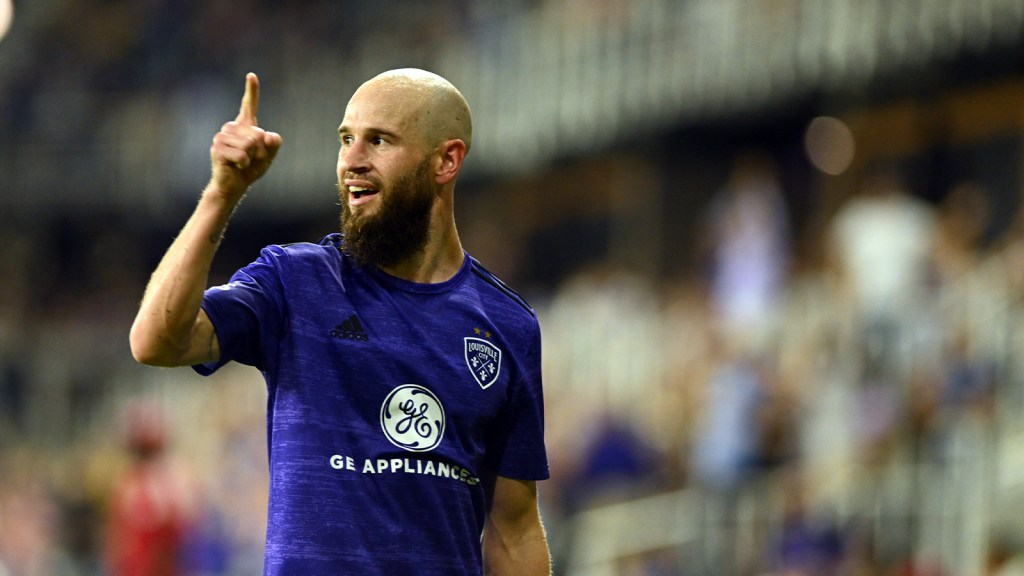 Louisville City FC has signed Brian Ownby to a new contract for the 2023 season following perhaps the veteran winger's best campaign in purple, the club announced Tuesday.
Terms of the deal, which is pending league and federation approval, were not disclosed.
"We are thrilled to be able to secure Brian to a new contract," said head coach Danny Cruz. "While we are disappointed that he was unable to remain healthy toward the end of last season, he was certainly having a career year that he should be proud of. I know Brian well enough to understand he is extremely disappointed that we fell short this season.
"We're going into next season with an extremely motivated Brian who can continue to be one of the best wingers in the league."
Ownby numbered a career-high 10 goals to go with 4 assists last season — that despite being limited down the stretch of the year due to injury. On as a substitute in the USL Championship Final, the 32-year-old scored City's only goal with an acrobatic, 78th-minute flick.
The speedster also led LouCity during its Eastern Conference championship season by creating 46 chances in his 31 appearances.
"I am excited to be back in purple next year," Ownby said. "I feel there is unfinished business for myself and the club after falling short in the championship. Danny, the staff and my teammates have put me in a position to succeed, and I look forward to continuing that in 2023."
Ownby will make this his seventh season with LouCity having signed with the club in 2017, when it won the first of its back-to-back USL Championship titles. The University of Virginia product also played previously for his hometown Richmond Kickers as well as Major League Soccer's Houston Dynamo.
Well settled in Louisville, Ownby lives in the Schnitzelburg neighborhood with his wife Samm, and their son, Aidan.
Ownby is LouCity's 17th returning player announced to date. Cruz and his staff continue to negotiate toward new contracts for other returners with updates to be provided in due time.
More information on the 2023 USL Championship campaign, such as the schedule, is expected after the new year. For now, season ticket memberships are on sale by visiting LouCity.com/tickets or calling (502) LOU-CITY during regular business hours.
Current 2023 Louisville City FC Roster
Forwards: Jorge Gonzalez, Wilson Harris, Cameron Lancaster, Enoch Mushagalusa, Brian Ownby and Ray Serrano
Midfielders: Carlos Moguel Jr. and Elijah Wynder
Defenders: Wes Charpie, Owen Damm, Amadou Dia, Manny Perez, Sebastian Sanchez, Ian Soler and Josh Wynder
Goalkeepers: Danny Faundez and Kyle Morton