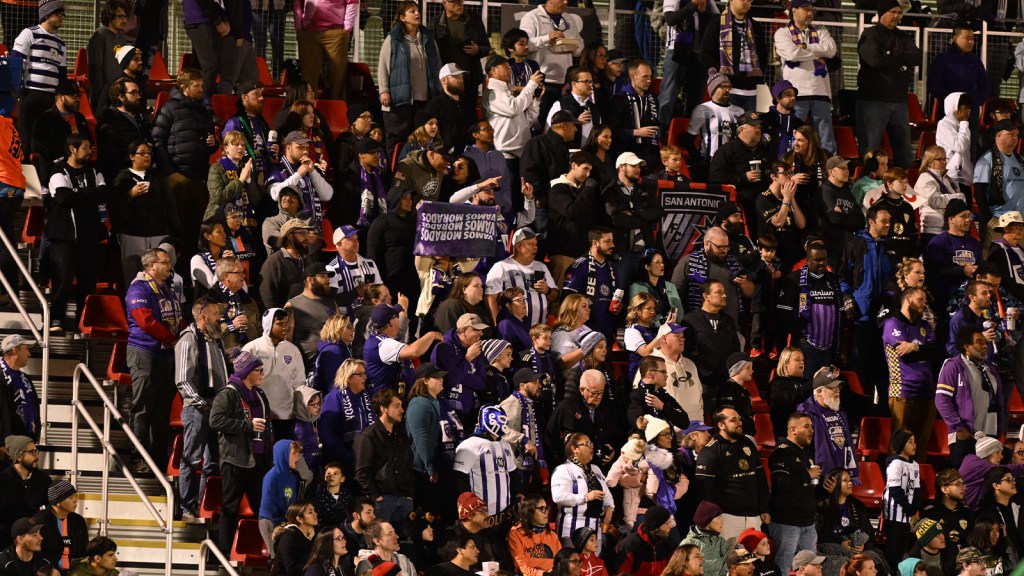 By Andrew Bell
Louisville City FC was defeated by San Antonio FC, 3-1, on Sunday night in the USL Championship Final in a highly-anticipated matchup between the league's juggernauts.
San Antonio was awarded a penalty kick in just the second minute. Star center back Mitchell Taintor pulled that try wide right, but seconds before halftime the hosts received another penalty when a corner kick was headed down on LouCity defender Wes Charpie's arm. Santiago Pantino converted.
San Antonio doubled its lead in the 64th minute when Taintor rose to redirect a free kick across the face of goal to a waiting Samuel Adeniran, who headed it in. Six minutes later, San Antonio put a third past LouCity — becoming just the second team to do so all season — when a blistering counter-attack allowed Patino to exploit LouCity's recovering defense, chesting a cross into stride before sliding the ball under City goalkeeper Danny Faundez.
Brian Ownby pulled one back for LouCity in the 78th minute when opposing goalkeeper Jordan Farr was left stranded after coming to claim an Amadou Dia cross. LouCity, though, failed to mount any more of comeback in the remaining 12-plus minutes.
"I'm extremely proud of this group of men tonight and what we've done this season," said head coach Danny Cruz after the game. "Obviously, I'm really disappointed, but I'm still a really proud manager of what this group has accomplished this year. We lost the night, but I try not to just look at this result and let it dictate how I feel about the entire season because what this group did this season was special."
The matchup was the first of its kind, as LouCity had never played San Antonio, and the USL Championship's top seeds hadn't met in a league final.
Forced to make plenty of changes in the lineup throughout the season due to injuries, illness and suspensions, Cruz had to make more on Sunday night. LouCity was without Corben Bone due to a red card last game, and Kyle Morton, while other key contributors continued to sit out or be limited in their time on the field.
"Earlier this week…we weren't sure how many minutes Brian could give us and we didn't even think Wilson (Harris) was going to play any minutes until early this morning," Cruz said about his team's fitness outlook before the final. "But we've been dealing with injuries all season. I don't want to make excuses. At the end of the day, we lost the game tonight but [injuries] dictated some decisions with the shape and lineup."
Ramped up too late
Though LouCity controlled possession throughout the game — 65% on the night — the boys in purple failed to create quality chances. In the first half, LouCity had just one shot compared to San Antonio's seven. City's second-half showing improved with six shots, landing five on target. However, as seen all season, San Antonio's defense proved mostly impenetrable, fielding a back line that includes the league Defender of the Year in Taintor and Goalkeeper of the Year in Farr. Furthermore, SAFC never lost after scoring the opening goal this campaign.
Many of LouCity's most threatening attacking pieces played under limited minutes on the night due to either condition or lineup changes.
City ace Cameron Lancaster, who had returned from a season-long injury just before playoffs, was on for 66 minutes.
Questionable heading into the game, Ownby clocked just a half but looked the most lively out of any purple shirt, with all three of his shots landing on target. Ownby executed one of his team's best plays of the night in the 50th minute, swiveling to guide a volley low and across his body from the top of the box, forcing a remarkable save out of Farr.
LouCity's top scorer on the year, Wilson Harris, played out the game's last 24 minutes in place of Lancaster but couldn't find the net through his two shots on target.
Wingers Enoch Mushagalusa and Ray Serrano were kept quiet against San Antonio's defense, combining for just one chance creation, four dribbles and no shots.
Disappointing finish to an outstanding season
LouCity's 2022 squad smashed all kinds of club records, including wins, points and clean sheets during the regular season. The likes of Faundez, Dia, Harris, Mushagalusa and Manny Perez proved to be outstanding preseason arrivals for City. Additionally, LouCity's playoff consistency continued, making it to the Eastern Conference final for the eighth consecutive time and winning a fourth.
LouCity Academy graduates Joshua Wynder and Carlos Moguel Jr. also regularly found their way into Cruz's team sheets. Back in June, Wynder captained the US Men's U-19 Team and won the Midseason Young Player of the Year Award in the USL. Both Wynder and Moguel converted clutch spot-kicks against Pittsburgh Riverhounds SC in the conference final round.
Since its founding just eight years ago, LouCity has a remarkable 18-4-4 playoff record, making it to the finals four times and tallying two USL titles. While the team will be extremely disappointed not to finish the season with the USL Championship trophy, the club can look back on numerous accomplishments that it will continue to build upon for the next campaign.
Before the 2022 season started, Cruz wanted to limit the number of goals his team conceded in the last 15 minutes of each half. In the 2021 season, 59%, or 23 of LouCity's conceded goals, came in that time frame. In 2022, only 12 goals were conceded in the last 15 minutes of each half. What's more, LouCity conceded six less total goals this time around compared to last season (39 to 33).
Here's one final statistic the team is particularly proud of: An average of 10,465 fans came out to Lynn Family Stadium this year, with many even traveling to San Antonio for Sunday's championship game at Toyota Field. A club-record 14,673 fans attended LouCity's win over Tampa Bay back in August. The boys in purple will certainly be intent on giving their loyal fan base even more to cheer about next season.