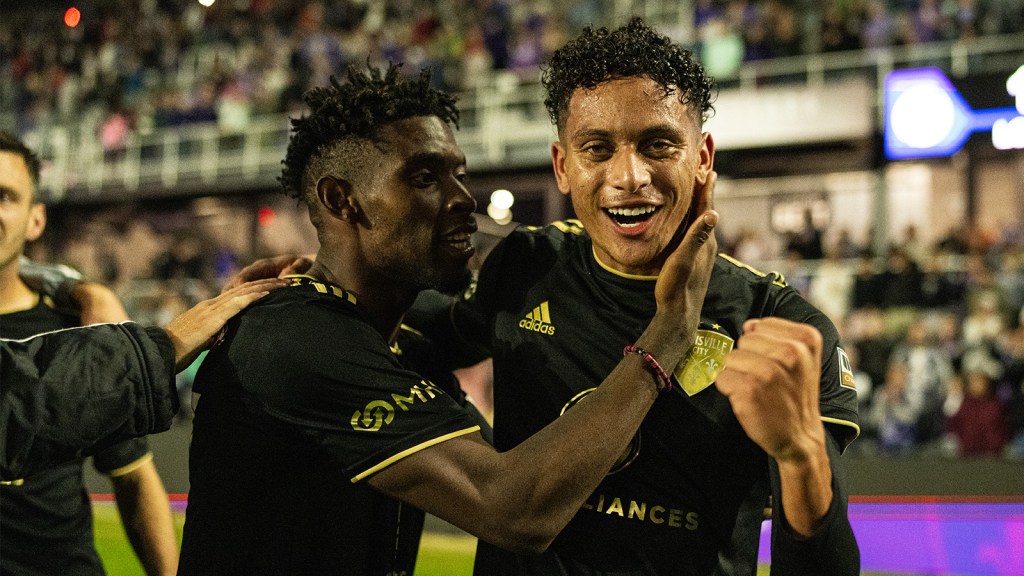 At least until Saturday, Elijah Wynder considered his game a week prior — when he earned an equalizing penalty kick in the Eastern Conference Semifinal round — the biggest of his young professional career.
Then the 19-year-old Wynder talked with a Louisville City FC legend.
"Luke Spencer actually told me after that game that the hardest thing to do is follow it up with another good performance," Wynder said, with Spencer now director of the club's youth academy. "And I think I did just that."
With the clock inching deep into extra time of Saturday's Eastern Conference Final, Wynder found the ball at his feet in the Tampa Bay Rowdies' box and delivered a storybook goal. He's a local player — the first to graduate from the LouCity academy to go pro — amid a comeback season from a serious leg injury that last year put Wynder's soccer aspirations in jeopardy.
Minutes later, Wynder found himself raising the Eastern Conference trophy alongside his younger brother, Josh, another academy product, and celebrating a conference title with their family on the Lynn Family Stadium pitch.
"He has worked his ass of to get to where he is right now," said coach Danny Cruz. "He's shown how effective he can be in these games that he's earned opportunities. For him to get that goal, for it to be local academy product, for it to be the goal that clinches the Eastern Conference Final, it speaks volumes for what this club is doing."
Wynder suffered his injury in January 2021 after a tackle that earned his opponent a red card. It was terrible timing, during what was supposed to be his final youth academy tournament before joining LouCity's first team for preseason training.
After a year of rehab, Wynder started 2022 on loan with USL League One's FC Tucson, where he played limited minutes — something Cruz termed a bit of a wakeup call after the spell ended in July.
Wynder didn't take long to work himself into the team at LouCity. His first appearance came on July 30 in a 1-0 win at El Paso Locomotive FC. He scored his first pro goal in a Sept. 3 victory over Sacramento Republic FC. Now into the playoffs, he has made pivotal plays as City takes aim at the USL Championship Final on Sunday.
"I love the kid," said team captain Paolo DelPiccolo. "I remember when he was 15 and he came in for his first training. He was quiet, shy and scared. To see him grow up and develop as a footballer and a person as I've gotten older in my career, something I've taken pride in is seeing these kids develop."
Wynder said "we were all fighting" when his shot hit the back of the net. LouCity was playing down a man after a red card altercation in regulation, but consecutive corner kicks set up his magical moment.
City entered the night as the USL Championship's highest-scoring team on set pieces with 28. Tampa Bay's defense had conceded a league-low five goals from them all year.
"We got a corner, the ball comes in and actually hit my shoulder," Wynder said. "Then it bounces around. I turned around and I'm like, 'There's the ball right there.'"
His shot dribbled through traffic and into LouCity lore.
"I'm just trying to come out here and have fun — play with a smile on my face," Wynder said. "When I'm playing happy, that's how I play the best. Whether I'm on the bench, on the field or in the stands, I'm going to be there for my teammates and be happy."