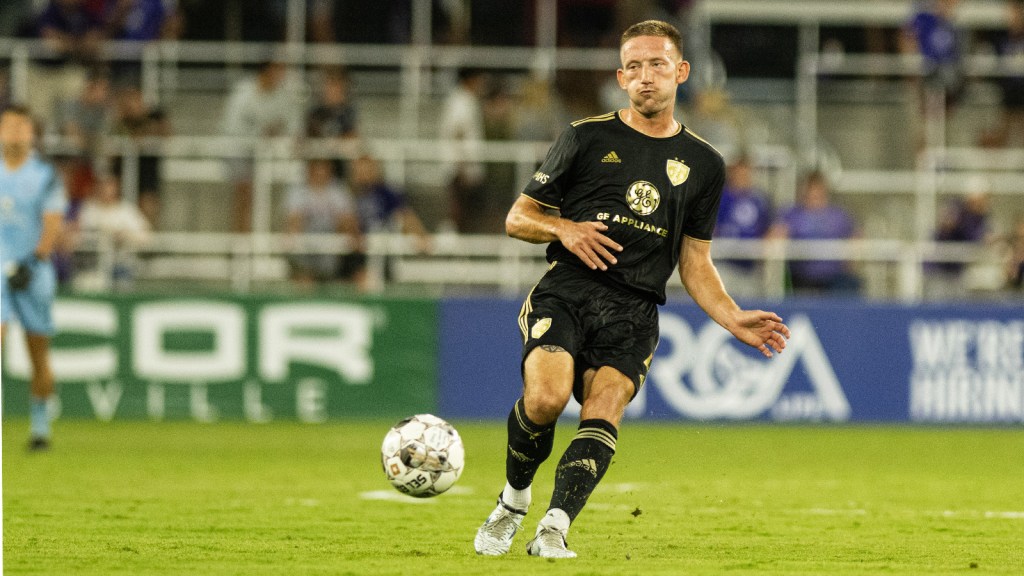 Louisville City FC followed up a record-breaking regular season by landing a player apiece on the USL Championship's All-League First Team (Sean Totsch) and All-League Second Team (Kyle Morton), it was announced Tuesday.
The veteran defender Totsch made this his third straight year with the honor, while Morton was named All-League for the first time. Both were critical as LouCity won a club-best 22 games and earned 72 points in its 34 games.
Totsch numbered 30 appearances while making a major impact on both sides of the ball. The center back ranked on or near the team lead in a number of defensive categories, such as clearances (51), blocks (11) and tackles (40). He also tallied a career-high nine goals, a record for a USL Championship defender in a single season.
Totsch, 31, signed with LouCity just in time to help the club become the first in the league to win back-to-back titles from 2017-2018. The Northern Illinois University product also won a championship in 2015 with the Rochester Rhinos.
Only Forrest Lasso (2017-2021) and William Yomby (2011-2014) hold longer All-League First Team appearance streaks than Totsch in USL Championship history.
"First of all, I want to thank my wife, family and friends," Totsch said. "Anyone who has played professional soccer knows it can be a rollercoaster ride with the highest of highs and low dips. They have supported me through it all. I'm also extremely fortunate to play for LouCity. It's a club full of talented and motivated people who genuinely care about each other. Those guys are my family and who I fight for every day.
"Achieving All-League First Team three years in a row is nice, but ultimately my goal is to lift the big trophy at the end of the season."
Morton, an offseason acquisition for the boys in purple, immediately assumed the starting goalkeeper role, going on to conceded at a rate of just 0.74 goals per game and earn LouCity's first Golden Glove award. He registered 13 shutouts in 28 appearances, during which LouCity never allowed in more than two goals.
The 28-year-old out of James Madison University was also a finalist for USL Championship Goalkeeper of the Year in 2019 (then with Pittsburgh Riverhounds SC) and 2020 (with Saint Louis FC). He signed with LouCity after spending 2021 with Major League Soccer's Houston Dynamo.
"I'm really appreciative to be named to the All-League Second Team," Morton said. "It's been a great season, and I have to credit my teammates for always holding it down in front of me."
Now into the playoffs, the boys in purple continue their campaign at 7:30 p.m. Saturday when hosting the Tampa Bay Rowdies in the Eastern Conference Final. The USL Championship Final is set for Sunday, Nov. 13.
USL Championship All-League First Team
GK – Jordan Farr, San Antonio FC
D – Aaron Guillen, Tampa Bay Rowdies
D – Edgardo Rito, Oakland Roots SC
D – Mitchell Taintor, San Antonio FC
D – Sean Totsch, Louisville City FC
M – Enzo Martinez, Birmingham Legion FC
M – Aaron Molloy, Memphis 901 FC
M – Rodrigo Lopez, Sacramento Republic FC
F – Leo Fernandes, Tampa Bay Rowdies
F – Phillip Goodrum, Memphis 901 FC
F – Milan Iloski, Orange County SC
USL Championship All-League Second Team
GK – Kyle Morton, Louisville City FC
D – Wahab Ackwei, Rio Grande Valley FC
D – Paco Craig, Miami FC
D – Jonathan Dean, Birmingham Legion FC
D – Graham Smith, Memphis 901 FC
M – Alejandro Guido, San Diego Loyal SC
M – Cam Lindley, Colorado Springs Switchbacks FC
M – Kenardo Forbes, Pittsburgh Riverhounds SC
F – Hadji Barry, Colorado Springs Switchbacks FC
F – Ottar Magnus Karlsson, Oakland Roots SC
F – Augustine Williams, Charleston Battery