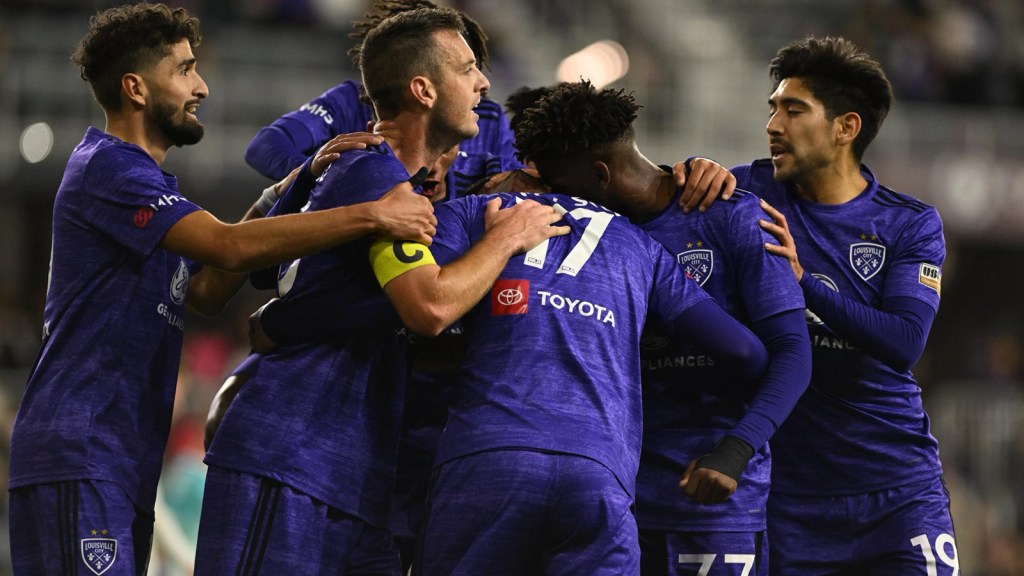 Cameron Lancaster returned to the scoresheet in grand fashion on Saturday night, registering a game-winning penalty kick in stoppage time to help Louisville City FC beat Hartford Athletic FC, 2-1, in the clubs' regular-season finale at Lynn Family Stadium.
The goal was Lancaster's first since returning from an injury that sidelined him for four months, and it extended LouCity's winning streak to three. The boys in purple will enter the USL Championship playoffs as the top seed in the Eastern Conference, with City (22-6-6, 72 points) earning a bye to a conference semifinal at 7:30 p.m. Saturday, Oct. 29, at Lynn Family Stadium. The opponent will be determined later.
But for now, coach Danny Cruz's team can celebrate a club-record points total and a third regular-season first-place finish in the team's eight-year existence.
"When you look at 72 points in a season, I'm very proud of everyone in that locker room right now," Cruz said. "We also understand that the ride is about to start and that the playoffs are coming. For us to be able to do that at home, that's massive. We'll wait to see who the opponent is going to be, get some scouting done and then we'll start focusing on our first game in the playoffs."
Louisville City started fast on Saturday, peppering Hartford Athletic with early chances. Wilson Harris came close on three different occasions in the opening half hour, narrowly missing a flicked-on header just past the far post in the 24th minute. Enoch Mushagalusa also almost chipped Hartford goalkeeper Yannick Oettl in the 41st.
The home team finally broke through in the 45th minute on a well-struck half-volley from captain Paolo DelPiccolo, who scored his fourth goal of the campaign. The goal was set up by Ray Serrano's cross from the right flank, which Hartford only nodded along to Amadou Dia, who laid down a headed pass into DelPiccolo's path.
"It was good to finally take one of my chances," DelPiccolo said. "(Serrano) played a good ball in and (Dia) just set it down for me. It just popped up to me really nicely, and I connected with it from there."
Hartford equalized against the run of play in the 74th minute, with Ariel Martinez redirecting a low cross past City goalkeeper Danny Faundez, who was starting in place of regular No. 1 keeper Kyle Morton.
Morton, resting for the playoffs, clinched the USL Championship's Golden Glove award for the league's best goals-against average (0.74) even without playing Saturday.
His team pushed for the winner in the final 10 minutes. In the three minutes of added time, Napo Matsoso won the penalty to set up the Lancaster goal.
"I said to the players, first of all, what (Lancaster) has been through would be difficult for any player," Cruz said. "He should be proud of tonight. He's put in a lot of work behind the scenes. … For him to cap it off with a goal, a game-winner, he has a lot to be proud of. That's not easy mentally or physically. It's been a difficult year for him. I think everyone – you could see it in the celebration – was really proud of him for that moment."
Cruz mentioned LouCity will host MLS Next Pro's St. Louis City FC in a closed-door scrimmage during the bye week.
Tickets for LouCity's playoff opener go on sale Monday. Visit LouCity.com/playoffs for more information throughout the postseason.
Game Summary: Louisville City FC vs. Hartford Athletic FC
Date: October 15, 2022
Venue: Lynn Family Stadium
Kickoff: 7:30 p.m. ET
Weather: 65 degrees, clear
Player of the Match: Paolo DelPiccolo
Attendance: 12,096
Scoring
Louisville City FC (1, 1, 2)
Hartford Athletic FC (0, 1, 1)
Goals
Louisville City FC:
45' Paolo DelPiccolo (Amadou Dia)
90+4' Cameron Lancaster
Hartford Athletic FC:
74' Ariel Martinez
Lineups
Louisville City FC: 18 – Danny Faundez, 15 – Manny Perez, 3 – Amadou Dia (46' 23 – Elijah Wynder), 4 – Sean Totsch, 6 – Wes Charpie (73' 19- Oscar Jimenez), 66 – Josh Wynder; 12 – Tyler Gibson (71' 8 – Carlos Moguel Jr.), 36 – Paolo DelPiccolo; 14 – Wilson Harris (61' 17 – Cameron Lancaster), 21 – Ray Serrano (61' 7 – Napo Matsoso), 77 – Enoch Mushagalusa
Subs not used: 91 – Alex Kron, 63 – Sebastian Sanchez
Head Coach: Danny Cruz
Hartford Athletic FC: 13 –Yannick Oettl, 2 – Younes Boudadi, 23 – Modou Jadama, 4 – Tulu Yacoubou (46' 24 – Robin Lapert), 14 – Ash Apollon, 10 – Denny Berrera (46' 77 – Andre Lewis), 30 – Joel Johnson, 11 – Luka Prpa, 7 – Prince Saydee (18 – Rashawn Dally), 6 – Ariel Martinez, 9 – Juan Carlos Obregon (62' 28 – Conor McGlynn)
Subs not used: 1 – Samuel Howard, 88 – Dren Dobruna, 21 – Jeciel Cedeno
Head Coach: Tab Ramos
Stats Summary: Louisville City FC / Hartford Athletic FC
Shots: 20 / 7
Shots on Goal: 7 / 4
Possession: 53.9% / 46.1%
Fouls: 17 / 11
Offside: 0 / 7
Corner Kicks: 10 / 7
Discipline Summary
Louisville City FC:
38' Amadou Dia (yellow)
72' Wes Charpie (yellow)
90+1' Sean Totsch (yellow)
Hartford Athletic FC:
34' Tulu (yellow)
43' Luka Prpa (yellow)
Referee: Calin Radosav