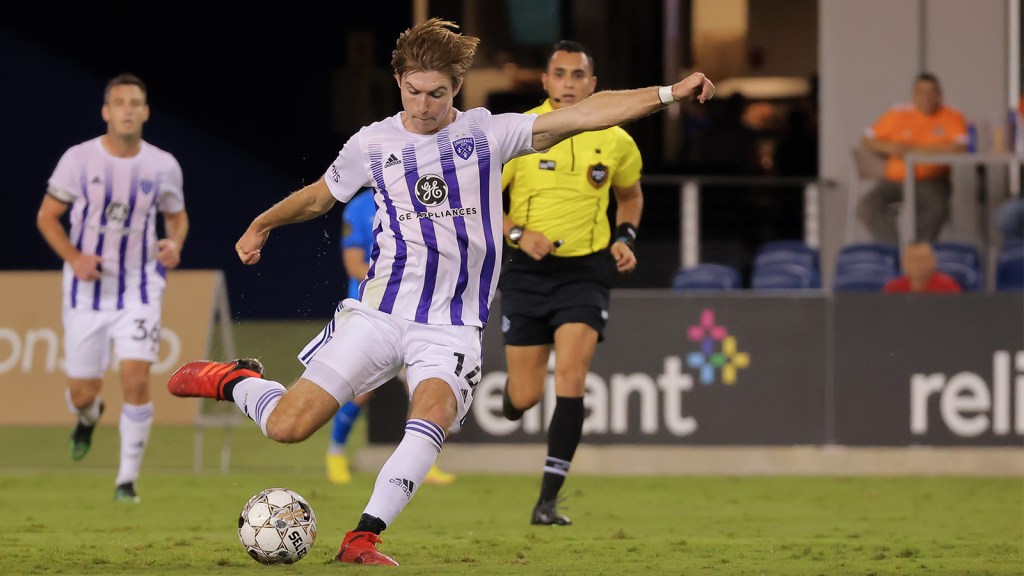 While Louisville City FC has aims of raising its third USL Championship trophy at this season's end, the boys in purple also continue to enjoy the journey along the way.
A 1-0 away victory Saturday over Rio Grande Valley FC both gave LouCity its first 20-win campaign and matched a club record for points in a season at 66 — and counting. Those figures compare to high marks previously set in 2018, when City won its second straight title.
"It's been fun 20 times this year, and then it's been not so fun the other however many draws and losses we have," quipped team captain Paolo DelPiccolo. "That's part of the process. It's all great, and it's something the guys should be proud of. But for me personally, I've been happy at the end of two seasons in my life. There's still work to be done."
Speaking of that, Saturday's result put LouCity back in the driver's seat for a No. 1 playoff seed as well. A Memphis 901 FC defeat earlier in the season helped the boys in purple move five points clear of the Eastern Conference's second-place side with two weeks left in the regular season.
Should City stay atop the table, it would earn a bye to the conference semifinal round Oct. 29 at Lynn Family Stadium. Otherwise, the postseason will start with an Oct. 22 conference quarterfinal, also at home.
A combination of injuries (Brian Ownby, Jorge Gonzalez) and red card suspensions (Tyler Gibson, Corben Bone) left LouCity shorthanded to the point that its bench wasn't full Saturday. But the visitors managed to control proceedings against Rio Grande Valley FC, which entered the night seventh in the Western Conference, holding the final playoff spot.
"I know I've said it before, but I couldn't be prouder of the group," said head coach Danny Cruz. "We changed our shape. We've had a lot of injuries and suspensions, obviously. To go out there and do exactly as we've worked on all week was fantastic. I thought the intensity and mentality from the group was exactly where it needed to be."
On a cross from Manny Perez, the midfielder DelPiccolo headed a 24th-minute try off the cross bar. DelPiccolo in turn set up LouCity's goal, playing a 33rd-minute aerial ball to Wilson Harris, whose header grazed the bottom of the bar and went in. Harris notched his team-leading 14th goal of the year as a result.
City went on to attempt four other shots on target. While none of them went in, they weren't needed on a night when Kyle Morton stepped up at the right time — quite literally. He'd faced only a single try on frame until needing a stunning kick save to deny an equalizer in the 95th and final minute of stoppage time.
Morton's 13th clean sheet of the season is also a club record, eclipsing Greg Ranjitsingh's 12 shutouts in 2018.
"It's just one of those instinct plays," Morton said of his late save. "…Luckily my leg was in the right place at the right time. I think the last couple of games, there were some bounces that didn't go our way. Tonight, we showed a real tenacity. All 10 of those guys in front of me were dying for the win and clean sheet. I think that showed in our performance."
The positives from Saturday didn't stop there. In the 87th minute, star striker Cameron Lancaster subbed on to make his first appearance since June, the result of a nagging groin injury that appears to be in the rearview mirror with playoffs approaching. A minute later, youth academy graduate Sebastian Sanchez entered to make his professional debut.
City can expect the midfield duo of Gibson and Bone back on a short turnaround to host Detroit City FC on Wednesday. Injuries to Ownby and Gonzalez could keep the forward pair waiting beyond then.
Game Summary: Rio Grande Valley FC vs. Louisville City FC
Date: Oct. 1, 2022
Venue: H-E-B Park
Kickoff: 8:30 p.m.
Weather: 80 degrees, clear
Man of the Match: Wilson Harris
Scoring
Rio Grande Valley FC (0, 0, 0)
Louisville City FC (1, 0, 1)
Goals
Louisville City FC:
33' Wilson Harris (Paolo DelPiccolo)
Lineups
Rio Grande Valley FC: 1 — Tyler Deric, 5 — Juan Cabezas, 4 — Erik Pimentel, 3 — Wahab Ackwei, 31 — Akeem ard, 17 — Ricky Ruiz, 20 — Jonathan Ricketts, 8 — Emilia Ycaza, 10 — Jorse Torres (69' 16 — Frank Gavira), 29 — Christian Pinzon, 7 — Jonas Fjeldberg (90' 11 — Ollie Wright)
Subs not used: 12— Colin Miller, 6 — Isidro Martinez, 21 — Robert Coronado, 22 — Juan Pablo Torrest, 23 — Frank Notars
Head coach: Wilmer Cabrera
Louisville City FC: 1 – Kyle Morton, 6 — Wes Charpie, 4 — Sean Totsch, 66 — Josh Wynder (60' 32 — Ian Soler, 88' 63 — Sebastian Sanchez), 3 — Amadou Dia, 8 — Carlos Moguel Jr. (75' 19 — Oscar Jimenez), 36 — Paolo DelPiccolo (75' 23 — Elijah Wynder), 21 — Ray Serrano, 15 — Manny Perez, 14 — Wilson Harris, 77 — Enoch Mushagalusa (87' 17 — Cameron Lancaster)
Subs not used: 18 – Danny Faundez
Head coach: Danny Cruz
Stats Summary: Rio Grande Valley FC / Louisville City FC
Shots: 10 / 12
Shots on Goal: 2 / 5
Possession: 50.9% / 49.1%
Fouls: 17 / 16
Offside: 3 / 4
Corner Kicks: 3 / 2
Discipline Summary
Rio Grande Valley FC:
73' Erik Pimentel (yellow)
81' Christian Pinzon (yellow)
92' Akeem Ward (yellow)
Louisville City FC:
64' Carlos Moguel Jr. (yellow)
76' Wilson Harris (yellow)
85' Ian Soler (yellow)
Referee: Riccardo Fierro