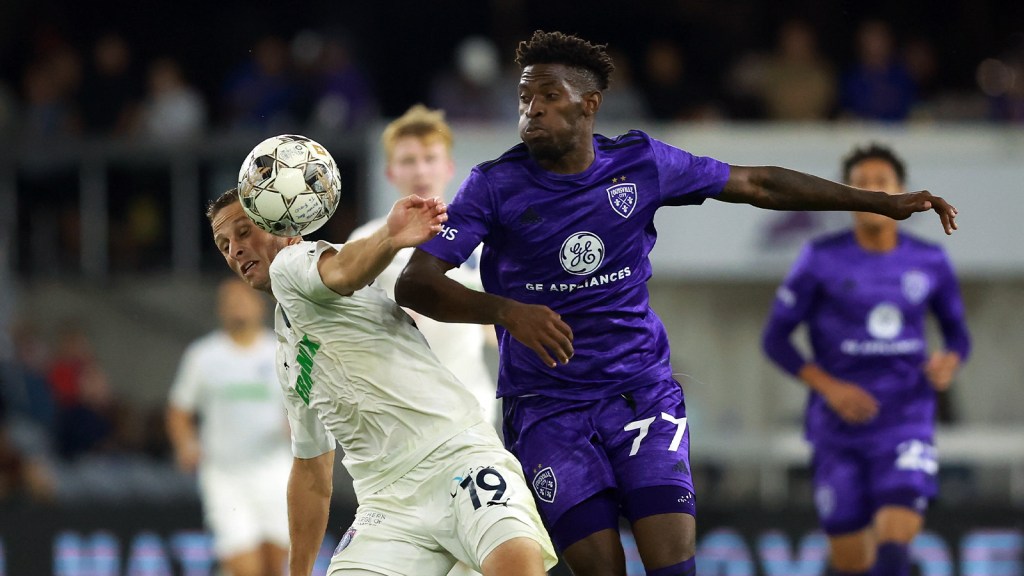 Memphis 901 FC scored deep into stoppage time Friday, handing Louisville City FC a rare defeat at Lynn Family Stadium with a result that could alter the top of the USL Championship's Eastern Conference by season's end.
Graham Smith headed in a 95th-minute game-winner for the visitors, who rallied to win by a 2-1 score. LouCity similarly came back to beat Memphis in July on its home field, 2-1.
The clubs are aptly separated by just two points. LouCity (19-6-6, 63 points) has three games left to play while Memphis (19-7-4, 61 points) has four, meaning a game in hand and with potential to pull ahead.
"This was a game for that reason," said coach Danny Cruz. "If you lose this game, (the conference lead is) out of your control now. That's the reality, and we have to deal with that. So what we can do is focus on next week. Focus on trying to get three points.
"Our group can't control what Memphis does from here on out. But we have to make sure that we put a good performance together and more importantly get back to playing our football and finishing our chances."
After Cruz's pregame warnings about Memphis' tendency to incite opponents, the game ended with a flurry of red cards. LouCity's Tyler Gibson and 901 FC's Phillip Goodrum were sent off for shoving one another in the 97th minute. Memphis' Rece Buckmaster was also dismissed for violent conduct.
The final whistle coincided with plenty of boos from the crowd of 10,808 — along with disappointment from the boys in purple, who lost for just the second time in 15 USL Championship games this season at Lynn Family Stadium.
"The culture of LouCity is games like this don't happen, and it happened tonight and that's just simply not good enough," said midfielder and team captain Paolo DelPiccolo. "It starts with me. So I need to make sure that we get everyone on the right path, especially this time of year because this is when LouCity is LouCity — and tonight we didn't do that.
"…The silver lining is it wasn't the playoffs, because if this was the playoffs our season is over. That's the only silver lining."
Before it all fell apart late, LouCity controlled proceedings as of the 47th minute, when Wilson Harris netted his team-leading 13th goal of the year to open scoring. Wes Charpie's ball over the top landed to Jorge Gonzalez, who dribbled forward, got tackled and had possession fortuitously bounce to Harris in the center of the box.
Memphis' equalizer arrived in the 61st minute, also thanks to a lucky bounce. Harris blocked a shot by the visitors, and the ensuing carom landed to Derek Dodson, who finished to knot the score.
"I was really frustrated about how we handled things after going up a goal," Cruz said. "I thought we lost the tempo of the game and lost control of the game. We talked all week about not getting into all the junk that Memphis wants to — from their staff to their players. Our guys didn't keep their composure and ultimately conceded late a goal. It's not good enough."
LouCity lost not just an opportunity to distance itself from Memphis on the table, but also to clinch a home opener to the 2022 USL Championship Playoffs. The magic number for that remains one, and a loss or draw Saturday night by fifth-place Pittsburgh Riverhounds SC would do it.
Should City finish first on the table, it would earn a bye to the conference semifinal round the weekend of Oct. 29. The Nos. 2-4 seeds will host conference quarterfinals the weekend of Oct. 22.
The boys in purple close their regular season with games at Rio Grande Valley FC (Oct. 1), versus Detroit City FC (Oct. 5) and versus Hartford Athletic FC (Oct. 15).
Game Summary: Louisville City FC vs. Memphis 901 FC
Date: Sept. 23, 2022
Venue: Lynn Family Stadium
Kickoff: 8 p.m. ET
Weather: 65 degrees, cloudy
Player of the Match: Wilson Harris
Attendance: 10,808
Scoring
Louisville City FC (0,1,1)
Memphis 901 FC (0,2,2)
Goals
Louisville City FC:
48' Wilson Harris
Memphis 901 FC:
61' Derek Dodson
90+5' Graham Smith (Jeremy Kelly)
Lineups
Louisville City FC: 1 – Kyle Morton, 3 – Amadou Dia, 6 – Wes Charpie, 4 – Sean Totsch, 15 – Manny Perez, 4 – Sean Totsch, 12 – Tyler Gibson, 13 – Corben Bone, 36 – Paolo DelPiccolo (65' 23 – Elijah Wynder), 9 – Jorge Gonzalez (77' 7 – Napo Matsoso), 14 – Wilson Harris (90+2′ 19 – Oscar Jimenez), 77 – Enoch Mushagalusa
Subs not used: 18 – Danny Faundez, 8 – Carlos Moguel Jr., 32 – Ian Soler, 63 – Sebastian Sanchez
Head Coach: Danny Cruz
Memphis 901 FC: 25 – Trey Muse, 19 – Rece Buckmaster, 16 – Graham Smith, 21 – Lucas Turci (85' 50 – Nall Logue), 7 – Patrick Seagrist, 6 – Aaron Molloy, 9 – Luiz Fernando (75' 3 – Zach Carroll), 18 – Jeremy Kelly, 11 – Laurent Kissiedou, 10 – Phillip Goodrum, 14 – Derek Dodson
Subs not used: 1 – Drew Romig, 13 – John Berner, 35 – Nick Dryer, 2 – Jackson Brady, 20 – Nighte Pickering
Head Coach: Ben Pirmann
Stats Summary: Louisville City FC / Memphis 901 FC
Shots: 8 / 12
Shots on Goal: 5 / 4
Possession: 52.5% / 47.5%
Fouls: 15 / 12
Offside: 3 / 7
Corner Kicks: 2 / 4
Discipline Summary
Louisville City FC:
29' Enoch Mushagalusa (Yellow)
90'+7 Tyler Gibson (Red)
Memphis 901 FC:
29' Luiz Fernando (Yellow)
90'+7 Phillip Goodrum (Red)
90'+7 Rece Buckmaster (Red)
Referee: Gabriele Giusti