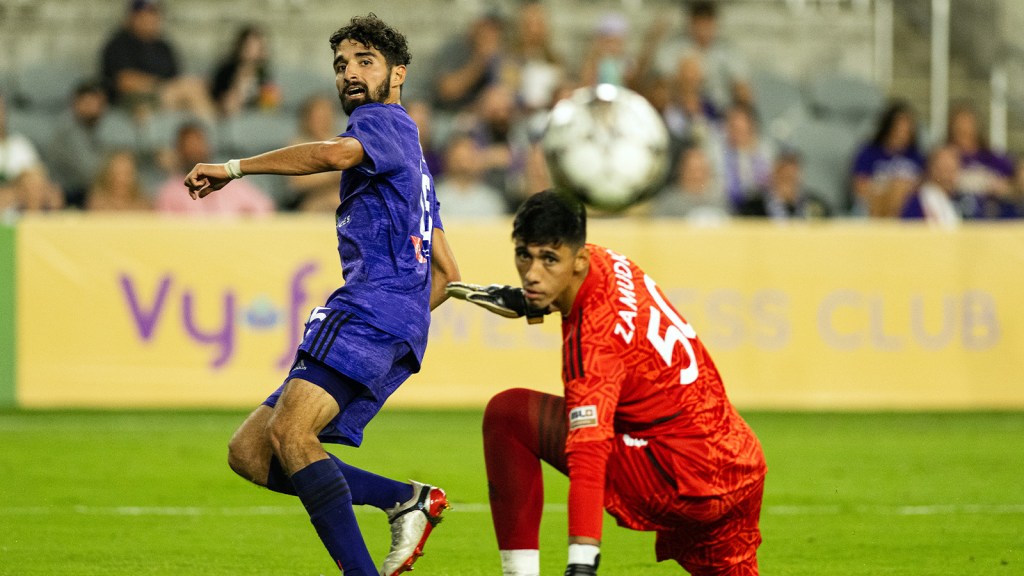 By Andrew Bell
Louisville City FC defeated Loudoun United FC by a 4-2 score Saturday at Lynn Family Stadium in a game featuring a flurry of first-half goals and a late red card.
LouCity's opening goal was found in the 4th minute when Manny Perez was played through to the byline and cut the cross back for a waiting Enoch Mushagalusa, who hammered it home. After Perez won a foul on the edge of Loudoun United's goal box in the 20th minute, Corben Bone cunningly laid the ball off to Wilson Harris, who fired it low to double his team's lead. The boys in purple seemed to seal the victory with just 25 minutes played after Sean Totsch coolly slid home a penalty won by Brian Ownby.
Just before halftime, though, City allowed the Red and White to pull one back when Loudoun United's Theodore Ku-DiPietro slipped through and finished across his body. Loudoun whittled its deficit down to just one in the 62nd minute when forward Zoumana Diarra got on the end of a splitting through ball before finishing low past LouCity goalkeeper Kyle Morton.
However, just two minutes later Ownby secured the win for his team, meeting a deep, pinpoint cross from Perez and finishing his own rebound. In the 92nd minute, LouCity substitute Ray Serrano was caught up in a tussle with a Loudoun United player and received a straight red for the altercation. It's the team's sixth red of the season, and Serrano will be suspended for next week's matchup.
"After we got the third goal, I thought we were poor," said head coach Danny Cruz. "And I talked to the group about that at halftime, about the standards. I felt that [we] let our foot off the gas after the third goal. For me, [that's] not good enough…We have to improve. We'll certainly look at the tape and make sure we improve in the areas that we need to improve."
"We take pride in shutouts and giving away two goals is frustrating," Perez added after the game. "We have to clean up some little areas, but we're happy with the three points. That's just the standard for this club— shutouts and always having a winning mentality."
The win propelled City — first in the Eastern Conference — to 63 points, one behind the Western Conference's San Antonio FC for the USL Championship's best overall points total. City is four games unbeaten as it turns attention to Friday's home matchup with second-place Memphis 901 FC.
The Manny Perez Show
Perez put in an exceptional 85-minute shift Saturday night, getting involved in all four LouCity goals. He assisted Mushagalusa's opener in the 4th minute, won the free kick outside Loudoun's box leading to Harris's goal, slipped the ball to Ownby in the 25th minute, leading to the penalty, and had a perfect cross to Ownby for the game's decisive goal.
"I like defensive work, but I'm also very attack-minded," Perez said. "I take pride in one-v-one defending but also on the attacking side by providing good service.
Perez, 23, signed with LouCity over the offseason after spending 2021 on loan to Major League Soccer's Austin FC from the Portland Timbers.
"The chemistry is building," he said, "and hopefully continuing strong into the playoffs."
This season, Perez has been one of LouCity's most valuable offensive players but has also shown his quality on the defensive side of the ball. He leads LouCity in interceptions per game, successful tackles per game and has 43 clearances.
"I thought he was fantastic tonight," Cruz said about Perez's performance. "We worked with him this week on some specific areas and I felt he executed in all those areas. I thought it was a really good performance from him."
Danger everywhere
The boys in purple have consistently shown an ability to create dangerous attacking pieces across the pitch. Four players scored on the night for LouCity, including center back Sean Totsch, who has a staggering nine goals on the season. Totsch has stepped up to take penalties with Cameron Lancaster out injured most of the season and has been unwavering in dispatching his spot kicks.
City left back and preseason signing Amadou Dia has a team-high seven assists this campaign and hasn't shown signs of slowing down on his chance creation. Against Loudoun, Dia created three big chances, had seven crosses and 12 entries into Loudoun's final third.
Cruz's midfield trio against Loudoun — Tyler Gibson, Jorge Gonzalez and Corben Bone — combined for 45 passes into The Red and White's final third. Those three also had an average of 85% passing accuracy and created three big chances. LouCity's midfield was able to pierce Loudoun's back line often by feeding through balls to City's wingers. The three have combined for 66 chances created this season.
Wingers Ownby and Mushagalusa blitzed Loudoun from the flanks, recording six crosses and two goals together. This season, Ownby has a team high 45 chances created, has won five penalties and has scored nine goals. Mushagalusa has netted 10 times for LouCity and has three assists since joining the squad in preseason from Sporting KC II.
Capitalizing on the team's attack is Wilson Harris, who has registered a team-leading 12 goals this season. The 22-year-old has held down a regular role playing as the number nine and has only missed three matches this year.
"It's been everything I've ever wanted," Harris said about his role on the LouCity squad. "Coming here, I knew I would have to fight really hard to get on the field. It's an honor everyday to get on the field and play here at Lynn Family Stadium."