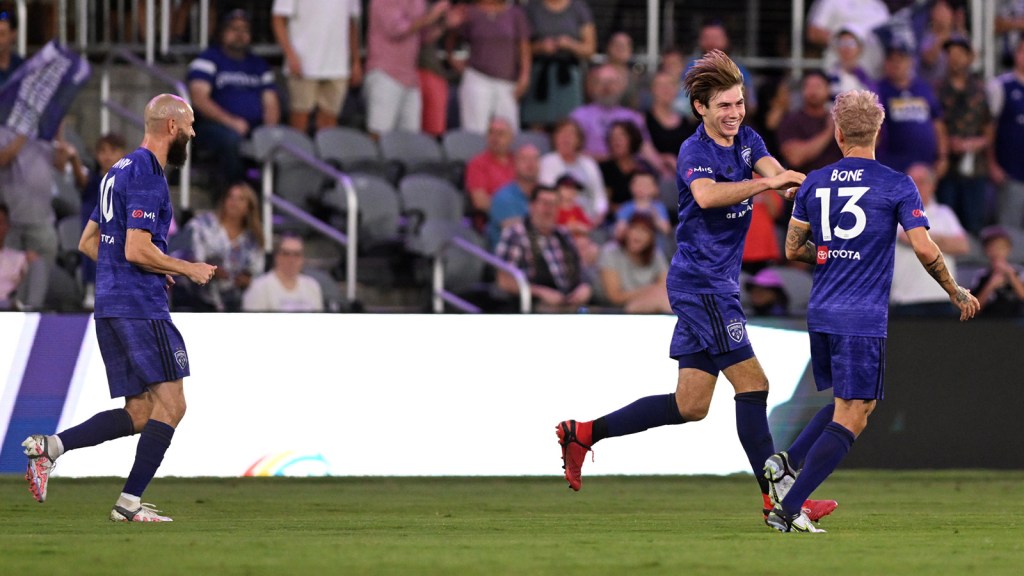 A quartet of Louisville City FC players in the midst of career years lifted their side over Loudoun United FC on Saturday night, continuing historic campaigns for both themselves and the club.
Enoch "Matiti" Mushagalusa, Wilson Harris, Sean Totsch and Brian Ownby all scored in a 4-2 victory at Lynn Family Stadium, with each player either matching or setting new career-highs for goals in a single season.
"I think it's just being in the environment every day," Harris, who arrived this past offseason, said of the club's top scorers. "At practice everyone's pushing each other. So I think that's the most important part is to have an environment that makes you better.
The move to LouCity has "been everything I wanted," Harris added. "Coming here when I knew I would have to fight really hard to get on the field. It's an honor every day to get on the field and play here at Lynn Family Stadium. It's worked out really well, and I want to just keep on going."
City improved to 19-5-6. Its 63 points are just three off matching the 2018 team's total for most in club history, and the squad has four games to set a new high mark. Three of those contests will be played at home, starting with Friday's pivotal 8 p.m. kickoff against Memphis 901 FC.
The boys in purple remain five points clear of Memphis 901 atop the Eastern Conference table and are in play for the USL Championship's best overall record — potential new territory for the club in its eighth season.
"Being at home it's important that we set the tone there," said coach Danny Cruz. "But at the same time, we have to make sure that we get better in the areas we need to get better. We were poor in transition tonight on defense. We were poor in transition in attack. But again, you put in four goals, and I think it's a good thing that I'm frustrated scoring four goals and winning the game."
Saturday's hosts opened with a flurry as Manny Perez dished to Mushagalusa in just the fourth minute for the opener. It marked the 10th goal of the year for Mushagalusa, who signed with LouCity this past offseason from the Sporting KC organization.
Not long after, Perez earned a foul at the edge of the box, setting up a 20th-minute set piece. Corben Bone tapped the ball to bring it into play, and Harris whipped a grounded shot around the Loudoun wall and in. It was the team-leading 12th goal of the year for another former Sporting KC forward.
Perez played Ownby in behind, and a foul at the edge of the box set up Totsch's 25th-minute penalty opportunity. The center back tucked it in for goal No. 9 on the year, most all-time for a defender in the USL Championship ranks.
Ownby rounded out the scoring in the 64th minute thanks to a smooth ball through between two defenders by Perez (yes, him again). The shot caromed off the goalkeeper, back to Ownby and in. The LouCity veteran made it his ninth goal on the season, a career-high.
"The chemistry is building," Perez said. "There's a couple of new guys at the team — a couple of additions this year — and I think we're learning day by day runs and passes that we can make. Obviously Ownby is fast, so I can put up a ball with pacing behind me and I know he'll get there. So the chemistry is building and hopefully continuing strong into the playoffs."
Loudoun threatened to make it a game in between LouCity's offensive outburst, sprinkling in goals against the run of play from Ku-DiPietro (44th minute) and Zoumana Diarra (62nd minute). But on the night, the visitors managed just four shots. A straight red issued to City forward Ray Serrano came far too late in stoppage time to make an impact on the game.
"I am proud of the result," Cruz said. "To go up three to zero and concede two goals, I've seen plenty of teams fold at that moment. But to go get a fourth and then close out the game, I think that's a positive."
LouCity also won by a two-goal margin the other time these clubs clashed in 2022, dispatching Loudoun United back on April 10. The boys in purple will look for a similar return result when Memphis visits next week. It was a rallying 2-1 victory on the road July 16 the last time the top Eastern Conference rivals met.
Game Summary: Louisville City FC vs. Loudoun United FC
Date: Sept. 17, 2022
Venue: Lynn Family Stadium
Kickoff: 7:30 p.m. ET
Weather: 74 degrees, cloudy
Player of the Match: Brian Ownby
Attendance: 11,345
Scoring
Louisville City FC (3,1,4)
Loudoun United FC (1,1,2)
Goals
Louisville City FC:
4' Enoch Mushagalusa (assisted by Manny Perez)
20' Wilson Harris (assisted by Corben Bone)
25' Sean Totsch
64' Brain Ownby
Loudoun United FC:
44' Ted Ku-DiPietro (assisted by Skage Simonsen)
62' Zoumana Diarra (assisted by Ted Ku-DiPietro)
Lineups
Louisville City FC: 1 – Kyle Morton, 3 – Amadou Dia, 66 – Josh Wynder, 4 – Sean Totsch, 15 – Manny Perez (85' 19 – Oscar Jimenez), 12 – Tyler Gibson, 13 – Corben Bone, 9 – Jorge Gonzalez (85' 23 – Elijah Wynder), 10 – Brian Ownby (77' 7 – Napo Matsoso), 14 – Wilson Harris (60' 36 – Paolo DelPiccolo), 77 – Enoch Mushagalusa (60' 21 – Ray Serrano)
Subs not used: 18 – Danny Faundez, 32 – Ian Soler
Head Coach: Danny Cruz
Loudoun United FC: 50 – Luis Zamudio, 3 – Jacob Greene, 15 – Nicky Downs, 24 – Jalen Robinson, 4 – Carson Vom Steeg (65' 18 – Azad Liadi), 14 – Jeremy Garay (45' 7 – Abdoul Zanne), 8 – Skage Simonsen (77' 40 – Gavin Turner), 19 – Houssou Landry (81' 9 – Jonathan Benteke), 11 – Tyler Freeman (45' 45 – Kristian Fletcher), 22 – Ted Ku-DiPietro, 12 – Zoumana Diarra
Subs not used: 0 – Dane Jacomen, 2 – Rio Hope-Gund
Head Coach: Ryan Martin
Stats Summary: Louisville City FC / Loudoun United FC
Shots: 20 / 4
Shots on Goal: 11 / 3
Possession: 54.5% / 45.5%
Fouls: 15 / 11
Offside: 2 / 2
Corner Kicks: 4 / 0
Discipline Summary
Louisville City FC:
90'+ Ray Serrano (Red)
Loudoun United FC:
19' Tyler Freeman (Yellow)
88' Azad Liadi (Yellow)
90+' Ted Ku-DiPietro (Yellow)
Referee: Nabil Bensalah