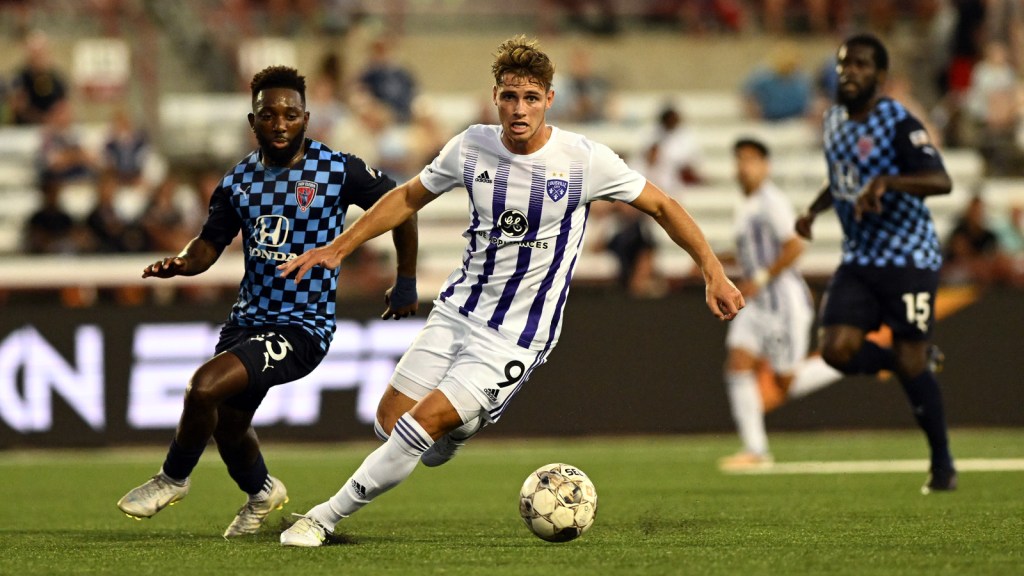 A pair of errors at the back Wednesday night led to Louisville City FC's second consecutive loss, a 2-1 defeat to rival Indy Eleven at Carroll Stadium.
Indy Eleven striker Stefano Pinho scored twice as a result, helping the host side rally from an early deficit in the final game of this year's Louisville Indianapolis Proximity Association Football Contest series.
Paired with Saturday's defeat at Miami FC, LouCity lost back-to-back games for just the second time this season. Coincidentally, both of those stumbles followed 10-game unbeaten streaks — one to open the season and another stretching from June 18 through last weekend.
"Obviously, it's a really disappointing night," said coach Danny Cruz. "We gave up two goals that I felt like we gifted the opponent, so that's not good enough. I thought we created enough chances to win the game, but we have to be better. I'm confident that we'll turn this around on Saturday night. It'll be good to finally be back at home, but for me, obviously, it's another missed opportunity and not good enough on the night."
City (17-5-4, 55 points) maintained its first-place standing in the USL Championship's Eastern Conference, but the result marked a setback on other fronts. The boys in purple remain a point earned away from clinching their 2022 playoff spot, and they didn't capitalize on an opportunity to surpass Western Conference leader San Antonio FC for the league's best overall record.
Indy Eleven (8-14-4, 28 points) may have revived its own hopes of qualifying for the playoffs. The club was winless from early June until Saturday. In consecutive games, the Eleven defeated San Antonio and then LouCity, both at the top of their respective conferences.
"I don't think it's a time to question anything," said midfielder Corben Bone. "If anything, it's good that it happened now so we can address it, know where we can get better and move on. We still have it in our hands as far as finishing at the top of the league and our division. We know what we need to get better at, and we can bounce back with this group and the confidence we have — the type of players we have."
Going back to March, City and Indy played to a 1-1 draw in their other meeting.
The boys in purple started on the front foot in Wednesday's rematch when Amadou Dia's eighth-minute cross landed to Ray Serrano, who flicked a header in at the far post. It marked Serrano's third goal of the year — but LouCity didn't manage so much as another shot attempted until Serrano sent a chip well high of the bar in the 49th minute.
"This game is about relationships, right?" Cruz said with his starting lineup including five changes from Miami. "And you start getting familiar with one another and playing good football, and changes have to be made in regard to bodies and managing minutes in games. It has been difficult, but I try not to make excuses because we were more than capable of taking three points tonight. Two moments — two mistakes — cost us."
Indy Eleven equalized in the 28th minute after confusion at the back led Wes Charpie to pass a ball back and over goalkeeper Kyle Morton. Pinho got behind both of them to head it in.
The hosts took their lead on a 78th-minute penalty kick. Morton guessed correctly to his right, but Pinho tucked the shot in nonetheless. Charpie and Ian Soler tangled with Juan Tejada to set up the try.
"I think it's similar to last game — a letdown, mistakes, and we get punished for it," Bone said. "You can see what teams are trying to do: sit in and defend. We've got to find more quality around the net. It just comes down to that. You can have plenty of the ball and do a lot great things, but if you don't put it in the back of the net and limit mistakes, then this is what happens."
Substitutes — they were all used with City amid a run of five games in 15 games — made an impact, but didn't create a goal. Brian Ownby held up play for Paolo DelPiccolo to fire in the 88th minute, but Indy's goalkeeper saved it. Ownby sent another try dangerously across the face of goal in the 92nd minute. And with the last touch of the game, Soler headed a cross narrowly over the bar.
The outcome dropped LouCity to 13-2-0 in games when it scores first. The boys in purple will hope for another hot start — and this time to maintain it — on A short turnaround TO Saturday. The Western Conference's Sacramento Republic FC visits Lynn Family Stadium for a 7:30 p.m. kickoff.
Game Summary: Indy Eleven vs. Louisville City FC
Date: Aug. 31, 2022
Venue: Carroll Stadium
Kickoff: 7 p.m. ET
Weather: 80 degrees, clear
Man of the Match: Ray Serrano
Scoring
Indy Eleven (1, 1, 2)
Louisville City FC (1, 0, 1)
Goals
Indy Eleven:
28' Stefano Pinho
78' Stefano Pinho
Louisville City FC:
8' Ray Serrano (Amadou Dia)
Lineups
Indy Eleven: 1 — Tim Trilk, 22 — Robby Dambrot, 2 — Jesus Vazquez, 4 — Mechack Jerome, 5 — Jared Timmer (46' 44 — Alexander McQueen), 15 — Neveal Hackshaw, 23 — Justin Ingram, 8 — Raul Aguilera Jr. (71' 32 — Wilfredo Rivera), 14 — Solomon Asante (90'+1 7 — Ayoze), 29 — Stefano Pinho, 17 — Juan Tejada (80' 19 — Rodney Michael)
Subs not used: 99 — Sean Lewis, 35 — Diego Sanchez, 37 — Ecris Revolorio
Head Coach: Mark Lowry
Louisville City FC: 1 – Kyle Morton, 3 – Amadou Dia, 6 – Wes Charpie, 32 — Ian Soler, 19 — Oscar Jimenez (62' 15 — Manny Perez), 8 — Carlos Moguel Jr. (46' 12 — Tyler Gibson), 13 — Corben Bone (71' 7 — Napo Matsoso), 9 — Jorge Gonzalez (85' 36 — Paolo DelPiccolo), 21 — Ray Serrano (62' 10 — Brian Ownby), 14 — Wilson Harris, 77 — Enoch Mushagalusa
Subs not used: 18 – Danny Faundez, 4 — Sean Totsch
Head Coach: Danny Cruz
Stats Summary: Indy Eleven / Louisville City FC
Shots: 8 / 12
Shots on Goal: 6 / 4
Possession: 43.6% / 56.4%
Fouls: 21 / 11
Offside: 2 / 11
Corner Kicks: 1 / 2
Discipline Summary
Indy Eleven:
12' Stefano Pinho (yellow)
45'+6 Robby Dambrot (yellow)
68' Neveal Hackshaw (yellow)
85' Justin Ingram (yellow)
Louisville City FC:
13' Carlos Moguel Jr. (yellow)
24' Jorge Gonzalez (yellow)
57' Wes Charpie (yellow)
Referee: Elvis Osmanovic