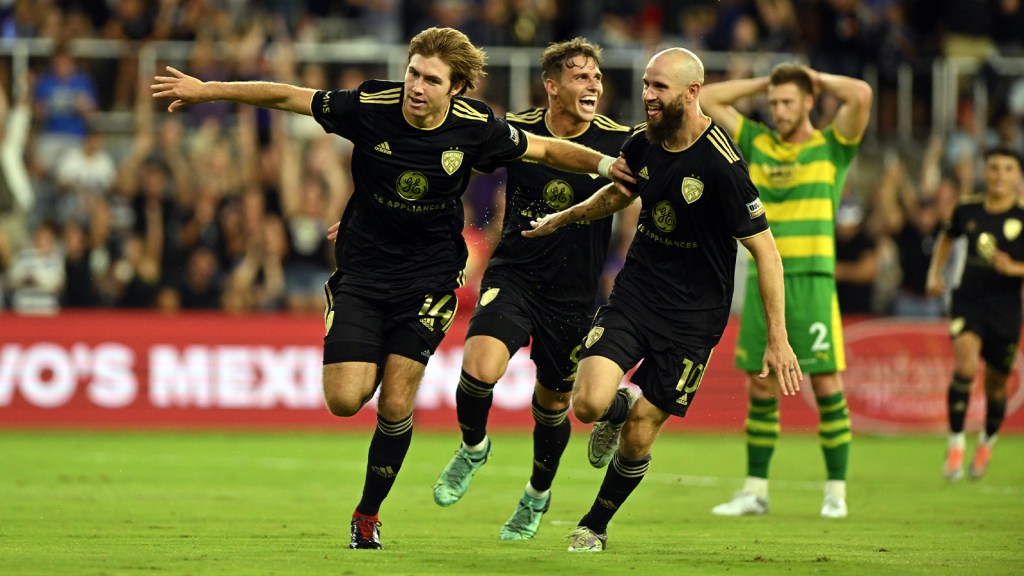 Wilson Harris saw the ball hit the back of the net, sprinted to the corner flag and stopped to admire the view.
Seconds before Harris scored the game-winning goal Saturday against the Tampa Bay Rowdies, Louisville City FC announced a club-record crowd of 14,673 in attendance. The stands were already erupting in response when he stole back possession in the Rowdies' final third, shrugged off a defender and rolled in the game's lone goal.
This LouCity home crowd eclipsed the 14,456 to witness the 2017 USL Championship Final, and City delivered a statement on the field, too. The boys in purple (16-3-4, 52 points) extended their unbeaten run to nine games since a June 5 loss at Tampa Bay, while the visiting Rowdies (14-4-6, 48 points) hadn't lost in 13 games dating back to April 30.
"To have an evening like this, there's a lot of people that deserve a lot of credit," said coach Danny Cruz. "We are extremely thankful for the support. I can honestly say without that crowd tonight, the end of the game gets a little bit more difficult.
"We've talked about it before: When we have that type of backing, it pushes our players to be able to get through it. We're extremely proud of this the night we just had. We're extremely proud of the players for putting out a fantastic performance. They had a lot of fight.
"That game was everything I am proud of here at Louisville City."
This marked the third 1-2 matchup on the table LouCity has won this year following victories April 30 over Pittsburgh Riverhounds SC and July 16 over Memphis 901 FC. City continues to chase Western Conference leader San Antonio FC's 56 points for the best record across the USL Championship.
There was, of course, a score to settle against Tampa Bay on Saturday. These clubs have ended the other's seasons three years running, with City claiming a playoff-opening victory in 2019 before the Rowdies prevailed in the 2020 and 2021 Eastern Conference Finals.
With a boisterous crowd at their backs, the boys in purple dominated Saturday, holding Tampa Bay without a shot on target while controlling 62% of possession.
"You could feel it on the field. You could feel it in the stands," said defender Sean Totsch. "When both those things are good and we're at home, we don't feel like anyone can beat us. It doesn't matter who comes here. Nights like tonight, we feel invincible.
Brian Ownby started at center forward over Harris and created his share of chances, including a clever roller from distance saved at the near post in the 67th minute. It was LouCity's other try on frame — Harris' shot in the 63rd minute — that marked a breakthrough.
City's leading scorer, now with 10 goals on the year, Harris had only subbed on three minutes prior. He pounced on a Rowdies back pass, stole it from the last defender and fired a deflected shot past the opposing goalkeeper.
"It's a great feeling," Harris said. "You could feel that energy. I was waiting for my moment. I really wanted to be on the field. I couldn't have written a better script to be honest."
"For him to come and do what he did after probably being a bit disappointed in not starting," Cruz added, "it shows a lot about his character."
At the other end of the pitch, LouCity's Kyle Morton registered his 10th clean sheet of the year. He didn't need to make a save, but an 87th-minute punch out on a recycled Tampa Bay free kick played a role in preserving the lead.
Winners of seven in their last eight, the boys in purple are next scheduled to play three straight away from their home fans. The road swing starts next Saturday with a 7:30 p.m. kickoff at USL Championship newcomer Detroit City FC.
Game Summary: Louisville City FC vs Tampa Bay Rowdies
Date: August 13, 2022
Venue: Lynn Family Stadium
Kickoff: 7:30 p.m. ET
Weather: 82 degrees, partly cloudy
Man of the Match: Wilson Harris
Attendance: 14,673
Scoring
Louisville City FC (0, 1, 1)
Tampa Bay Rowdies (0, 0, 0)
Goals
Louisville City FC:
63' Wilson Harris
Tampa Bay Rowdies:
Lineups
Louisville City FC: 1 – Kyle Morton, 3 – Amadou Dia, 6 – Wes Charpie, 4 — Sean Totsch, 15 – Manny Perez, 12 – Tyler Gibson, 13 — Corben Bone (60' 7 — Napo Matsoso), 9 – Jorge Gonzalez (90'+ 36 — Paolo DelPiccolo), 21 — Ray Serrano, 10 — Brian Ownby (90'+ 19 – Oscar Jimenez), 77 – Enoch Mushagalusa (60' 14 — Wilson Harris)
Subs not used: 24 – Parker Siegfried, 32 — Ian Soler
Head Coach: Danny Cruz
Tampa Bay Rowdies: 1 — CJ Cochran, 2 — Conner Antley, 5 — Jordan Scarlett, 33 — Aaron Guillen, 4 — Lewis Hilton, 11 — Leo Fernandes, 21 — Dayonn Harris (61' 7 — Yann Ekra), 23 — Sebastian Dalgaard (73' 24 — Robert Castellanos), 31 — Nicky Law (73' 6 — Junior Etou), 10 — Steevan Dos Santos (and 61' 22 — Kyle Greig), 19 — Jake LaCava (73' 77 Lucky Mkosana)
Subs not used: 30 — Phil Breno, 14 — Ian Antley
Head Coach: Neill Collins
Stats Summary: Louisville City FC / Tampa Bay Rowdies
Shots: 11 / 8
Shots on Goal: 2 / 0
Possession: 61.9% / 38.1%
Fouls: 13 / 9
Offside: 1 / 6
Corner Kicks: 7 / 0
Discipline Summary
Louisville City FC:
29' Tyler Gibson (yellow)
Tampa Bay Rowdies:
50' Aaron Guillen (yellow)
Referee: Natalie Simon