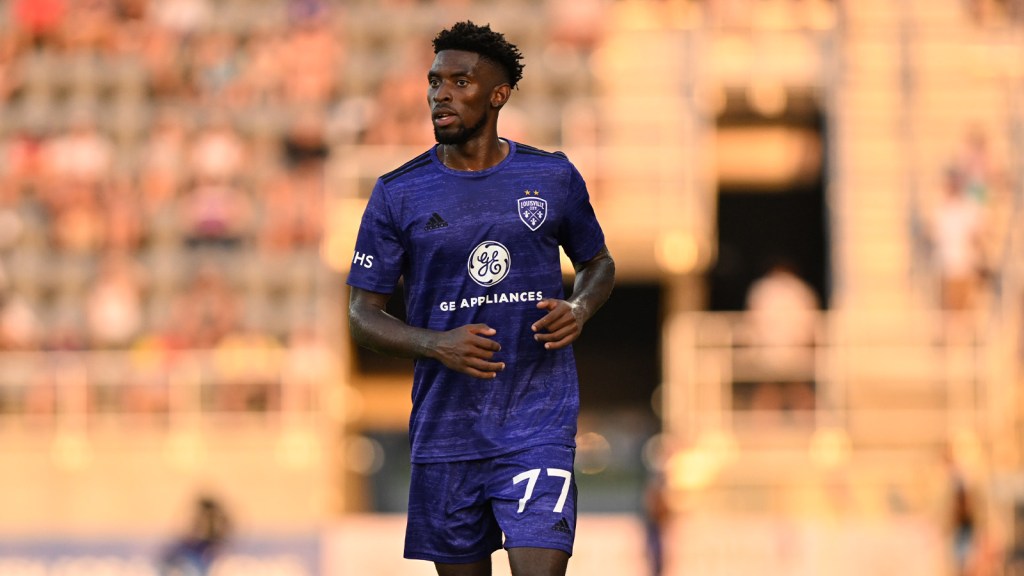 Louisville City FC and Phoenix Rising FC shared a point in sweltering heat Wednesday, grappling to a 0-0 draw in front of 10,494 at Lynn Family Stadium and extending LouCity's unbeaten streak to six games.
The rematch of the 2018 USL Championship final had all the trappings of a big event in the USL's inaugural Summer Showcase, between the pregame fireworks and flyover and the intensity of the contest. LouCity produced more dangerous scoring opportunities, requiring two difficult second-half saves from Phoenix Rising goalkeeper Ben Lundt, but neither team could break through.
"The guys left everything they could physically out on the field," said Louisville City coach Danny Cruz. "It was obviously a hot one. We had a couple of big chances where (Lundt) made some big saves, and we could have won the game there. All in all, it's not a bad result given the circumstances. But I think we're going to certainly look at where we can improve in the final third."
LouCity (13-3-4, 43 points) maintained its place atop the Eastern Conference standings, expanding its lead on the second-place Tampa Bay Rowdies to four points after both teams have played 20 matches. And with Wednesday's result, the boys in purple tied Miami FC's league-leading 10 shutouts.
Phoenix's best chances came in the first half, with Rising forward Greg Hurst's shot from City goalkeeper Kyle Morton's left requiring a parry in the 29th minute and attacker Richmond Antwi's left-footed drive from Morton's right needing a diving, fingertip save.
In all, LouCity outshot Phoenix, 15-11, and limited its opponent to four shots on target. City dominated possession, with 64%, and finished with 1.29 expected goals to Phoenix's 0.98.
"It was a really big commitment from the entire group to defend," Morton said. "I give the credit to the guys in front of me to limit opportunities. Our record shows that."
Manny Perez and Wilson Harris narrowly missed chances at late game-winning goals. Perez forced a close-range reaction save from Lundt on a rebound opportunity in the 89th minute. Harris fizzed the far post with a low shot in added time.
City did get 24 touches in Phoenix's box and sprayed in 26 crosses, but Phoenix blocked five shots and Lundt made six saves.
"I thought in the first half, we were a little bit too slow," Cruz said. "The guys got in the locker room at halftime and they were certainly feeling (the heat) a little bit. But then we started to get a rhythm – and then a (Phoenix) player goes down and they're down for three minutes. And then you get a rhythm and then a player goes down, and that's difficult, right? They're getting the rest that they need when we're putting them under pressure. I know I've said it already, but it was a little bit frustrating, that side of it. But we created some big chances, and (Lundt) makes two really big saves, and that's kind of how the game played out."
Game Summary: Louisville City FC vs. Phoenix Rising FC
Date: July 20, 2022
Venue: Lynn Family Stadium
Kickoff: 7 p.m. ET
Weather: 95 degrees, partly cloudy
Man of the Match: Kyle Morton
Attendance: 10,494
Scoring
Louisville City FC (0, 0, 0)
Phoenix Rising FC (0, 0, 0)
Lineups
Louisville City FC: 1 – Kyle Morton, 6 – Wes Charpie (81' 19 – Oscar Jimenez), 15 – Manny Perez, 4 – Sean Totsch, 66 – Josh Wynder, 12 – Tyler Gibson (45' 13 – Corben Bone), 21 – Ray Serrano, 11 – Niall McCabe, 36 – Paolo DelPiccolo (58' 9 – Jorge Gonzalez), 77 – Enoch Mushagalusa (58' 14 – Wilson Harris), 10 – Brian Ownby (71' 7 – Napo Matsoso)
Subs not used: 18 – Danny Faundez, 32 – Ian Soler
Head Coach: Danny Cruz
Phoenix Rising FC: 39 – Ben Lundt, 2 – Darnell King (83' 21 – Joey Calistri), 41 – James Musa, 15 – Joseph Farrell, 6 – Baboucarr Njie, 27 – Kevon Lambert, 14 – Aodhan Quinn (68' 18 – Luis Manuel Seijas), 8 – Irakoze Donasiyano, 30 – Lamin Jawneh (45' 7 – Santi Moar), 33 – Richmond Antwi (45' 20 – Marcus Epps), 17 – Greg Hurst (45' 45 – Claudio Repetto)
Subs not used: 26 – Edward Delgado, 5 – Sivert Haugli
Head Coach: Rick Schantz
Stats Summary: Louisville City FC / Phoenix Rising FC
Shots: 15 / 11
Shots on Goal: 6 / 4
Possession: 64% / 36%
Fouls: 10 / 6
Offside: 4 / 6
Corner Kicks: 6 / 5
Discipline Summary
Phoenix Rising FC:
6' Kevon Lambert (Yellow)
37' Baboucarr Njie (Yellow)
Referee: Thomas Snyder