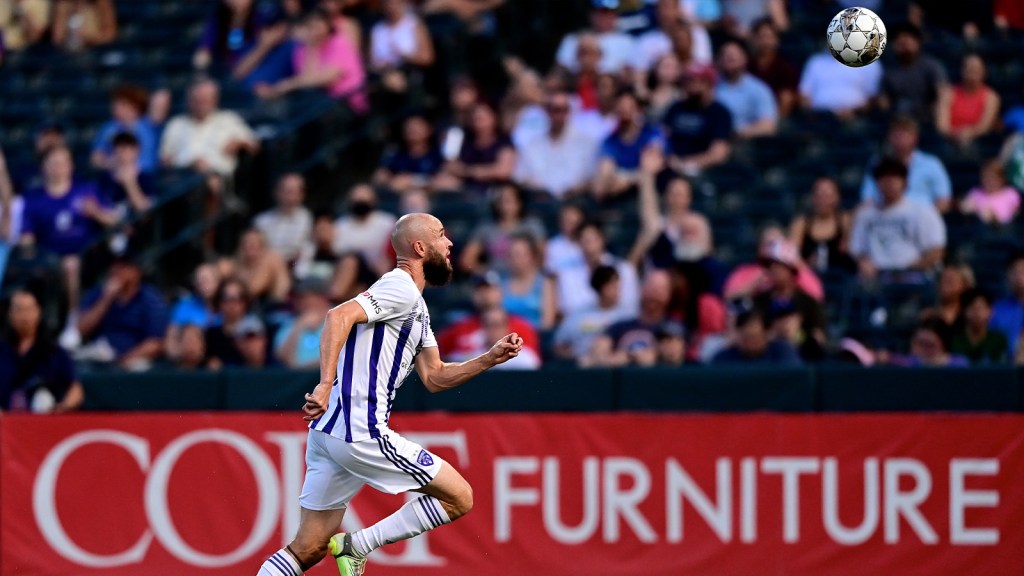 Brian Ownby's 32nd birthday will be one to remember.
The Louisville City FC forward — in perhaps the best form of a professional career showing no sign of slowing down — scored twice in the final 20 minutes Saturday to earn his side a momentous 2-1 win over host Memphis 901 FC at AutoZone Park.
It marked a second brace in as many weeks for Ownby, who helped City prevail in what was just the fifth meeting between the Nos. 1 and 2 teams in the standings during the USL Championship's conference era. The boys in purple improved to 13-3-3 to sit three points clear atop the Eastern Conference table.
"I think he's embraced the different roles he's had to play," coach Danny Cruz said of Ownby, who as of late has shifted from his regular wide position to center forward as strikers Cameron Lancaster and Wilson Harris deal with injuries.
"…He's in really good form. He's certainly working hard every single day. It's not easy to ask a player to play a position he hasn't played in a long time, but we obviously need him at the moment."
Until Ownby's heroics, LouCity could consider itself letdown by the game's circumstances.
Appeals for a handball in the 24th minute weren't met when a City shot caromed off a Memphis defender's elbow in the box. Meanwhile, it wasn't until the 37th minute that Memphis so much as attempted a shot, and the hosts saw Patrick Seagrist sent off for a second yellow card in first half stoppage time.
But in an eventful second half, defender Amadou Dia also saw red for a 62nd-minute tackle that evened the sides at 10 men. Memphis' Phillip Goodrum scored the opener four minutes later on a slicing corner kick redirected off the back post and in.
"I talked to them at halftime about staying out of all the (stuff)," Cruz said. "Memphis is the team that's constantly talking. They're trying to get in our players' heads."
"I think the mentality was very important from us tonight," added midfielder Niall McCabe. "…I think the key for us was just worrying about ourselves."
With the sides even on players, play opened back up, and Ownby got to work. A free kick drawn at the edge of the box led to a grounded McCabe set piece one-touched into the back of the net in the 72nd minute to equalize. Ownby then flicked a no-look header in from a cheeky Ray Serrano ball over the top to win it in the 81st minute.
The theatrics weren't over until late as Memphis goalkeeper Trey Muse — a Louisville native — received a red card for a handball in the midfield while scurrying back from a stoppage-time corner. 901 FC finished the game with nine men on the pitch and a field player in goal.
"Obviously when you're getting on the scoreboard and the team's winning, it's a fun time out there with this group," Ownby said. "Everyone's putting their bodies on the line in a tough place against a decent team.
"The fight back from the group — Niall with a great ball on that set piece, and Ray with another great ball — I think we've built relationships throughout the roster. I'm fortunate to be on the end of these."
Ownby's birthday brace went down as at least the second in club history. George Davis IV also scored twice on Aug. 5, 2016, as LouCity won at Pittsburgh Riverhounds SC.
That season, the boys in purple went on to make their second consecutive Eastern Conference Final appearance. The streak has ballooned to seven as City chases more hardware this season.
Saturday's result — a fifth straight win, most of the Cruz era — has the club a point off the league's best overall record. LouCity's +27 goal differential ranks first in the USL Championship as does its goals for (42), while its goals against (15) are second-best.
In top form, City will feature next on ESPN2 as it hosts Phoenix Rising FC in Wednesday's USL Summer Showcase game. Kickoff is set for 7 p.m. at Lynn Family Stadium.
Game Summary: Memphis 901 FC vs. Louisville City FC
Date: July 16, 2022
Venue: AutoZone Park
Kickoff: 8:30 p.m. ET
Weather: 93 degrees, mostly cloudy
Man of the Match: Brian Ownby
Scoring
Memphis 901 FC (0, 1, 1)
Louisville City FC (0, 2, 2)
Goals
Memphis 901 FC:
66' Phillip Goodrum (Aaron Molloy)
Louisville City FC:
72' Brian Ownby (Niall McCabe)
81' Brian Ownby (Ray Serrano)
Lineups
Memphis 901 FC: 25 — Trey Muse, 7 — Patrick Seagrist, 50 — Niall Logue (87' 3 — Zach Carroll), 16 — Graham Smith, 19 — Rece Buckmaster, 23 — Leston Paul (84' 21 — Lucas Turci), 6 — Aaron Molloy, 18 — Jeremy Kelly, 8 — Chris Allan (71' 14 — Derek Dodson), 9 — Luiz Fernando, 10 — Phillip Goodrum (87' 12 — David Egbo)
Subs not used: 1 — Andrew Romig, 15 — Mitchell Myers, 88 — John Talley
Coach: Ben Pirmann
Louisville City FC: 1 — Kyle Morton, 6 – Wes Charpie, 66 — Josh Wynder, 4 — Sean Totsch, 3 — Amadou Dia, 12 — Tyler Gibson (69' 13 — Corben Bone), 11 — Niall McCabe, 9 — Jorge Gonzalez (46' 36 — Paolo DelPiccolo, 67' 15 — Manny Perez), 10 — Brian Ownby, 21 — Ray Serrano (90' 32 — Ian Soler), 77 — Enoch Mushagalusa (69' 7 – Napo Matsoso)
Subs not used: 18 — Danny Faundez, 19 — Oscar Jimenez
Head Coach: Danny Cruz
Stats Summary: Memphis 901 FC / Louisville City FC
Shots: 9 / 11
Shots on Goal: 2 / 3
Possession: 49.4% / 50.6%
Fouls: 11 / 12
Offside: 5 / 3
Corner Kicks: 4 / 5
Discipline Summary
Memphis 901 FC:
9' Patrick Seagrist (yellow)
39' Aaron Molloy (yellow)
45'+ Patrick Seagrist (second yellow)
71' Jeremy Kelly (yellow)
80' Leston Paul (yellow)
85' Phillip Goodrum (yellow)
92' Trey Muse (red)
Louisville City FC:
26' Jorge Gonzalez (yellow)
49' Amadou Dia (yellow)
62' Amadou Dia (second yellow)
62' Kyle Morton (yellow)
Referee: Michael Radchuk