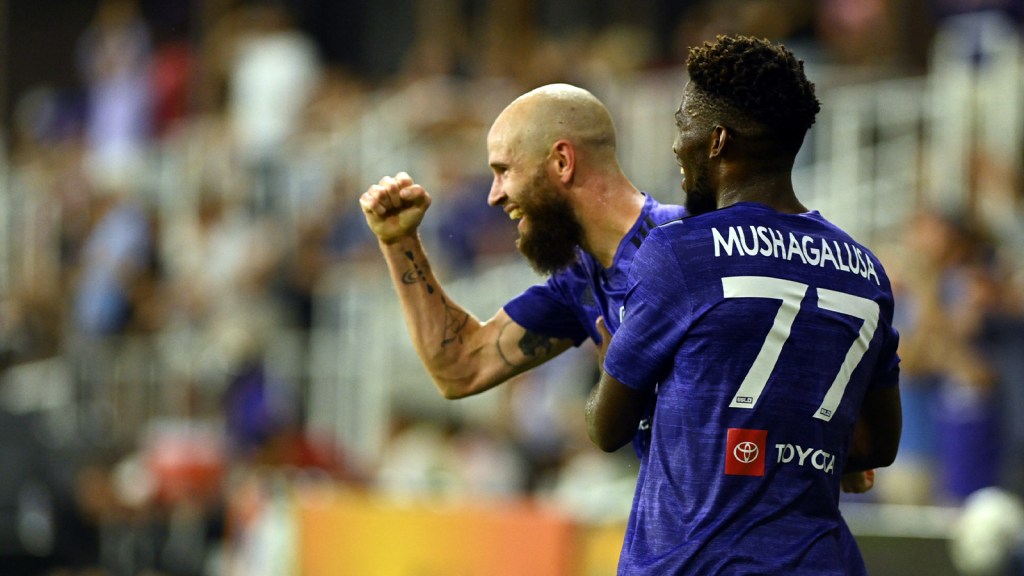 Although Louisville City FC and New York Red Bulls II faced off in three straight USL Championship Eastern Conference Finals from 2016 through 2018, Saturday's anticipated final game between the two ended as most recent meetings have.
Behind a hat trick from Enoch "Matiti" Mushagalusa and brace from Brian Ownby, LouCity cruised to a 6-0 victory at Lynn Family Stadium, making it eight wins over its last 10 clashes with a formerly formidable foe.
The margin of victory matched LouCity's widest ever in a league game, a 6-0 victory over the Richmond Kickers on Aug. 25, 2018. Mushagalusa's trio of goals also made him the fourth City player to net a hat trick, joining Matt Fondy, Chandler Hoffman and Cameron Lancaster.
The boys in purple as a result upped their winning streak to four games and remained atop the Eastern Conference table, improving to 12-3-3 (39 points) just past the 2022 season's midpoint.
"I thought it was a fantastic night from the group," said coach Danny Cruz. "We created — obviously — a lot of opportunities, exploited the spaces that we talked about all week with the way the Red Bull plays. I was really proud of how we handled it from a professionalism standpoint, not letting up keeping the right mentality, and sticking to our principles.
"All in all, a really energetic night, obviously from the fans as well, and I thought the players did an excellent job."
LouCity's offensive outburst came despite missing both strikers Lancaster (groin) and Wilson Harris (ribs) due to injury. Ownby slotted in at center forward, and the boys in purple dominated from the jump, out-shooting their opponent 21-5 while holding 60.8% of possession.
"We did well getting in behind them," Mushagalusa said. "That's the game that we talked about. That's where the spaces were and also I'm just glad, being able to score a hat trick at Louisville, it's a beautiful stadium. Thanks to Ownby of course"
The first of many goals hit the back of the net in the 14th minute when Ownby corralled a free kick over the top and rifled in the opener. It was a tone setter on an evening when Jorge Gonzalez then finished a recycled Red Bulls II clearance in the 23rd minute.
Mushagalusa got in on the fun in the 32nd minute (a header from Niall McCabe), the 59th minute (a tap in on the cross from Ownby) and 64th minute (thanks to a similar delivery from Ownby).
Ownby — who finished with two goals and as many assists — rounded out the onslaught when rounding the diving keeper in the 71st minute and finishing. He nearly had a hat trick himself with a point-blank shot in the 85th the Red Bulls II managed to save.
"I should have had five or six," Ownby said. "I wish I would have taken some lessons from Cam. I'm usually the one out wide putting the ball in, but I'm just glad to get on the score sheet."
Visiting New York managed just one shot on target, a headed try in the 68th minute that goalkeeper Danny Faundez paired away to cement his second hat trick in three games.
The victory set up a key showdown net week as LouCity travels to play Memphis 901 FC, which sits just a point back of the boys in purple in the standings. Kickoff is set for 8:30 p.m. Saturday at AutoZone Park.
"Their record speaks for itself," Cruz said of Memphis. "They're a difficult opponent and playing good football and pressing opponents. Memphis is a difficult place to go because it's a nice, small field. They make it really difficult. So we're excited about the opportunity."
Game Summary: Louisville City FC vs New York Red Bulls II
Date: July 9, 2022
Venue: Lynn Family Stadium
Kickoff: 8 p.m. ET
Weather: 78 degrees, partly cloudy
Men of the Match: Brian Ownby and Enoch Mushagalusa
Attendance: 10,462
Scoring
Louisville City FC (3, 3, 6)
New York Red Bulls II (0, 0, 0)
Goals
Louisville City FC:
14' Brian Ownby
23' Jorge Gonzalez (assisted by Enoch Mushagalusa)
32' Enoch Mushagalusa (assisted by Niall McCabe)
59' Enoch Mushagalusa (assisted by Brian Ownby)
65' Enoch Mushagalusa (assisted by Brian Ownby)
71' Brian Ownby (assisted by Ray Serrano)
Lineups
Louisville City FC: 18 – Danny Faundez, 6 – Wes Charpie (66' 15 – Manny Perez), 3 – Amadou Dia (74' 19 – Oscar Jimenez), 4 – Sean Totsch, 66 – Josh Wynder, 12 – Tyler Gibson (83' 32 – Ian Soler), 21 – Ray Serrano, 11 – Niall McCabe (66' 13 – Corben Bone), 9 – Jorge Gonzalez (66' 36 – Paolo DelPiccolo), 77 – Enoch Mushagalusa, 10 – Brian Ownby
Subs not used: 24 – Parker Siegfried, 7 – Napo Matsoso
Head Coach: Danny Cruz
New York Red Bulls II: 71 – Ioannis Nikopolidis, 88 – O'Vonte Mullings, 60 – Curtis Ofori, 55 – Lamine Conte (45' 32 – Christopher Cragwell), 80 – Juan Castillo, 66 – Michael Knapp (45' 53 – John Murphy), 30 – Jordan Adebayo-Smith, 49 – Sam Williams (84' 90 – Daniel De Leon), 19 – Wikelman Carmona (40' 36 – Jeremy Rafanello), 20 – Jesús Castellano (66' 77 – Jonathan Fillipe), 28 – Zach Ryan
Subs not used: 81 – Derek Chan, 91 – Bento Estrela
Head Coach: Gary Lewis
Stats Summary: Louisville City FC / New York Red Bulls II
Shots: 21 / 5
Shots on Goal: 13 / 1
Possession: 60.8% / 39.2%
Fouls: 13 / 9
Offside: 5 / 3
Corner Kicks: 11 / 3
Discipline Summary
New York Red Bulls II
13' Michael Knapp (Yellow)
Referee: Nabil Bensalah