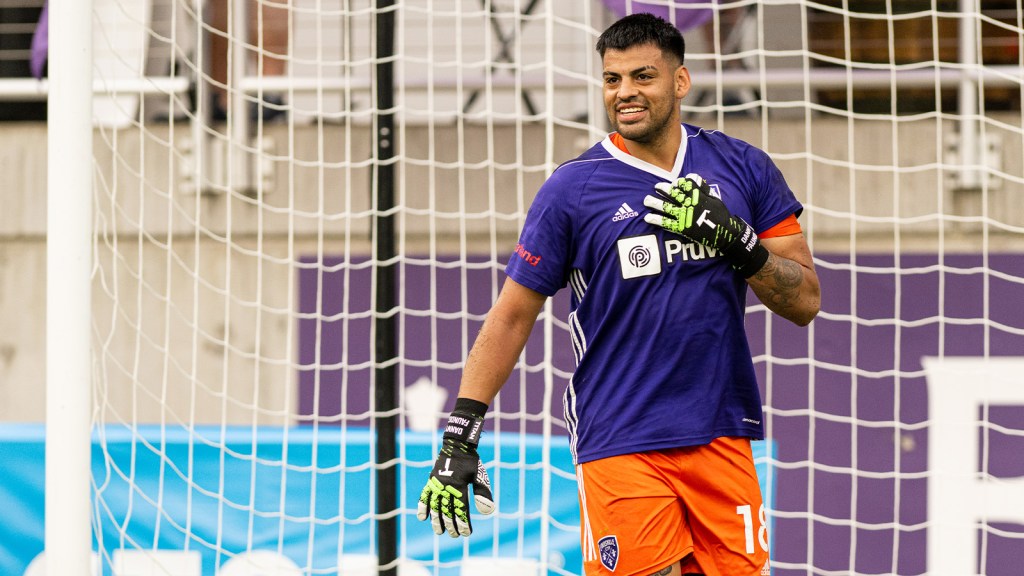 With four offside calls against Hartford Athletic inside the first 15 minutes of Saturday's game, Louisville City FC's defensive strategy became apparent quickly.
Push high. Prevent balls over the top. And limit the damage if the assistant referee's flag doesn't go up.
Goalkeeper Danny Faundez proved solid when Hartford did make it through onside, registering crucial saves on either side of the halftime whistle before LouCity went on to score both its goals in a 2-0 victory broadcast on ESPN.
"It was the scout on them," coach Danny Cruz said of Hartford, which went on to be whistled for 11 offside calls in all, "and there were a couple of balls that did get in behind. But I did think on the whole, for 90 minutes the back line did a really good job of dropping in the right moments.
"Danny came up big with the saves he needs to make. He's done a really good job of staying patient."
That's not just since signing with LouCity, but rather over the course of a career for Faundez, a 29-year-old from Seattle who's logging his first USL Championship minutes with No. 1 goalkeeper Kyle Morton in concussion protocol.
"It has to do more with self belief and knowing I needed to get in front of coaches," Faundez said of his persistence. "Obviously nobody had seen me play in the league, because I hadn't played any games before I got here.
"…A lot of (my confidence) has to come from teammates I've had in the past — guys with national team experience or playing with MLS first teams. They've always believed in me in training. I knew I just had to get the right opportunity somewhere and keep working hard."
From Seattle, Faundez first caught on with Seattle Sounders FC 2 back in 2015 before a stint with Orange County SC, which won the USL Championship title last year. He didn't appear for either club, however, so Faundez overcame lack of game film by earning his City contract through the club's open tryouts.
Morton also signed this past offseason as Louisville's clear starting choice. But Faundez has gone on to win out recent available minutes from a goalkeeping group that also includes Parker Siegfried.
"Everyone has a different pathway," Cruz said. "Danny's mentality and his willingness to want to be the best every single day — people have no idea the amount of work he does behind the scenes. He's a crucial part of what we want to do.
"Our goalkeeping corps has been excellent. All three of them — Parker, Danny and Kyle — have a good relationship. They push one another."
Morton exited a June 5 game against the Tampa Bay Rowdies early due to a collision. That day, Faundez came on to concede only a Rowdies penalty kick in a 1-0 loss.
Returning from two weeks off between games, Faundez made his first start June 18 against Orange County SC. He helped the boys in purple to a 3-1 victory.
Faundez's first clean sheet followed Saturday against Hartford thanks to crucial saves when the Athletic found themselves in one-on-one attacks in both the 16th and 47th minutes.
"When you look at his journey and where he came from with us this year, he's earned this," Cruz said of Faundez. "He's earned everything that he's gotten at Louisville City. I'm really, really proud of him. He's a joy to work with every single day. He made some big saves tonight that get us three points.
"He's the one individual we pointed out in the locker room, and we were all celebrating."