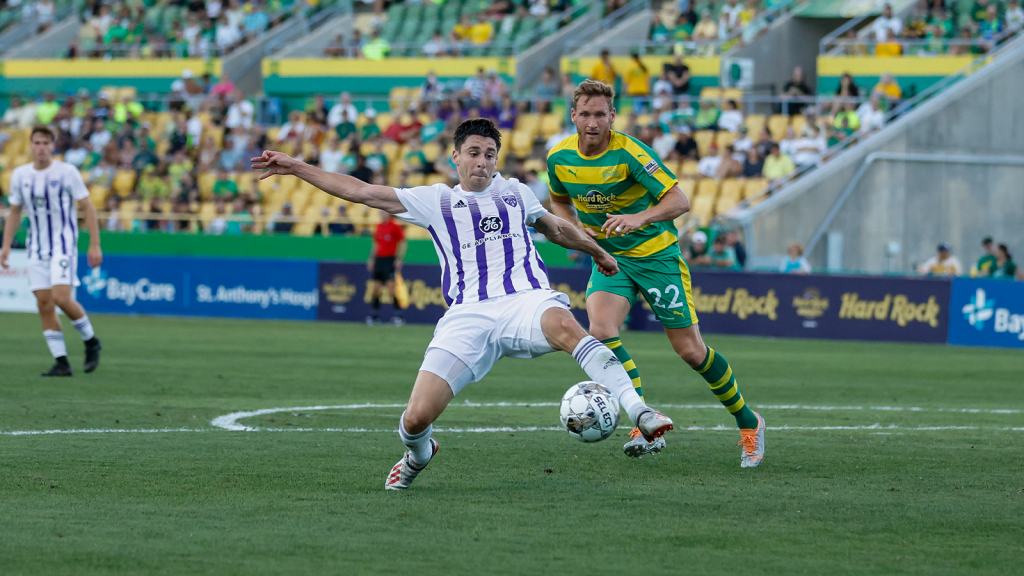 Louisville City FC dropped a frustrating 1-0 loss to the Tampa Bay Rowdies on Sunday night in Florida, conceding a penalty just before halftime that stood up as the game-winner.
Rowdies forward Leo Fernandes drew the penalty in the 42nd minute and converted it in the 43rd, and Tampa Bay held LouCity to just four shots — none on goal — to preserve the win.
City (8-3-3, 27 points) returns to Louisville for a bye week in USL Championship action and the chance to regroup after its fourth loss in five matches.
"I thought the first half was extremely poor for the group," said LouCity coach Danny Cruz. "Pretty much every aspect of it was really disappointing. We didn't create enough on both sides of the ball. It's a terrible result but more frustrating because of the performance, not necessarily the result."
The game was originally scheduled for Saturday, but the league postponed it 24 hours because of significant travel troubles for the Rowdies returning from their midweek match in Tulsa. Then the game started on a scary note for City, when standout goalkeeper Kyle Morton had to be substituted in the ninth minute after a scary collision in the box with Fernandes.
Reserve keeper Danny Faundez put in a Man of the Match performance as Morton's replacement, making a number of big saves to keep the game close, but City struggled to generate an attacking threat.
The boys in purple were uncharacteristically outshot, 12-5, despite having nearly 60% of the possession.
"The game (was) very frustrating," said captain Paolo DelPiccolo. "It's not the standard that we hold ourselves to. It's something that, quite honestly, is just not good enough. For us, it's very disappointing. Not any excuses, not any factors — just very disappointed in ourselves. Something that's just not the standard here."
City now has 13 days to regroup ahead of a June 18 home tilt against reigning USL Championship winners Orange County, a game that will celebrate Pride Night at Lynn Family Stadium.
Game Summary: Louisville City FC vs. Tampa Bay Rowdies
Date: June 5, 2022
Venue: Al Lang Stadium
Kickoff: 7:30 p.m. ET
Weather: 80 degrees, partly cloudy
Player of the Match: Danny Faundez
Attendance: 4,119
Scoring
Louisville City FC (0, 0, 0)
Tampa Bay Rowdies (1, 0, 1)
Goals
Louisville City FC:
Tampa Bay Rowdies:
34' Leo Fernandes (PEN)
Lineups
Louisville City FC (4-2-3): 1 – Kyle Morton (9' 18 – Danny Faundez), 3 – Amadiu Dia, 4 – Sean Totsch, 6 – Wes Charpie, 19 – Oscar Jimenez (74' 21 – Ray Serrano), 12 – Tyler Gibson, 13 – Corben Bone (74' 11 – Niall McCabe), 36 – Paolo DelPiccolo (45' 77 – Enoch Mushagalusa), 9 – Jorge Gonzalez, 10 – Brian Ownby (88' 7 – Napo Matsoso), 14 – Wilson Harris (45' 17 – Cameron Lancaster)
Subs not used: 30 – Jan Erik Leinhos
Head Coach: Danny Cruz
Tampa Bay Rowdies (3-4-1-2): 1 – CJ Cochran; 5 – Jordan Scarlett, 33 – Aaron Guillen, 27 – Laurence Wyke; 7 – Yann Ekra, 4 – Lewis Hilton (90+3' 3 – Thomas Vancaeyezeele), 11 –Leo Fernandes (80' 77 – Luckymore Mkosana), 8 – Jake Areman (82' 23 – Sebastian Dalgaard), 2 – William Connor Antley, 19 – Jake LaCava (71' 9 – Juan Tejada), 22 – Kyle Greig (71' 13 – Sebastian Guenzatti)
Subs not used: 6 – Brunallergene Etou, 56 – Raiko Arozarena
Head Coach: Neill Collins
Stats Summary: Louisville City FC / Tampa Bay Rowdies
Shots: 5/ 12
Shots on Goal: 0 /4
Possession: 59.8% / 40.2%
Fouls: 10 / 8
Offside: 4 / 11
Corner Kicks: 3 / 6
Discipline Summary
Louisville City FC:
Tampa Bay Rowdies:
70' Jake LaCava (Yellow)
90' Juan Tejada (Yellow)
90+2' Aaron Guillen (Yellow)
Referee: Matthew Conger