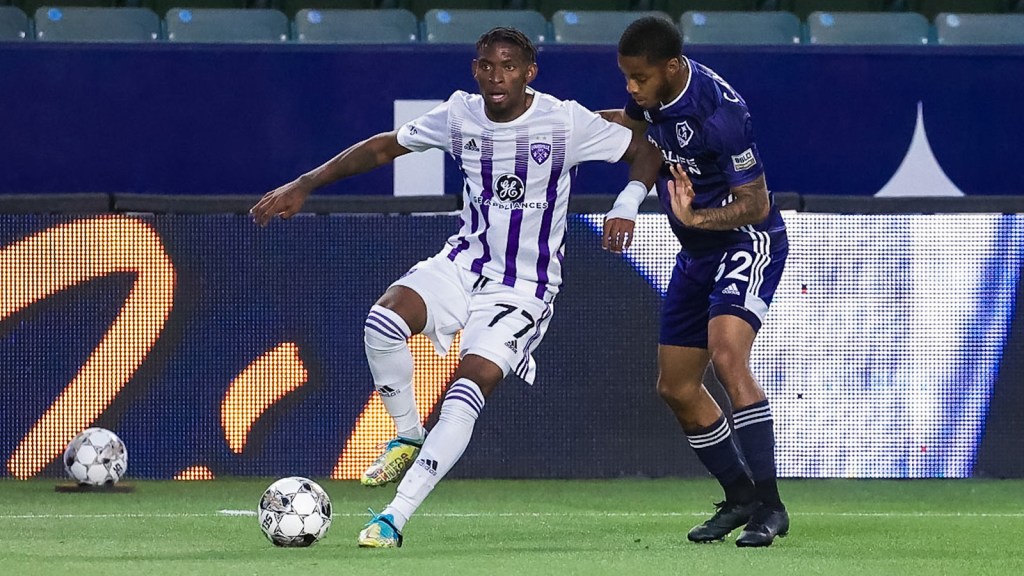 After opening 2022 unbeaten through its first 10 USL Championship games, Louisville City FC wound up on the wrong side of a back-and-forth, late Friday night tilt at LA Galaxy II.
The boys in purple were consistent victims of a the hosts' counter attack at Dignity Health Sports Park, going on to lose by a 4-3 score. LouCity had conceded four goals all season entering the evening.
Travel might have caught up with the club after Tuesday's penalty shootout win over Detroit City FC in the U.S. Open Cup's Round of 32. From there it was straight to Los Angeles, where coach Danny Cruz elected for seven changes in his starting lineup.
"It's obviously frustrating conceding as many goals in one game as we have all season," Cruz said. "We played a back line together that hadn't been able to train together at all with the injury situation and a quick turnaround. At the same time, it's my responsibility to make sure that I do a better job in getting the players prepared for a game like this no matter who's on the field.
"…"It's a difficult moment, and when you look at how the game played out, I'm certainly extremely frustrated. We gave too much space in behind. Our shifting wasn't good enough from the back. Our initial pressure wasn't good enough from the front. You can't concede the same goal over and over again and not learn from it in the middle of the game."
Cruz's changes included a first appearance in goal by Parker Siegfried and a start at outside back by 18-year-old defender Owen Damm, who was recalled from his USL League One loan to Northern Colorado Hailstorm FC for the occasion.
LouCity nearly made it work, jumping out to a lead only 61 seconds into the match when Ray Serrano scored on a rebounded Jorge Gonzalez shot. The boys in purple answered LA Galaxy II's initial counter-attacking goal to level things at the break with a 50th-minute converted Niall McCabe free kick, marking the Irishman's second goal in as many league games.
The hosts took control from there, however, with Preston Judd connecting on an assist to Cameron Dunbar for the second time of the night to equalize. LA Galaxy II took the lead fon a 63rd-minute penalty kick — the official ruled hand ball when Ian Soler went to ground on a tackle in the box — and nearly slammed the door shut when Michael Salazar thwarted a LouCity high line on yet another counter in the 76th minute.
City did offer an answer seconds later, when halftime substitute Wilson Harris stabbed in an Oscar Jimenez cross from out wide. But that's when the scoring flurry stopped, handing LouCity — the United States' final unbeaten professional soccer club this year — its first defeat.
"Very poor in all phases from us," McCabe said. "I don't care that we made seven changes. I don't care about travel. I don't care about any of that stuff. We have standards here, and tonight fell way short of that. I think everyone who played tonight needs to have a look at their performance and address it, because that's not Louisville City's standard. That's well below par."
While the LA Galaxy II only just jumped into the Western Conference's top eight with a victory, Los Dos have performed much better at home, where they improved to 5-1 this year.
Cruz's message to his squad after the game: "I told them to listen to the other locker room that was celebrating. I was telling them to make sure they understand what it means to beat a team like us, and listen to them celebrate. At the end of the day, we're not going to have this feeling next week — to make sure we learn from it and grow from it."
The victors numbered just 6 shots, converting on 4 of them, and LouCity controlled the vast majority of possession as the clock ticked past midnight following a 10:30 p.m. ET kickoff. This marked City's second-ever game in the Pacific Time Zone. The first was also action-packed, with the boys in purple prevailing by a 5-2 score April 16 at San Diego Loyal in a game where both sides were shown red cards.
Despite the loss, which moved LouCity to 7-1-3, the boys in purple remain four points clear of Pittsburgh Riverhounds SC at the top of the Eastern Conference table entering the weekend. They'll get a week to recover before hosting Monterey Bay FC on May 21 at Lynn Family Stadium.
Game Summary: LA Galaxy II vs. Louisville City FC
Date: May 13, 2022
Venue: Dignity Health Sports Park
Kickoff: 10:30 p.m.
Weather: 75 degrees, clear
Man of the Match: Niall McCabe
Scoring
LA Galaxy II (1, 3, 4)
Louisville City FC (1, 2, 3)
Goals
Louisville City FC: 2' Ray Serrano
LA Galaxy II: 19' Cameron Dunbar (Preston Judd)
Louisville City FC: 50' Niall McCabe
LA Galaxy II: 60' Cameron Dunbar (Preston Judd)
LA Galaxy II: 63' Taylor Davila
LA Galaxy II: 76' Michael Salazar (Adrian Gonzalez)
Louisville City FC: 78' Wilson Harris (Oscar Jimenez)
Lineups
LA Galaxy II: 21 — Richard Sanchez, 52 — Dante Campbell (70' 24 — Jalen Neal), 74 — Liam Doyle, 38 — Marcus Ferkranus, 40 — Felipe Cobian, 48 — Hamza Barry, 49 — Remi Cabral (70' 45 — Adrian Gonzalez), 34 — Taylor Davila (82' 27 — Carlos Harvey), 73 — Michael Salazar, 31 — Preston Judd (88' 57 — Duhaney Williams), 25 — Cameron Dunbar
Subs not used: 12 — Eric Lopez, 65 — Juan Caldero, 38 — Axel Picazo
Head Coach: Yoann Damet
Louisville City FC: 24 — Parker Siegfried, 30 — Jan-Erik Leinhos, 32 — Ian Soler (67' 6 — Wes Charpie), 66 — Josh Wynder, 67 — Owen Damm (46' 19 — Oscar Jimenez), 11 — Niall McCabe, 13 — Corben Bone, 36 — Paolo DelPiccolo (46' 14 — Wilson Harris), 9 — Jorge Gonzalez, 77 — Enoch Mushagalusa, 21 — Ray Serrano (64' 10 — Brian Ownby)
Subs not used: 18 — Danny Faunez, 7 — Napo Matsoso, 8 — Carlos Moguel Jr.
Head Coach: Danny Cruz
Stats Summary: LA Galaxy II / Louisville City FC
Shots: 6 / 21
Shots on Goal: 4 / 9
Possession: 40.9% / 59.1%
Fouls: 20 / 15
Offside: 2 / 3
Corner Kicks: 0 / 7
Discipline Summary
Louisville City FC: 9' Paolo DelPiccolo (yellow)
Louisville City FC: 16' Niall McCabe (yellow)
LA Galaxy II: 50' Liam Doyle (yellow)
Louisville City FC: 62' Ian Soler (yellow)
LA Galaxy II: 72' Preston Judd (yellow)
Louisville City FC: 84' Josh Wynder (yellow)
LA Galaxy II: 92' Jalen Neal (yellow)
Referee: Brandon Stevis