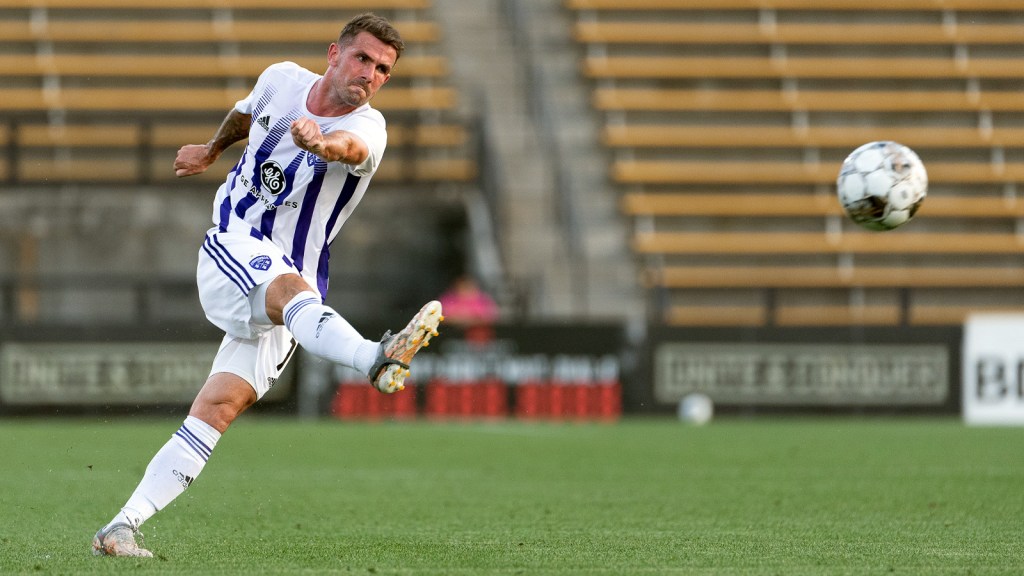 A Louisville City FC squad that has yet to lose this season evidenced Wednesday night why coach Danny Cruz has often said the boys in purple still have "another gear to hit."
Midfielder Niall McCabe, on the return from a non-COVID-19 illness, made a major impact in his first USL Championship start of the season, registering both a goal and an assist in a 4-0 win over Atlanta United 2 at Fifth Third Bank Stadium in Kennesaw, Georgia.
The victory improved LouCity to 7-0-3, making the club just the ninth team in USL Championship history to open a campaign with 10 or more straight games unbeaten.
"Obviously, he took his goal — fantastic finish — and I think he brings a ton to the field," Cruz said of McCabe. "He's a leader. He's a guy that fights. I thought on the ball, he was excellent tonight. He slotted into the lineup with Corben (Bone) carrying a little bit of a knock. We felt that Niall was going to come in and give us what he did. We're really happy with him. We're really happy with the performance.
"You look at the depth of this team and the ability to make these kind of changes — if you make a change and Niall McCabe's the one in the team tonight, you have a strong group."
McCabe, who missed LouCity's first five games, looked back to his old self Wednesday, starting with some fifth-minute service. After Atlanta failed to clear a corner kick, McCabe's second ball in grazed off Paolo DelPiccolo's head and in for the night's opening goal.
On the other side of the half, McCabe scored one of his own when Wilson Harris left a pass for the Irishman at the top of the box. McCabe fired a rocket from distance across his body that gave Atlanta goalkeeper Vicente Reyes no chance to save.
"It was great, obviously, to make the first start after being sick," McCabe said. "It's nice to be back with the team, but that's what it is: It's a team. I'm out, somebody fills in. You've just got to be ready to step up when your name is called, and that's all I wanted to do tonight was step up and help the team get a win. We've started well, and everyone's desperate to keep it going."
Halftime substitute Jorge Gonzalez continued attacking in the 60th minute, smoothly tapping in a ball through from Brian Ownby. The speedy Ownby continued to pester Atlanta into the game's late stages, rounding out scoring with an 85th-minute cross that Napo Matsoso one-touched into the back of the net.
Defensively, LouCity also locked down for its league-leading seventh clean sheet, limiting Atlanta 2 to a pair of shots on target.
"I reminded them about the things that occurred here last year," Cruz said, with LouCity a 1-0 loser in its first trip to Atlanta in 2021. "I talked to the players about not taking one game for granted — not with the team we want to be and the goals we want to achieve."
Overall, the boys in purple extended their club-record run of games unbeaten to open a season to 12 across all competitions, including a pair of U.S. Open Cup victories. City returns to Cup play next out when traveling to play Detroit City FC on Tuesday in the Round of 32.
A short turnaround from last weekend's shutout win over Pittsburgh Riverhounds SC led to some lineup rotation for Cruz. But the club returned defender Josh Wynder, who returned from his first U.S. youth national team call up, while McCabe saw his role grow thanks to 63 minutes played.
Oscar Jimenez — recovering from a preseason injury — also subbed on in the 86th minute for his first appearance of the year.
"The road back is long," Jimenez said. "It seems like it's never-ending. There's a lot of hard work off the scenes. I'm just happy to get out here and get a run with these guys."
LouCity, which is a perfect 6-0 when leading at the half this year, extended its lead atop the Eastern Conference table to seven points over Detroit City. While the boys in purple have played a couple of more games than their Western Conference pursuers, 24 points currently represent the highest total across the USL Championship.
Game Summary: Atlanta United 2 vs. Louisville City FC
Date: May 4, 2022
Venue: Fifth Third Bank Stadium
Kickoff: 7:30 p.m.
Weather: 80 degrees, partly cloudy
Man of the Match: Niall McCabe
Scoring
Atlanta United 2 (0, 0, 0)
Louisville City FC (1, 3, 4)
Goals
Louisville City FC: 5' Paolo DelPiccolo (Niall McCabe)
Louisville City FC: 52' Niall McCabe (Wilson Harris)
Louisville City FC: 60' Jorge Gonzalez (Brian Ownby)
Louisville City FC: 85' Napo Matsoso (Brian Ownby)
Lineups
Atlanta United 2: 23 — Vicente Reyes, 27 — Bryce Washington, 6 — Orji Chukwuma, 39 — Noah Cobb, 33 — Mikey Ambrose, 14 — Robbie Mertz (68' 35 — Efrain Morales), 31 — Erik Centeno, 2 — Aiden McFadden, 29 — Nick Firmino (82' 48 — Alan Carleton), 41 — Luke Brennan (61' 12 — Raimar Lopes), 10 — Darwin Matheus (68' 37 — Jonathan Villal)
Subs not used: 25 — Justin Garces, 4 — Emenike Nwogu, 46 — Grant Howard
Head Coach: Jack Collison
Louisville City FC: 1 — Kyle Morton, 6 — Wes Charpie (86' 19 — Oscar Jimenez), 66 — Josh Wynder, 4 — Sean Totsch, 15 — Manny Perez, 12 — Tyler Gibson, 11 — Niall McCabe (63' 8 — Carlos Moguel Jr.), 36 — Paolo DelPiccolo (63' 7 — Napo Matsoso), 10 — Brian Ownby) 14 — Wilson Harris (76' 13 — Corben Bone), 77 — Enoch Mushagalusa (46' 9 — Jorge Gonzalez)
Subs not used: 24 – Parker Siegfried, 32 — Ian Soler
Head Coach: Danny Cruz
Stats Summary: Atlanta United 2 / Louisville City FC
Shots: 6 / 20
Shots on Goal: 2 / 7
Possession: 44.8% / 55.2%
Fouls: 10 / 13
Offside: 2 / 1
Corner Kicks: 2 / 7
Discipline Summary
Louisville City FC: 27' Niall McCabe (yellow)
Louisville City FC: 36' Sean Totsch (yellow)
Atlanta United 2: 81' Bryce Washington (yellow)
Referee: Kyle Johnston