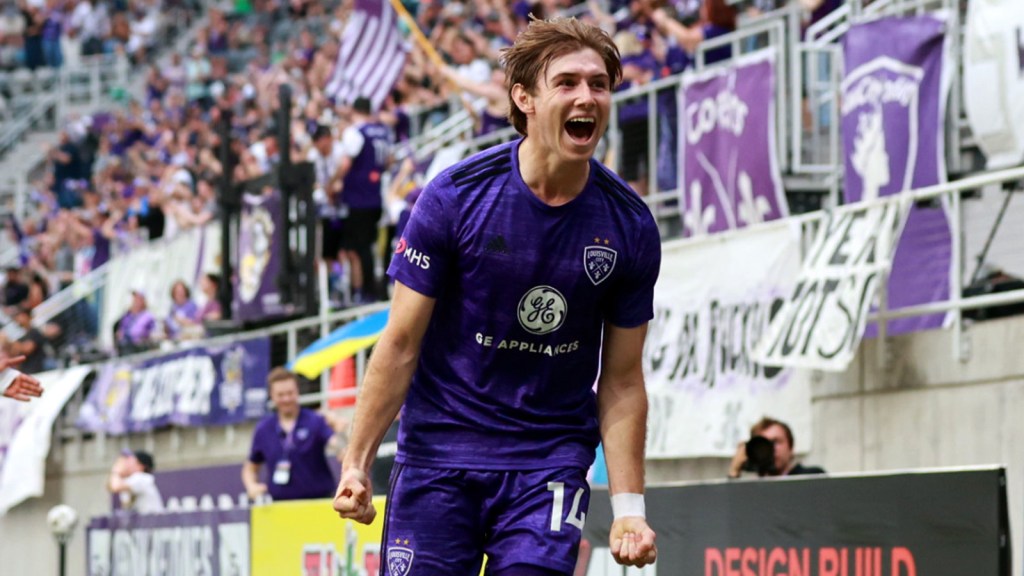 Nearly two months into Louisville City FC's season, temperatures finally rose, and attendance followed. In those situations, the boys in purple almost never lose.
The trend continued Saturday as LouCity raced out to an early lead and 2-0 victory over Pittsburgh Riverhounds SC, upping the club's unbeaten streak to 11 games across all competitions to open 2022.
On what was also LouCity's first "Pups at the Pitch" night, 11,093 fans were joined by 307 dogs at Lynn Family Stadium. There, LouCity has suffered just one defeat since COVID-19 restrictions lifted in June of 2021.
"I wanted the players to give the crowd something they wanted to come back for, and hopefully they did that," Cruz said. "I felt they did that. When this place is rocking that way, it is tough for opposing teams, there's no doubt about it.
"There were stretches there where Pittsburgh wasn't able to get a sniff out of anything, and it was because of the work the players were doing on the field but also the environment they were having to do it in. So I felt the players gave it everything they could tonight for myself, the fans, the club. This is something we are really happy with."
Leading scorer Wilson Harris had a role in both goals, sliding into a grounded Amadou Dia cross in the 20th minute before flicking a pass in behind to Enoch "Matiti" Mushagalusa, whose hard-driven shot deflected in to double the lead in the 39th minute.
Harris — an offseason signing from Sporting KC II — upped his USL Championship goals total to 5 on the season. Mushagalusa made it his second goal in as many weeks having scored the equalizer last Saturday in a 1-1 away draw with the Charleston Battery.
"It was a great press from the front five," Dia said of the opener. "One of the biggest things we worked on this week was finishing our chances and making better decisions. We created a lot of chances so far, but we have not finished at all.
"I'm disappointed about that, but today I made sure I kicked the right pass out to Wilson, who is a natural born finisher, and he did the rest."
The boys in purple appeared closer to adding a third goal the rest of the way than they were conceding a first.
Harris, this time on a cross from Ownby, similarly found himself open in the box in the 62nd minute, but the contact wasn't enough for a goal. His curler was blocked in the 70th minute, and 1-2 play with Corben Bone led to a Bone shot and another Pittsburgh save.
"I think it's mainly the way teams play," Harris said of success in the attack. "I'm able to find a lot of space. Even though teams are plugging in, I'm still able to do my thing."
The Riverhounds lost all hope in the 80th minute when Dane Kelly — the USL Championship's all-time leading scorer, brought on as a substitute Saturday — was shown a straight red card for high contact on LouCity defender Ian Soler. From there, the visitors played down a man.
LouCity wound up with its league-leading sixth shutout while limiting Pittsburgh to a single shot on goal, one Kyle Morton pawed away at the near post in the 14th minute.
A victory moved the boys in purple to 6-0-3 in USL Championship play. Their 21 points are four clear of Detroit City FC on the Eastern Conference table and tied with the Western Conference's San Antonio FC for best across the league.
LouCity faces a short turnaround before traveling to play Atlanta United 2 on Wednesday. The club has Kentucky Derby weekend off, then travels to meet Detroit in a Round of 32 U.S. Open Cup game on Tuesday, May 10.
Game Summary: Louisville City FC vs. Pittsburgh Riverounds SC
Date: April 30, 2022
Venue: Lynn Family Stadium
Kickoff: 7:30 p.m.
Weather: 78 degrees, partly cloudy
Attendance: 11,093
Man of the Match: Enoch Mushagalusa
Scoring
Louisville City FC (2, 0, 2)
Pittsburgh Riverhounds SC (0, 0, 0)
Goals
Louisville City FC: 20' Wilson Harris (Amadou Dia)
Louisville City FC: 39' Enoch Mushagalusa (Wilson Harris)
Lineups
Louisville City FC: 1 — Kyle Morton, 15 — Manny Perez, 4 — Sean Totsch, 6 — Wes Charpie, 3 — Amadou Dia (77' 32 — Ian Soler), 12 — Tyler Gibson, 13 — Corben Bone (87' 7 — Napo Matsoso), 36 — Paolo DelPiccolo (77' 11 — Nial McCabe), 77 — Enoch Mushagalusa (66' 9 — Jorge Gonzalez), 14 — Wilson Harris, 10 — Brian Ownby (87' 8 — Carlos Moguel Jr.)
Subs not used: 24 – Parker Siegfried, 39 — Jan-Erik Leinhos
Head Coach: Danny Cruz
Pittsburgh Riverhounds SC: 26 — Jahmali White, 27 — Jelani Peters (77' 18 — Marc Ybarra), 15 — Arturo Osuna, 3 — Shane Wiedt (46' 5 — Makeil Williams), 10 — Russell Cicerone, 12 — Danny Griffin, 4 — Dani Rovira (60' 29 — Dane Kelly), 13 — Luke Blasi (46' 2 — Nathan Dossantos), 7 — Alex Dixon (60' 21 — Luis Argudo), 11 — Kenardo Forbes, 9 — Albert Dikwa
Subs not used: 6 — Angelo Kelly, 1 — Kevin Silva
Head Coach: Bob Lilley
Stats Summary: Louisville City FC / Pittsburgh Riverhounds SC
Shots: 10 / 6
Shots on Goal: 6 / 1
Possession: 52.3% / 46.8%
Fouls: 15 / 6
Offside: 2 / 3
Corner Kicks: 6 / 3
Discipline Summary
Pittsburgh Riverhounds SC: 30' Jelani Peters (yellow)
Pittsburgh Riverhounds SC: 49' Arturo Osuna (yellow)
Pittsburgh Riverhounds SC: 80' Dane Kelly (red)
Referee: Elvis Osmanovic