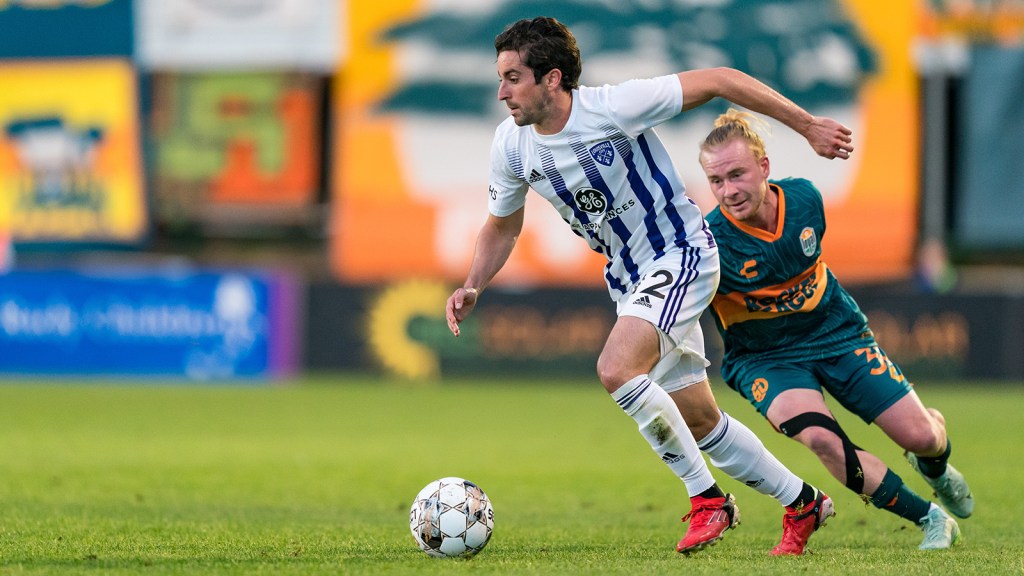 Seven combined goals, multiple penalties and a red card for both sides Saturday made for a dramatic late show. It concluded with Louisville City FC returning from the club's first game in the Pacific Time Zone atop the league.
LouCity prevailed in a zany meeting of the USL Championship's Eastern and Western Conferences, defeating San Diego Loyal by a 5-2 score at Torero Stadium in California.
Early on, head coach Danny Cruz turned to his assistant, Simon Bird, and said, "This is going to be a really good game for us in terms of growth.
"…I spoke to the players on the field afterward, which I never do. I was really, really proud of the fight from the group, especially after going down a man."
While the boys in purple never trailed, they were equalized on following an early goal and survived playing shorthanded for much of the second half as the Loyal attempted a rally. Brian Ownby, however, earned a late penalty and rounded out the scoring with a goal of his own in stoppage time to help cement some club history.
LouCity is unbeaten through seven games, the longest stretch to open a USL Championship campaign for a club that has twice lifted a trophy at season's end. Perhaps the boys in purple can start dreaming about a third title. At 5-0-2, their 17 points are best across the league, in which LouCity is the final undefeated club left.
"Obviously it's early in the season, but Danny's instilled from the beginning that we want to win everything we try for," Ownby said. "That's practice — you'll see these guys getting after each other — and that translates to the game. I think sometimes practice is harder than a game. That's what's so great about this team. It translates to these Saturday nights.
"It's still early, but we're off on the right foot."
Forward Wilson Harris intercepted a San Diego back pass, took the Loyal's goalkeeper one-on-one and finished in the fourth minute of a game that only got wilder from there. The hosts evened the score with a 14th-minute Andrew Carleton penalty earned when Sean Totsch tripped him up in the box on a breakaway.
LouCity went back in front four minutes into first half stoppage time after San Diego's goalkeeper failed to handle a corner kick. Wes Charpie flicked in the rebound, and out of the half it was Totsch this time netting a penalty following a free kick that caromed into the Loyal's wall for a hand ball.
Then the crazy truly began.
A minute after Totsch's goal, a San Diego counter led to Kyle Vassell's curling finish past Kyle Morton, marking just the second goal LouCity has allowed this season from open play. Totsch was subsequently whistled for his second yellow card on a grab in the midfield in the 56th minute.
LouCity settled in down a man, continuing to absorb San Diego's chances — until Ownby changed the game. He took on seemingly the whole Loyal defense with an 82nd-minute run that concluded with a push in the box, a San Diego red card and a penalty.
Niall McCabe stepped up to score his first goal of the season from the spot. Ownby later delivered the final blow four minutes into stoppage time thanks to a long ball from goalkeeper Kyle Morton that landed to him behind the defense. San Diego's goalie whiffed as Ownby flipped a dribble past him, then scored on an open net.
"I can't say enough," Cruz said. "When you look at two teams that clearly didn't like one another tonight — a lot of flying tackles, a lot of goals, a lot of bite from everybody on that field — these are the games you want your players playing in. It certainly felt like a playoff game tonight. It's certainly early in the season, but you could just tell."
LouCity will enter another playoff-type arena on a quick turnaround. The club hosts MLS Next Pro's St. Louis CITY SC — coached by its former manager, John Hackworth — at 7:30 p.m. Wednesday at Lynn Family Stadium. The clubs will meet in a Third Round game as part of the Lamar Hunt U.S. Open Cup, U.S. Soccer's national championship knockout tournament.
"There's a little history there," Ownby said. "Hack's going to be fired up to come back and play us. Danny's going to have us fired up, so it should be a great match."
Game Summary: San Diego Loyal vs. Louisville City FC
Date: April 16
Venue: Torero Stadium
Kickoff: 10 p.m.
Weather: 65 degrees, partly cloudy
Man of the Match: Brian Ownby
Scoring
San Diego Loyal (1, 1, 2)
Louisville City FC (2, 2, 5)
Goals
Louisville City FC: 4' Wilson Harris
San Diego Loyal: 14' Andrew Carleton
Louisville City FC: 45'+5 Wes Charpie
Louisville City FC: 51' Sean Totsch
San Diego Loyal: 52' Kyle Vassell (Grant Stoneman)
Louisville City FC: 83' Niall McCabe
Louisville City FC: 90'+4 Brian Ownby
Lineups
San Diego Loyal: 1 — Austin Guerrero, 32 — Kyle Adams, 15 — Nikko Boxall, 5 — Grant Stoneman, 4 — Jack Metcalf (59' Nick Moon), 11 — Tumi Moshobane (46' Collin Martin), 13 — Camden Riley, 40 — Calvin Fodrey (46' Evan Conway), 30 — Andrew Carleton, 2 — Morgan Hackworth, 23 — Thomas Amang (46' Kyle Vassell)
Subs not used: Koke Vegas, Elijah Martin, Taylor Crull
Head Coach: Landon Donovan
Louisville City FC: 1 — Kyle Morton; 15 — Manny Perez, 4 — Sean Totsch, 66 — Josh Wynder, 6 — Wes Charpie, 12 — Tyler Gibson, 36 — Paolo DelPiccolo (60' 30 – Jan-Erik Leinhos), 13 — Corben Bone (63' 11 — Niall McCabe), 9 — Jorge Gonzalez (73' 7 — Napo Matsoso), 14 — Wilson Harris (73' 32 — Ian Soler), 10 — Brian Ownby
Subs not used: 24 – Parker Siegfried, 21 — Ray Serrano, 77 — Enoch Mushagalusa
Head Coach: Danny Cruz
Stats Summary: San Diego Loyal / Louisville City FC
Shots: 14 / 16
Shots on Goal: 5 / 7
Possession: 58.5% / 41.5%
Fouls: 16 / 9
Offside: 4 / 1
Corner Kicks: 2 / 6
Discipline Summary
Louisville City FC: 15' Sean Totsch (yellow card)
San Diego Loyal: 46' Calvin Fodrey (yellow card)
San Diego Loyal: 49' Kyle Adams (yellow card)
San Diego Loyal: 54' Andrew Carleton (yellow card)
Louisville City FC: 56' Sean Totsch (second yellow)
San Diego Loyal: 82' Grant Stonemason (red card)
Louisville City FC: 89' Kyle Vassell (yellow card)
Referee: Michael Radchuck