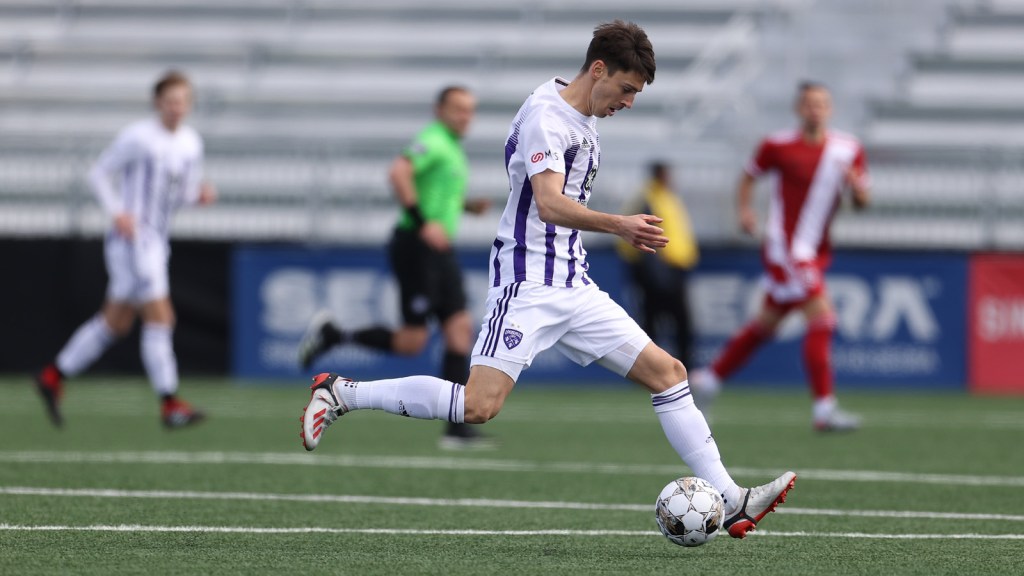 Wilson Harris continued his goal-scoring form with an early strike, Brian Ownby added a clever chip from distance in the second half, and Louisville City FC's defense stifled Loudoun United FC in a 2-0 victory Sunday.
With the win, LouCity improved to 4-0-2 in USL Championship play. Combined with a midweek U.S. Open Cup victory, a seven-game unbeaten run across all competitions marks the club's longest streak to start a campaign, eclipsing the title-winning 2018 season's first six games.
The boys in purple prevailed on a blustery afternoon at Segra Field, located in the Washington, D.C., suburbs. In the process they topped a Loudoun United lineup loaded with five loanees from Major League Soccer's DC United.
"I'm really, really proud of the mentality and fight," said coach Danny Cruz. "This is a tough opponent in a tough environment. It's pretty windy, and the turf didn't play as well as we'd hoped. So all in all, when you look at the result — when you look at the fight from the group and desire to press — you put yourself in a position to have success in these games on the road when you have that at a minimum."
The visitors were ahead from the start after a fourth-minute midfield turnover led to an Ownby flick a pass on to Jorge Gonzalez. Harris accepted a pass at the face of goal, paused as a sliding defender passed and tucked in his third league goal of the year.
LouCity — which has already registered its USL Championship-leading fifth clean sheet — held Loudoun United without so much as an attempted shot until the 48th minute. Loudoun United tried only one more shot the rest of the way.
Ownby doubled the lead in the 53rd minute upon receiving a lengthy ball through from defender Wes Charpie. Seeing Loudoun goalkeeper Jon Kempis off his line, the speedy winger chipped him from distance to score his second of the season.
"We knew Danny did a good job of scouting how they were going to come out and press us," Ownby said, "and with it being pretty windy out here on a turf field, we knew they were going to be dangerous on our turnovers or transitions. We just kind of played where they gave us the space, and that was in behind today.
"I think we could have capitalized on a couple more, but getting one early lifted everyone's energy. I thought we came out firing."
Still early in its 34-game USL Championship campaign, LouCity jumped back atop the Eastern Conference table in what has been a contentious race with Pittsburgh Riverhounds SC. LouCity, the Riverhounds, Colorado Springs Switchbacks and New Mexico United are the remaining unbeaten teams across the league.
Much improved from last season, Loudoun United entered Sunday having conceded only a pair of goals. That total doubled after a meeting with the boys in purple, who have seen an opponent hit the back of their net just once in 2022.
"I'm obviously happy about the start we've had so far, but we talk all the time about the importance of taking it week-by-week," Cruz said. "If we want to achieve the goals we've set, these performances on the road in tough environments are something that have to continue to happen. There's a strong belief in the group right now. The culture that is set at this club — you can tell the new players are integrated and completely bought in — and for us that's what it's about."
Sunday's game opened a bit after Ownby's strike. Two minutes later, his cross from the right wing nearly found Harris in the area for a third. The duo combined again in the 61st minute when Harris flicked a ball in behind to Ownby, who lost his footing when trying to fire a shot one-on-one with the keeper.
Given the form of LouCity's defense, another finish wasn't needed on an afternoon the boys in purple limited Loudoun to 0.09 expected goals, per Stats Perform.
Next for the club is a cross-country trek to play the Western Conference's San Diego Loyal at 10 p.m. ET Saturday.
Game Summary: Loudoun United FC vs. Louisville City FC
Date: April 10, 2022
Venue: Segra Field
Kickoff: 4 p.m.
Weather: 53 degrees, mostly cloudy
Man of the Match: Brian Ownby
Scoring
Loudoun United FC (0, 0, 0)
Louisville City FC (1, 1, 2)
Goals
Louisville City FC: 4' Wilson Harris (Jorge Gonzalez)
Louisville City FC: 53' Brian Ownby (Wes Charpie)
Lineups
Loudoun United FC: 28 — Jon Kempin, 6 — Gaoussou Samake (46' 11 — Tyler Freeman), 20 — Hayden Sargis, 2 — Rio Hope-Gund, 21 — Sami Guediri (60' 12 — Zoumana Diarra), 15 — Nicky Downs, 27 — Moses Nyeman (46' 10 — Michael Gamble), 3 — Jacob Greene, 17 — Kimarni Smith, 42 — Jackson Hopkins (60' 18 — Azaad Liadi), 22 — Ted Ku-Dipietro
Subs not used: 13 — Joseph Rice, 4 — Carson Vom Steeg, 19 — Houssou Landry
Head Coach: Ryan Martin
Louisville City FC: 1 — Kyle Morton; 15 — Manny Perez, 6 — Wes Charpie, 66 — Josh Wynder, 3 — Amadou Dia (53' 4 — Sean Totsch), 12 — Tyler Gibson, 36 — Paolo DelPiccolo, 13 — Corben Bone (84' 11 — Niall McCabe), 14 — Wilson Harris, 10 — Brian Ownby (84' 77 — Enoch Mushagalusa), 9 — Jorge Gonzalez (66' 21 — Ray Serrano)
Subs not used: 24 – Parker Siegfried, 30 – Jan-Erik Leinhos, 32 — Ian Soler
Head Coach: Danny Cruz
Stats Summary: Loudoun United FC / Louisville City FC
Shots: 2 / 13
Shots on Goal: 1 / 5
Possession: 52.4% / 47.6%
Fouls: 13 / 21
Offside: 3 / 1
Corner Kicks: 2 / 6
Discipline Summary
Louisville City FC: 28' Josh Wynder (yellow)
Loudoun United FC: 55' Ted Ku-Dipietro (yellow)
Louisville City FC: 65' Jorge Gonzalez (yellow)
Loudoun United FC: 68' Zoumana Diarra (yellow)
Louisville City FC: 75' Sean Totsch (yellow)
Louisville City FC: 77' Tyler Gibson (yellow)
Louisville City FC: 89' Enoch Mushagalusa (yellow)
Referee: Luis Arroyo