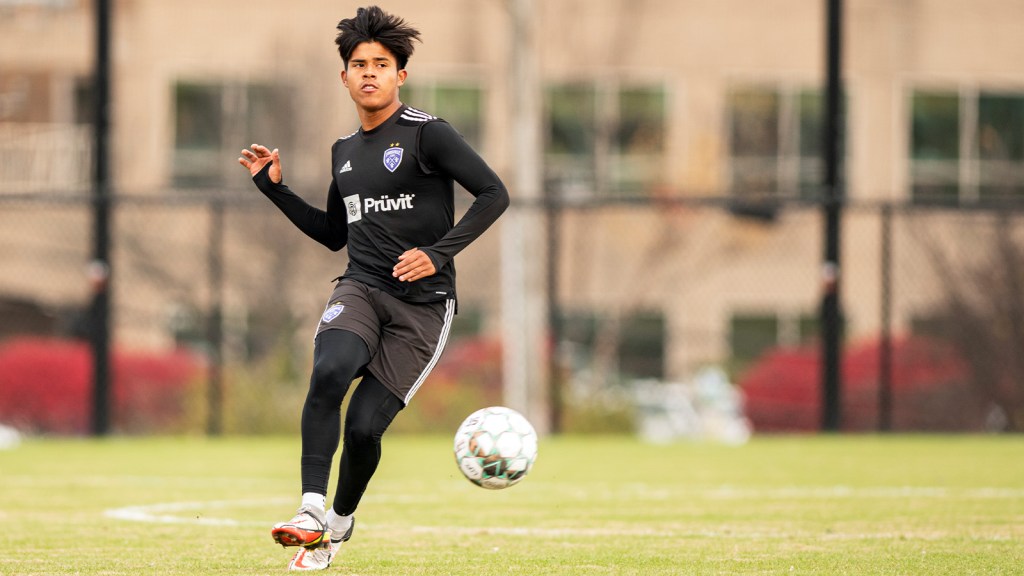 Louisville City FC coach Danny Cruz speaks often of his trust in the club's youth academy and its ability to produce young players ready for the USL Championship. Now more than ever, Cruz is backing up his words with playing time.
LouCity finished out Saturday's scoreless draw at Birmingham Legion FC playing with 10 men on the field — three of them academy graduates — as 16-year-old defender Josh Wynder went the full 90 minutes, 18-year-old midfielder Carlos Moguel Jr. came on at halftime and 19-year-old forward Hunter Sekelsky made his first team debut as a late substitute.
"When you talk about the holistic approach and the belief and the pathway we have here at Louisville City — it's real," Cruz said.
So continues a whirlwind start for the LouCity Academy, which launched in full in the fall of 2020. Mario Sanchez oversees both the boys and Racing Louisville FC girls youth programs, while former LouCity forward Luke Spencer specializes as the boys' director.
Saturday's game marked the first time a trio of academy players shared the pitch with Wynder and Moguel Jr. full professionals. Sekelsky this year signed his second USL Academy contract permitting him to train with and play for the first team while retaining amateur status.
"We're grateful for the coaches who helped us get here and grateful to Danny for having that trust as well," Moguel Jr. said. "Growing up, I've known Josh and Hunter since we were 11 and 12 years old. We never thought we were ever going to play together in a pro environment. To do it together tonight, it was special."
Wynder has been a consistent starter in central defense for the boys in purple. Moguel Jr., out of Martha Layne Collins High School, was tasked with some set pieces Saturday. Sekelsky made a late solo run that both ran clock and nearly led to a scoring chance.
"At the end there, Hunter, I thought he was going to have his little moment," Moguel Jr. said of Sekelsky, an all-state selection out of the Louisville Collegiate School.
"Hunter's done an excellent job in training and earned the opportunity tonight," Cruz added. "…When I look at having that many academy players on the field from Louisville, I think that's something the community should be proud of and certainly the club should be proud of."
Goalkeeper Kyle Morton — who registered his fourth clean sheet in his first five LouCity games — made it a point to say "nothing really changes" when academy products enter. Morton didn't face a single "Big Chance" from Birmingham, per Stats Perform, despite LouCity going down a man in the 42nd minute.
"I don't put these players in the game just to put them in the game," Cruz said. "I put them in the game because I believe they give us either the best chance to win or, in the case of tonight, Hunter gave us the best chance to come out of there with a result."
LouCity's first pro out of the academy, 19-year-old Elijah Wynder, made his USL League One debut Saturday as well for FC Tucson, where he's out on loan. Outside back Owen Damm (18) is also on the roster as a pro from the academy, while Sebastian Sanchez (18) is, like Sekelsky, on a USL Academy contract.