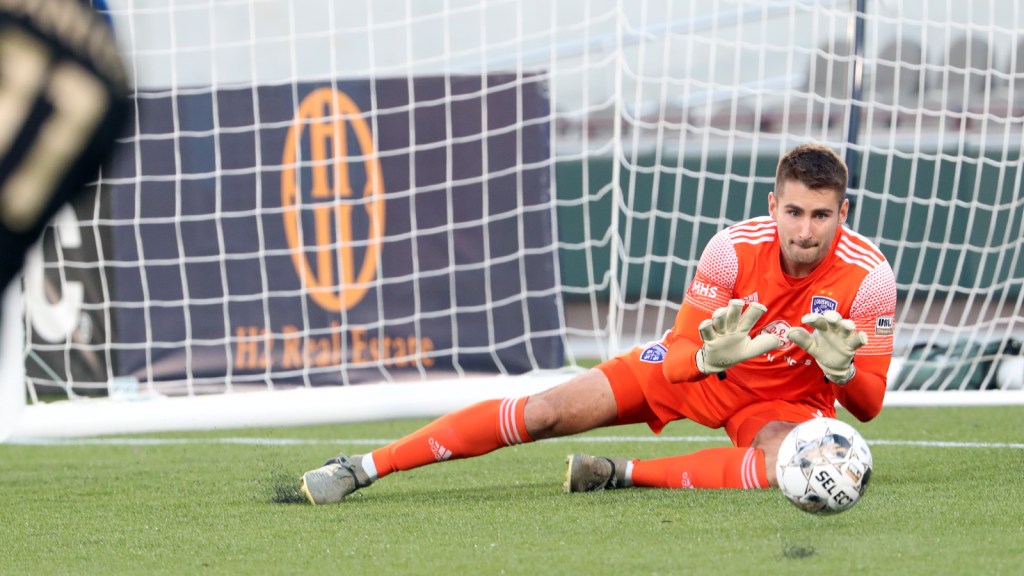 Louisville City FC continued an unbeaten start to its 2022 season under adverse circumstances Saturday, playing down a man most of the way in a 0-0 draw against Birmingham Legion FC.
After conferring with his assistant following a scuffle between teams, the center referee showed midfielder Napo Matsoso a straight red card in the 42nd minute. That left the boys in purple short personnel the remainder of the way at Protective Stadium.
Coach Danny Cruz made a pair of defensive substitutions at the half, and goalkeeper Kyle Morton came up with 5 saves to preserve a clean sheet. The result improved LouCity to 3-0-2, with its 11 points good for the top spot on the USL Championship's Eastern Conference table.
"I don't think we started the game well…but that's not the story of this game," said coach Danny Cruz. "…There were so many positives to take from tonight, and when I spoke to the players, I said, 'We'll talk about the first half on Monday, because I want you guys to feel what you've just done. I want us to put that focus on that second half as we walk out of the stadium.'
"It takes a lot of work, a lot of desire, a lot of heart, a lot of fight to do what those boys just did. I sit here feeling extremely proud to be their coach."
LouCity got little working offensively even prior to Matsoso's dismissal, needing 20 minutes before a strong solo run by forward Brian Ownby resulted in the club's first shot of the evening. Ownby continued pressing into the second half, routinely using his pace to advance the ball for an undermanned side.
In the process, LouCity's defense bent but didn't break. While Morton was tested more than in the club's prior four games, Birmingham didn't have any of its attacks register as high-percentage "Big Chances" per Stats Perform.
Morton perhaps stood at his largest seconds into second half stoppage time when Birmingham's Prosper Kasim had a ball played through to his feet and found space in the box. The goalkeeper, however, turned the shot away to preserve a fourth shutout in five games.
"You go into every game wanting three points, but sometimes one point is as good as a win," Morton said. "I think tonight, that one point was pretty special…We showed a lot of willingness to fight. At halftime, we switched a few things around and made some substitutions to give us the best chance to get a result, and that's what happened."
This LouCity-Birmingham meeting marked the first since the two battled down to the final day of the 2021 season for a division title and No. 1 playoff seed — earned by the boys in purple with an away victory. While Legion FC lost some of its firepower over the offseason, including with the high-profile transfer of former Golden Boot winner Junior Flemmings to France, the club is still expected to contend in the East.
LouCity came away with a point despite attempting a season-low nine shots. But it also underscores LouCity's developmental system that the boys in purple earned the point with three academy products on the pitch at the final whistle: 16-year-old Josh Wynder, 18-year-old Carlos Moguel Jr. and 19-year-old Hunter Sekelsky, who subbed on in the 89th minute for his first team debut.
"In my mind, I'm like, we're down to 10, so it's just going to be a grind from there," Moguel Jr. said. "We just worked and tried to get the best result possible."
Given the rotation — much of it not by choice — a well-rested squad will return Wednesday for its only scheduled home game in April. USL League One's Chattanooga Red Wolves visit for a 7:30 p.m. kickoff in the Second Round of the U.S. Open Cup, the annual knockout tournament that serves as U.S. Soccer's de facto national championship event.
Game Summary: Birmingham Legion FC vs. Louisville City FC
Date: April 2, 2022
Venue: Protective Stadium
Kickoff: 7:30 p.m.
Weather: 70 degrees, sunny
Man of the Match: Brian Ownby
Scoring
Birmingham Legion FC (0, 0, 0)
Louisville City FC (0, 0, 0)
Lineups
Birmingham Legion FC: 1 — Matt VanOekel, 3 — Phanuel Kavita, 5 — Mikey Lopez (82' 77 — Amadou Diop), Anderson Asiedu, 10 — Prosper Kasim, 11 — Marlon Santos (60' 8 — Bruno Lapa), 19 — Enzo Martinez, 20 — Zach Herivaux, 21 — Alex Crognale, 24 — Jonny Dean, 27 — Thomas Vancaeyezeele
Subs not used: 18 — Trevor Spangenberg, 7 — Ryan James, 9 — Edi Horvat, 13 — Jake Rufe, 23 — Grayson Dupont
Head Coach: Tom Soehn
Louisville City FC: 1 — Kyle Morton; 15 — Manny Perez, 6 — Wes Charpie, 66 — Josh Wynder, 3 — Amadou Dia, 7 — Napo Matsoso, 13 — Corben Bone (80' 21 – Ray Serrano), 36 — Paolo DelPiccolo, 14 – Wilson Harris (46' 4 – Sean Totsch), 77 – Enoch Mushagalusa (46' 8 – Carlos Moguel Jr.), 10 — Brian Ownby (89' 68 — Hunter Sekelsky)
Subs not used: 24 – Parker Siegfried, 30 – Jan-Erik Leinhos, 32 – Ian Soler
Head Coach: Danny Cruz
Stats Summary: Birmingham Legion FC / Louisville City FC
Shots: 16 / 9
Shots on Goal: 5 / 3
Possession: 56.2% / 43.8%
Fouls: 9 / 9
Offside: 4 / 1
Corner Kicks: 5 / 5
Discipline Summary
Birmingham Legion FC: 18' Marlon Santos (yellow)
Louisville City FC: 28' Paolo DelPiccolo (yellow)
Birmingham Legion FC: 40' Phanuel Kavita (yellow)
Louisville City FC: 42' Napo Matsoso (red)
Louisville City FC: 52' Corben Bone (yellow)
Louisville City FC: 86' Sean Totsch (yellow)
Referee: Elton Garcia