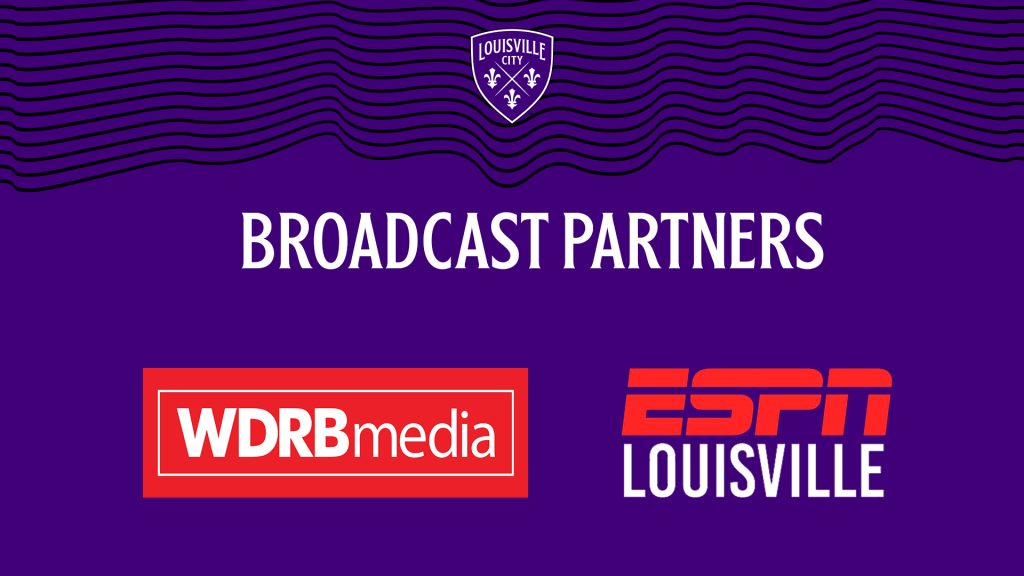 Louisville City FC has renewed partnerships with WDRB Media and ESPN Louisville to air its 2023 games across local television and radio. Additionally, the USL Championship selected a pair of LouCity games for national TV broadcasts
A majority of games can be seen on WBKI — Louisville's CW — and heard on ESPN Louisville's AM 680/FM 105.7.
This marks the seventh straight season WDRB Media and LouCity have partnered on local TV coverage. Along with WBKI, one game is scheduled for the Fox affiliate's flagship station, while others will appear on MyTV 58.
LouCity and ESPN Louisville are entering the third year of their radio partnership with Jeff Milby and Casey Whitfield back as this season's game commentary team. "Soccer City," a radio show covering all things LouCity, also airs weekly at 6 p.m. Thursday.
USL Championship games not selected for national TV will also stream via ESPN+. Fans in in Louisville are encouraged to tune in through the WDRB+ app available on Roku, Apple TV and Fire TV. Audio of all LouCity matches will be available online at ESPNLouisville.com and through the ESPN Louisville app.
2023 Louisville City FC Broadcast Schedule
(Home games listed in bold. Broadcast assignment subject to change.)
March 11: Orange County SC vs. LouCity (MyTV 58, ESPN 680/105.7)
March 18: Monterey Bay FC vs. LouCity (MyTV 58, ESPN 680/105.7)
March 25: LouCity vs. El Paso Locomotive FC (WBKI, ESPN 680/105.7)
April 1: Sacramento Republic FC vs. LouCity (WBKI, ESPN 680/105.7)
April 5: LouCity vs. Lexington SC (B/R Football, ESPN 680/105.7)*
April 8: LouCity vs. Detroit City FC (WBKI, ESPN 680/105.7)
April 15: LouCity vs. San Antonio FC (WBKI, ESPN 680/105.7)
April 22: Charleston Battery vs. LouCity (WBKI, ESPN 680/105.7)
April 26: FC Cincinnati vs. LouCity (B/R Football, ESPN 680/105.7)*
April 29: Memphis 901 FC vs. LouCity (WBKI, ESPN 680/105.7)
May 13: LouCity vs. Miami FC (ESPN2, ESPN 680/105.7)
May 24: LouCity vs. FC Tulsa (MyTV 58, ESPN 680/105.7)
May 27: Indy Eleven vs. LouCity (MyTV 58, ESPN 680/105.7)
June 3: Hartford Athletic vs. LouCity (WBKI, ESPN 680/105.7)
June 10: LouCity vs. Memphis 901 FC (WBKI, ESPN 680/105.7)
June 17: Phoenix Rising FC vs. LouCity (MyTV 58, ESPN 680/105.7)
June 21: LouCity vs. FC Kaiserslautern (WBKI, ESPN+, ESPN 680/105.7)**
June 24: LouCity vs. Las Vegas Lights FC (WBKI, ESPN 680/105.7)
July 1: Pittsburgh Riverhounds SC vs. LouCity (WBKI, ESPN 680/105.7)
July 8: LouCity vs. Loudoun United FC (WBKI, ESPN 680/105.7)
July 12: LouCity vs. Pittsburgh Riverhounds SC (WBKI, ESPN 680/105.7)
July 15: LouCity vs. Atlante FC (ESPN+, MyTV 58, ESPN 680/105.7)**
July 19: Detroit City FC vs. LouCity (MyTV 58, ESPN+, ESPN 680/105.7)
July 22: LouCity vs. Birmingham Legion FC (WBKI, ESPN 680/105.7)
July 29: LouCity vs. Indy Eleven (WBKI, ESPN 680/105.7)
Aug. 4: FC Tulsa vs. LouCity (WBKI, ESPN 680/105.7)
Aug. 9: LouCity vs. Charleston Battery (MyTV 58, ESPN 680/105.7)
Aug. 12: LouCity vs. Rio Grande Valley FC (WBKI, ESPN 680/105.7)
Aug. 19: Birmingham Legion FC vs. LouCity (MyTV 58, ESPN 680/105.7)
Aug. 26: LouCity vs. Oakland Roots SC (WBKI, ESPN 680/105.7)
Sept. 2: Colorado Springs Switchbacks FC vs. LouCity (WBKI, ESPN 680/105.7)
Sept. 9: Tampa Bay Rowdies vs. LouCity (MyTV 58, ESPN 680/105.7)
Sept. 16: LouCity vs. San Diego Loyal SC (WBKI, ESPN 680/105.7)
Sept. 20: Miami FC vs. LouCity (WBKI, ESPN 680/105.7)
Sept. 23: Loudoun United FC vs. LouCity (MyTV 58, ESPN 680/105.7)
Sept. 30: New Mexico United vs. LouCity (WBKI, ESPN 680/105.7)
Oct. 7: LouCity vs. Hartford Athletic (WBKI, ESPN 680/105.7)
Oct. 14: LouCity vs. Tampa Bay Rowdies (MyTV 58, ESPN 680/105.7)
* = Lamar Hunt U.S. Open Cup
** = International friendly